Today's Devotional:
Jul. 23
Things Always Improve
When Hezekiah came to the throne of Israel, the land was traumatized by a reign of terror instituted by his father, King Ahaz. During his reign, he promoted child sacrifice, idolatrous worship, disastrous warfare, and religious persecution. He closed the temple of the Lord and prohibited anyone from worshiping Jehovah. When he died, his 25-year-old son Prince Hezekiah became king, and things changed quickly and dramatically. Hezekiah was a true worshiper of the Lord, and he immediately reopened the temple, mobilized the priests and Levites, reestablished worship, and promoted revival.

Send me Dr. Jeremiah's Devotionals
Sign Me Up »
Please enter a valid email address
You've been successfully signed up!
Save Your Phone Data—Download Dr. Jeremiah's Messages!
All New Turning Point App
Key Features:
Newly redesigned app for a more customized and streamlines experience
New "Today" screen is an at-a-glance overview of everything happening at Turning Point
Read Dr. Jeremiah's daily devotionals and the correlating Scripture directly from your app
Watch and listen to Dr. Jeremiah's messages offline (no data usage!)
Catch up on all the latest Bible study articles and news from Dr. David Jeremiah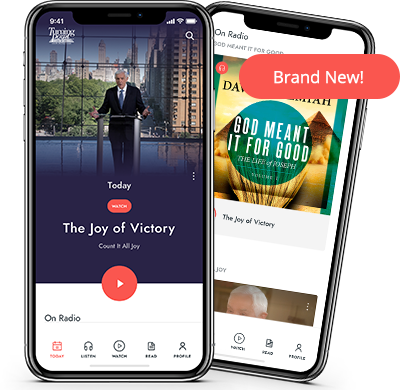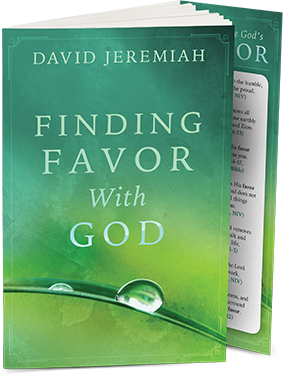 A New Handbook From Dr. Jeremiah
Finding Favor With God
In this resource, we trace the word favor, which occurs more than one hundred times in the Bible, and survey ...
Six People Who Experienced God's Favor
Six Ways to Enjoy God's Favor
Six Blessings That Come With God's Favor
Do you desire to have the favor of the Lord on your life, refreshing you daily? Then do yourself a favor and learn what the Bible says about the favor of the Lord!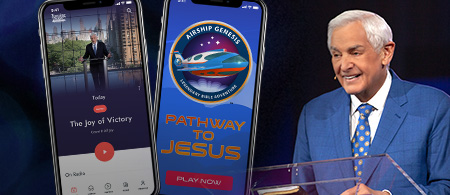 Mobile technology is critical to global ministry
Help us take a bold step into the FUTURE!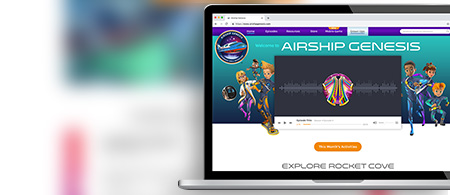 Visit the all-new Airship Genesis website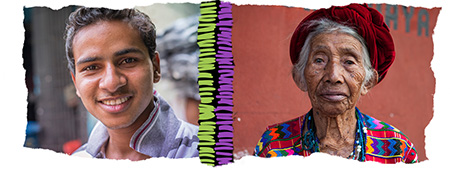 Turning Point is reaching beyond all borders
Explore the extent of our global impact
Don't Wait for Joy to Find You
Learn to Count It All Joy
Is social media robbing you of your joy? Is the news robbing you of your serenity? Your security? David Jeremiah's totally inspiring, beautifully practical study of Philippians will restore it all to you, by the power of God's Word.
Here's the greatest secret of joy-filled people: They don't wait for anyone or anything to bring them joy. They immerse themselves in the joy of relationship with Jesus Christ—right now! You, too, can experience a joy that never ends … through the truths of Count It All Joy.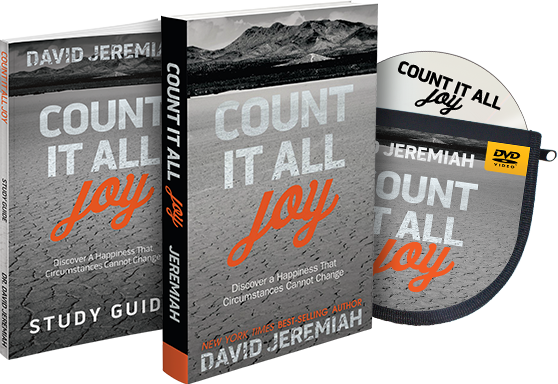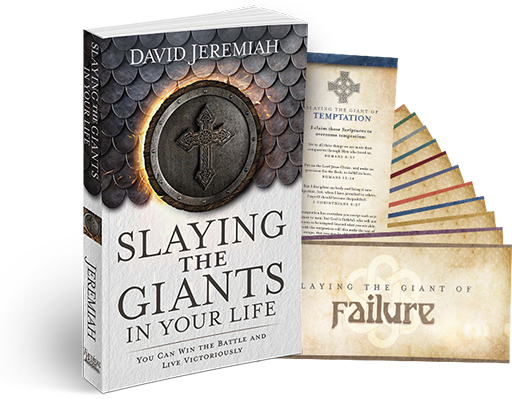 Discouragement. Loneliness. Failure.
Slaying the Giants In Your Life
Giants are the barriers that stand between us and the promises of God. With names like doubt, anger, and guilt, they tell us we're all alone in the fight and that it's our fault when we struggle. They are all the insecurities we bear, the inaccuracies we believe, the invisible enemies we battle. These giants are no less formidable to us than Goliath was to David. Like Goliath, they can only be defeated with God's help.
If you are ready to eradicate the giants in your life and taste the truth of God's unwavering promises, this book is the weapon you need. Start slaying giants today.
Join Us for a Live Event This Fall
God has already provided everything you need to live a godly life. Are you prepared to take the next step?
Learn how to unpack the tools God has provided as you start living in light of His promises! On the Everything You Need Tour, Dr. David Jeremiah will examine topics that will transform your life—including how to fulfill the purpose God has designed specifically for you.
October 1: Orlando, FL | October 3: Macon, GA | October 6: Charlotte, NC | October 8: Columbus, OH
SAVE THE DATE!!!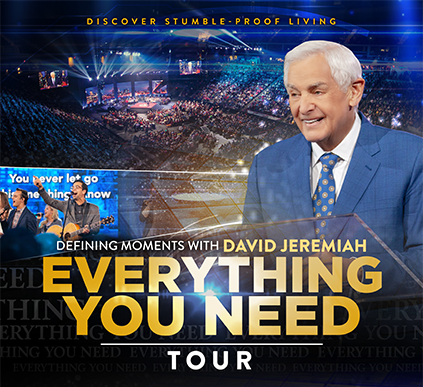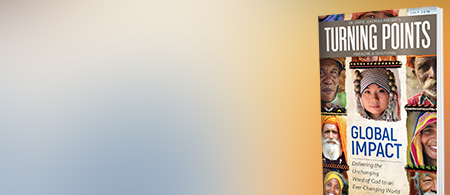 Download the Latest Issue
Turning Points Magazine & Devotional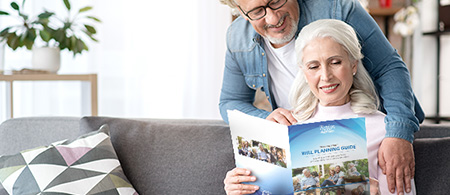 Request Yours Today
Free Will Planning Guide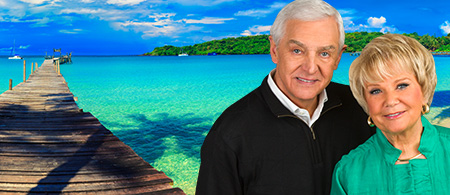 Celebrate the New Year With Us!
Caribbean Cruise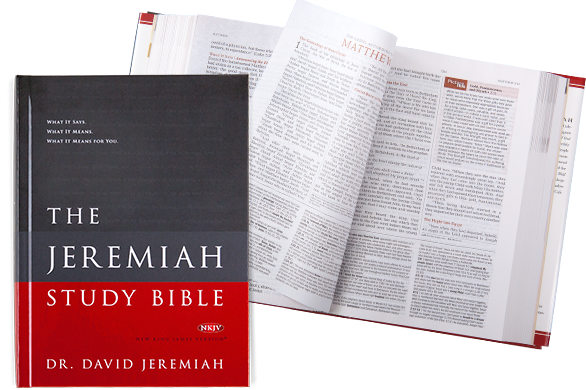 Fall in Love With God's Word
The Jeremiah Study Bible
"I try to help people realize how Scripture works in their lives. I want readers to understand what the Bible says, what it means, and what it means for them. These three things are central in my thinking when I prepare to preach, and they serve as the framework for the structure of this entire Bible." —Dr. David Jeremiah
This deeply personal and comprehensive Bible is packed with biblical insight and study tools along with clear, practical application to bring about authentic transformation in your life. With more than 8,000 study notes, hundreds of sidebars, a topical index, book introductions by David Jeremiah, and much more, The Jeremiah Study Bible will challenge you to live life at a higher level and will help you understand what God is saying to you—through the Bible—today.
When you get serious about daily Bible study, you'll find that the Word of God will become a lamp unto your feet, a light unto your path, and a map for your soul.
Request a Subscription—With our Compliments
Turning Points Magazine and Devotional
Each month, Turning Point publishes a beautifully illustrated magazine that is designed to help you apply the truth of God's Word to your life throughout the month.
Inside every issue, you will find:
Daily devotionals
Inspiring articles from David Jeremiah
Important ministry updates
Radio and TV broadcast schedules
Turning Points is one of the best ways to stay in touch with the ministry of Dr. David Jeremiah. Begin your complimentary three-month subscription today!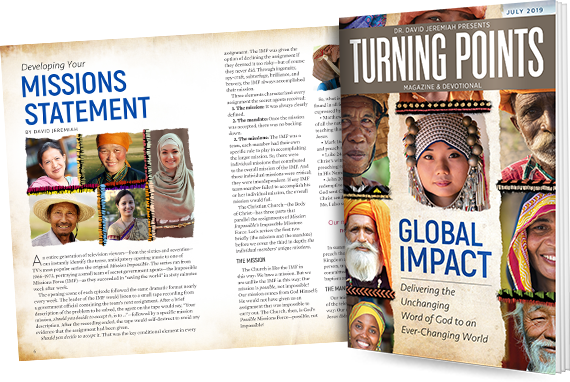 From Dr. David Jeremiah
Tour the Land of the Bible with Dr. David Jeremiah
After leading several trips to the land of the Bible, Israel has become one of my favorite places on earth. Donna and I are excited to return for another Turning Point Israel tour, March 19-29, 2019.
We'll visit historical places like:
Gethsemane
The Sea of Galilee
The Mount of Beatitudes
And more
I'll guide you through these sacred sites and others, teaching God's Word as we retrace our Savior's steps. Imagine seeing the same landscape Jesus saw, being baptized in the Jordan River, or singing at the Garden Tomb in Jerusalem.
These life experiences will change you forever.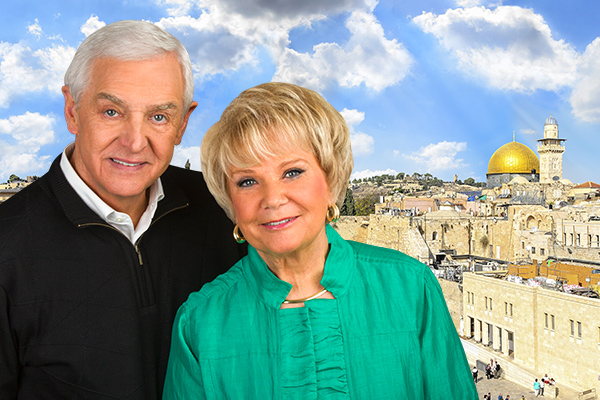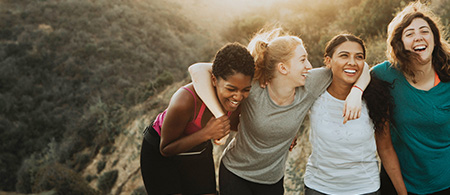 Can we count on you?
Become a Bible Strong Partner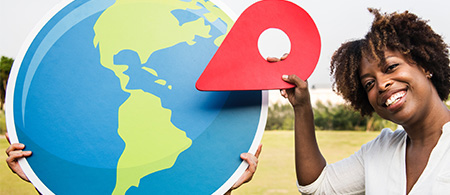 Station Locator
Find a TV or radio station near you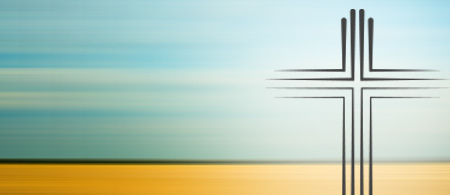 Do you know God ... really?
Become a Christian today
THANK YOU FOR YOUR SUPPORT OF OUR GOD-GIVEN MISSION:
Delivering the unchanging Word of God to an ever-changing world.