Today's Devotional:
Apr. 19
Disappointed?
How would you define disappointment? According to Wikipedia, disappointment is a "feeling of dissatisfaction that follows the failure of expectations or hopes to manifest." Dr. Bill Thrasher suggested another definition he once heard: "Disappointment is God's way of dimming the glamour of the world and deepening our ability to enjoy Him."[1]

Send me Dr. Jeremiah's Devotionals
Sign Me Up »
Please enter a valid email address
You've been successfully signed up!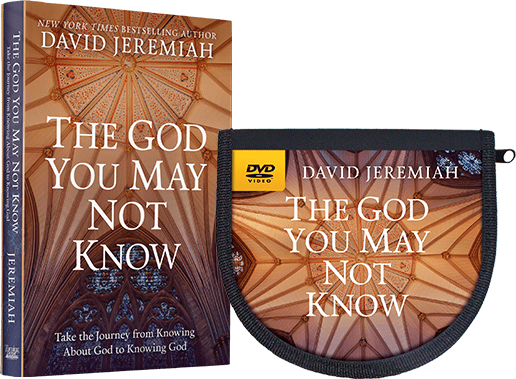 THE SUPREME STUDY OF A LIFETIME
It's Time to Meet The God You May Not Know
"In God We Trust" is the United States' official motto, yet it's hard to trust someone you do not know. Many people assume that knowing about God is enough, but to love God and to trust Him through these perilous times, we must know Him in a personal way. Given the current state of affairs, this may sound shocking, but nothing is more critical to our individual needs right now than to know God fully. The only way to make sense of our world is to immerse ourselves in the study of God and His incredible attributes—His knowledge, holiness, all-pervasive presence, unlimited power, perfect love, and all the other qualities that make Him who He is.
Are you ready to encounter God's holiness? His presence? His power in your life? Let Dr. David Jeremiah take you on the journey from knowing about God to knowing Him intimately.
FIND CERTAIN HOPE IN UNCERTAIN TIMES
Living With Confidence in a Chaotic World
The signs are all around us: we are living in the Last Days. Each day seems to bring more chaos, more conflict… less hope. So what can we do about it?
Living With Confidence in a Chaotic World by Dr. David Jeremiah provides a roadmap to these prophetic times. It identifies ten practical strategies from the priceless counsel of God's Word for living out a vibrant faith as we await Christ's return. When we view our circumstances in light of that day, we can face any challenge and honor Christ through it all.
It's time to set aside comfortable, armchair Christianity and live a courageous life with a renewed perspective of the Lord's impending return.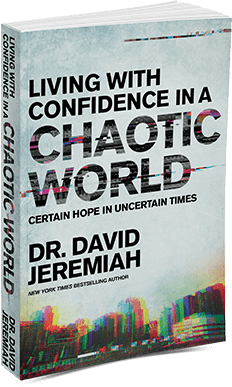 EXCLUSIVELY ON THE APP
30 Days to Unshakeable Confidence
You're no stranger to challenges—especially these days. In an age characterized by disease, scandal, financial devastation, and social isolation, confidence has become what we need the most and experience the least. But today, we're bringing you a different kind of challenge: a mission to rebuild the confidence you've lost—not on the people, promises, and plans of this world, but on our unmovable, unshakeable God and the promises of His Word.
Each day, we will be loading the Turning Point app with inspirational teaching videos, motivating sermon clips, uplifting worship music, never-before-seen interview clips with Dr. Jeremiah, and more! Download the Turning Point app today and take the next step toward a life of unshakeable confidence.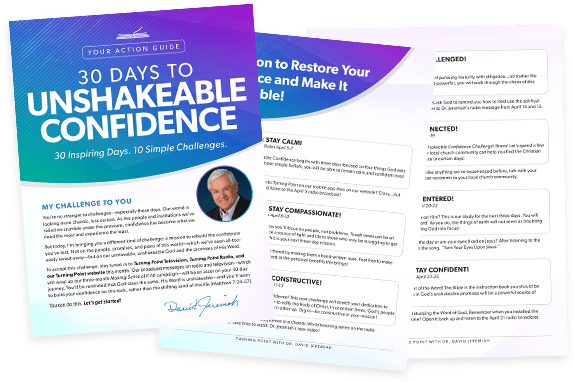 DOWNLOAD YOUR FREE ACTION GUIDE
30 Days to Unshakeable Confidence
You're no stranger to challenges—especially these days. In an age characterized by disease, scandal, financial devastation, and social isolation, confidence has become what we need the most and experience the least. But today, we're bringing you a different kind of challenge: a mission to rebuild the confidence you've lost—not on the people, promises, and plans of this world, but on our unmovable, unshakeable God and the promises of His Word. Join us on radio as Dr. Jeremiah guides us through these uncertain times with messages from his timely series Living With Confidence in a Chaotic World. Be sure to download the action guide for our 30 Days to Unshakeable Confidence challenge and follow his teaching through the Turning Point app.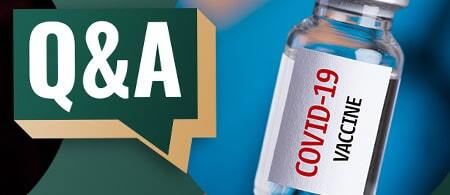 Making Sense of It All Online Content
Q&A: The COVID Vaccine and the End Times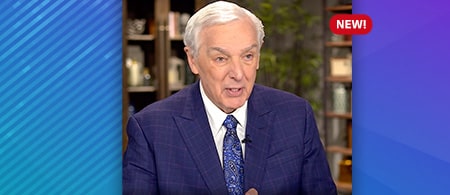 Dr. Jeremiah Discusses the Key to Unshakeable Confidence
Exclusive Interviews on the Mobile App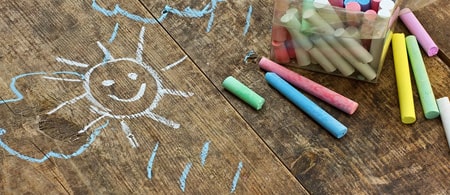 The Pandemic Is Hard on Children, Too
Helping Kids Make Sense of It All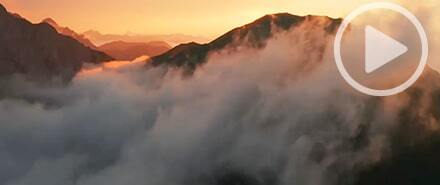 A Powerful New Presentation From David Jeremiah
And God Whispers, "I Have Not Changed!"
DON'T MISS THE CONCLUSION OF MAKING SENSE OF IT ALL
Stay Strong and Stay the Course!
The hallmark of the Christian life, even in turbulent times, is a sense of deep, inward peace. But how do we get there? By following the consistent, day-by-day steps found in God's Word. Throughout April, Dr. Jeremiah will be sharing these steps in a fast-paced, straightforward, user-friendly, and enormously valuable way.
Confidence is rare in our world, yet it has the power to buoy us against the storms of life. Today, as many are searching desperately for a solid rock on which to place their trust, we can shore up our faith and make it unshakeable—and even share it with our shaken world.
Before Making Sense of It All concludes, be sure to visit our campaign homepage regularly to find a variety of resources that will equip you to stay strong and stay the course in a chaotic world.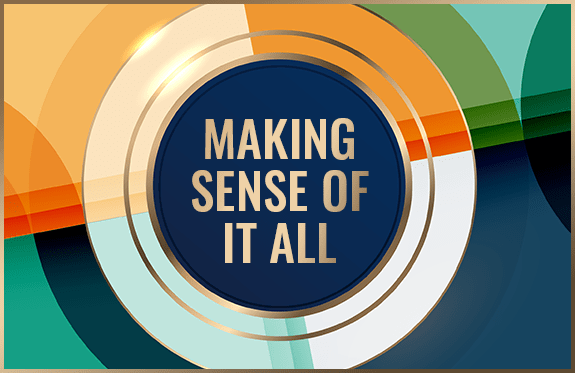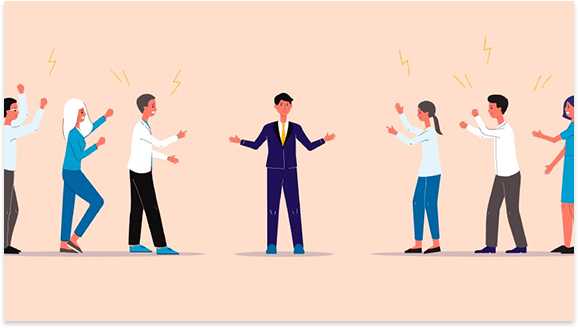 THE WORLD IS WATCHING. WHAT WILL THEY SEE?
3 Keys to Confronting the Culture
Does today's anti-Christian rhetoric make you mad? Do you ever get so fed up that you'd like to give someone a piece of your mind? The standards and convictions of Christianity place us at odds with our culture. So how can we maintain our Christian composure in a confrontational age?
We can learn from Jesus. He was neither weak nor rude. He spoke clearly and confidently, yet without venom or virulence. The apostle Peter, sometimes a loose cannon, learned that lesson well. In his first epistle, Peter instructed us to handle opposition as Jesus did. The theme of 1 Peter is to walk in His steps, to follow Christ's example when facing hostility.
REQUEST A SUBSCRIPTION WITH OUR COMPLIMENTS
Turning Points Magazine & Devotional
Each month Turning Point's full-color, 48-page magazine will help you apply the truth of God's Word to your life through articles and devotionals that correspond with David Jeremiah's broadcast ministry.
Inside every issue, you will find:
Daily devotionals
Inspiring articles from David Jeremiah
Important ministry updates
Radio and TV broadcast schedules
There is no charge for a subscription, and Turning Points is one of the best ways to stay in touch with the ministry of Dr. David Jeremiah. Begin your complimentary subscription today!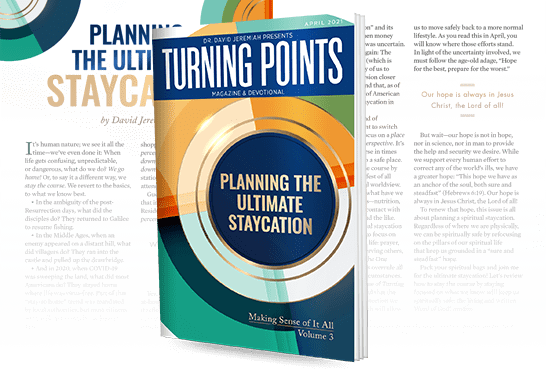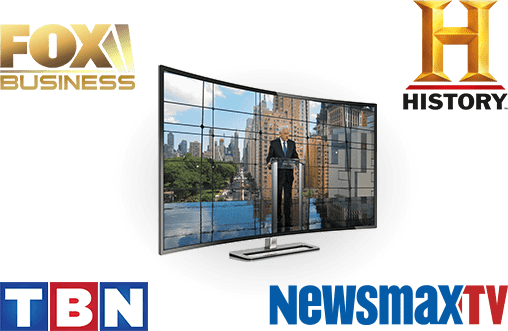 OUR LIST OF BROADCAST PARTNERS IS GROWING!
Find Turning Point on a TV Station Near You
Over the years, we have been blessed to broadcast on Christian television networks around the world like TBN, Daystar, and others. In fact, we've recently added GOD TV and Hillsong to our lineup. But there are many people in desperate need of the hope of God's Word who will not tune in to these networks. If we want to reach them, we need to meet them where they are—on the stations they're already viewing.
God has been working behind the scenes, opening doors we never could have imagined. Turning Point Television is now airing on several major networks, including History, Fox Business, USA Network, Lifetime, RFD TV, and more.
We hope you'll help us spread the word that, wherever you are, Turning Point is on a TV station near you!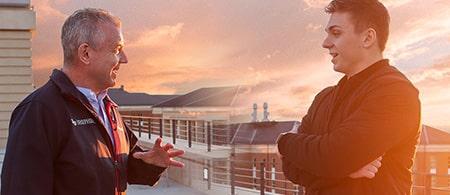 David Todd and Dr. David Wheeler Talk Evangelism
New PassagesTV Episode for Young Adults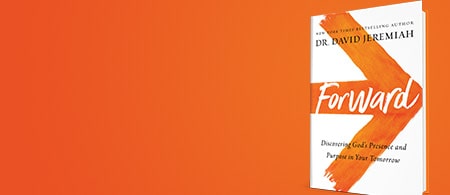 Your Best Days Are Not Behind You
Step Into a Bright Tomorrow With God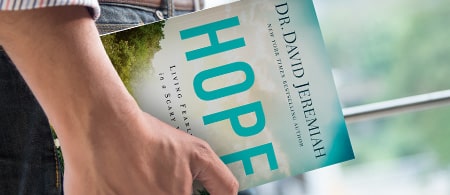 New From Bestselling Author Dr. David Jeremiah
You Can Live Fearlessly in a Scary World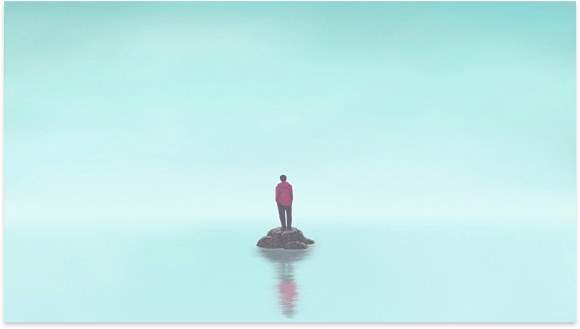 VISIT THE MAKING SENSE OF IT ALL ONLINE EXPERIENCE
3 Ways to Overcome Loneliness
Recently a young, single woman quit her job in the city and moved back to her small hometown, abandoning her career and leaving a place of service in the church she had joined. When asked why, she replied, "I just got tired of eating supper alone." No one is immune to it. Even one of the most brilliant men who ever lived, Albert Einstein, complained, "It is strange to be known so universally and yet to be so lonely."1
…It's not a sin to be alone; it is not a sin to experience loneliness. It only becomes a sin when we start indulging it and when we fail to obey the instruction of the Word of God, given to help us dispel loneliness from our lives. It isn't wrong to visit loneliness, but it is wrong to move in and let loneliness take over our lives.
SET SAIL WITH US ON JULY 17
Join David Jeremiah for an Alaska Cruise Conference
Are you ready for a change of scenery? Here's an opportunity to meet with other Christians and make memories that will last a lifetime!
This summer, escape with us to the pristine wilderness of Alaska. From the deep green Tongass National Forest to snow-capped mountains to humpback whales, the rugged beauty of America's 49th state provides a perfect release from the "new normal." Ports of call include Juneau, Sitka, Ketchikan, Glacier Bay, and Victoria, British Columbia. Michael Sanchez, Uriel Vega, and the Martins will join us as guest artists. And, of course, we'll enjoy the Bible Strong teaching of Dr. David Jeremiah.
Don't miss this once in a lifetime trip! Turning Point's Bible conference cruise sets sail on July 17.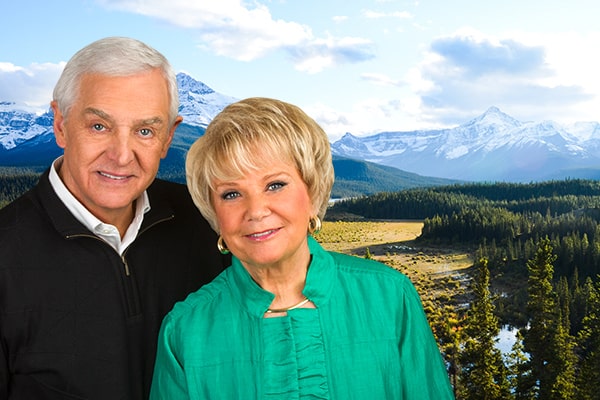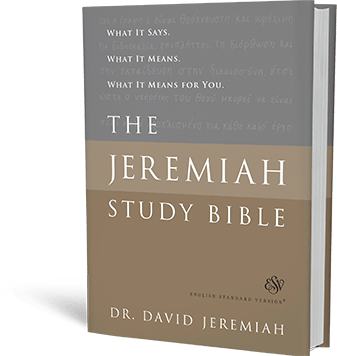 FALL IN LOVE WITH GOD'S WORD
The Jeremiah Study Bible
This deeply personal and comprehensive Bible is packed with biblical insight and study tools along with clear, practical application to bring about authentic transformation in your life. With more than 8,000 study notes, hundreds of sidebars, a topical index, book introductions by David Jeremiah, and much more, The Jeremiah Study Bible will challenge you to live life at a higher level. It will help you understand what God is saying to you today.
When you get serious about daily Bible study, you'll find that the Word of God will become a lamp unto your feet, a light unto your path, and a map for your soul.
DOWNLOAD YOUR FREE LEGACY-PLANNING GUIDE
Christian Legacy Planning Organizer
We all enjoy planning for our family vacations and getaways with loved ones. However, how many of us spend more time planning a vacation than we do planning for the future? Probably most of us. Why? Because planning for a vacation is fun, exciting, and brimming with anticipation. Planning for our future seems to be a bit different since it can involve fear, confusion, and uncertainty. But, if you plan for your future legacy in an organized way, it can be just as simple as planning for that wonderful vacation that is so exciting. You just need to get started, and we want to help.
Begin the process of making plans that last by downloading your copy of Turning Point's free Christian Legacy Planning Organizer.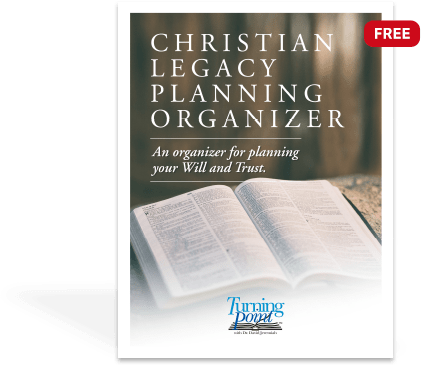 New From Airship Genesis
Invasion of Rocket Cove
Rocket Cove is under attack! When a mysterious ship appears over the Genesis Exploration Squad's hometown, the people of Rocket Cove are thrown into a panic. What is this mysterious ship? Who is piloting it? And what do they want?
When this invading ship starts moving around the town, affecting its residents in strange—and hilarious—ways, the questions only multiply. And just when the squad thinks the worst is over, a giant robot appears! It is up to the Genesis Exploration Squad to solve the mystery and move forward without fear against The Invasion of Rocket Cove.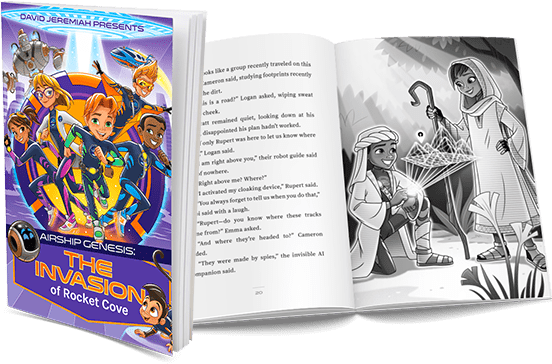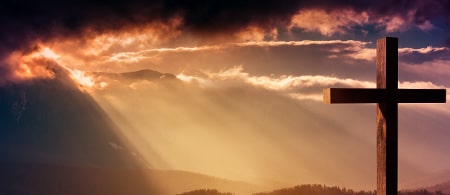 Curious About Christianity?
Learn to Follow Jesus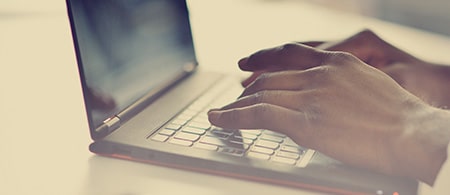 Has Turning Point Helped You Make Sense of It All?
Share Your Story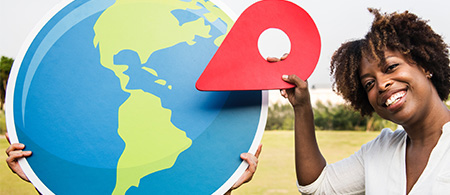 Find Turning Point Radio and Television on a Station Near You
Station Locator
From Dr. David Jeremiah
Tour the Land of the Bible with Dr. David Jeremiah
After leading several trips to the land of the Bible, Israel has become one of my favorite places on earth. Donna and I are excited to return for another Turning Point Israel tour, March 19-29, 2019.
We'll visit historical places like:
Gethsemane
The Sea of Galilee
The Mount of Beatitudes
And more
I'll guide you through these sacred sites and others, teaching God's Word as we retrace our Savior's steps. Imagine seeing the same landscape Jesus saw, being baptized in the Jordan River, or singing at the Garden Tomb in Jerusalem.
These life experiences will change you forever.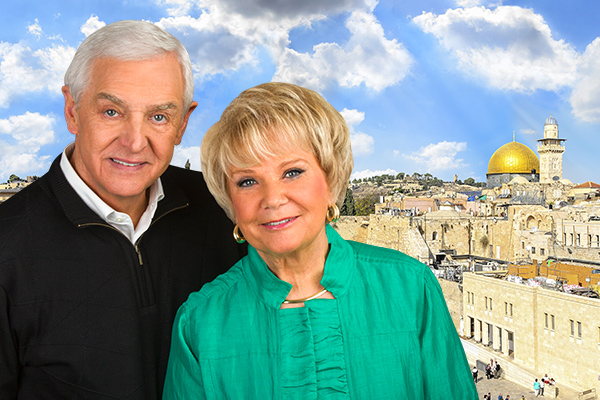 THANK YOU FOR YOUR SUPPORT OF OUR GOD-GIVEN MISSION:
Delivering the unchanging Word of God to an ever-changing world.