Today's Radio Broadcast
.
FEATURED ON RADIO
---
Are you prepared for the spiritual battle that is raging all around? Walk through Ephesians 6, verse-by-verse, with David Jeremiah's Spiritual Warfare Set.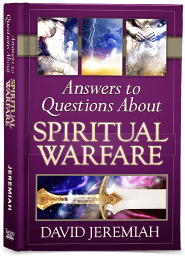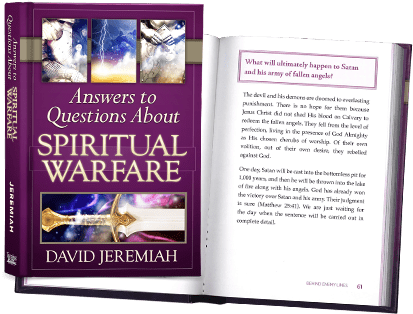 ANSWERS TO QUESTIONS ABOUT SPIRITUAL WARFARE
More than 70 Scriptural Answers
With crucial information about spiritual warfare, Satan, demons, prayer, and the believer's armor, this volume will help you see the battle from two perspectives—Satan's strategies against the human race and the believer's strategy for victory in spiritual battles.
Identify the enemy. Proclaim the victory!
Learn More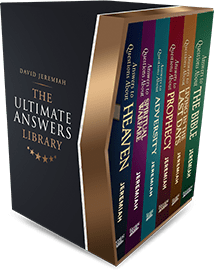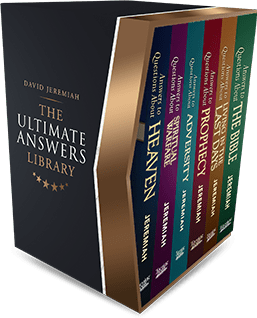 THE COMPLETE Q&A SERIES
Ultimate Answers Library Box Set
Even if you have studied the Bible for years, it is natural to have questions. From spiritual warfare to prophecy to heaven, David Jeremiah's Ultimate Answers Library provides hundreds of answers to common questions about spiritual matters. Discover hope in the truth about this life and what's ahead.
Learn More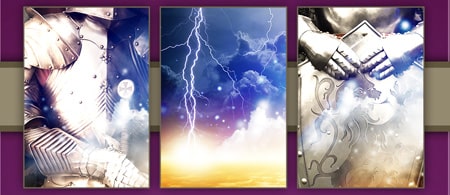 From Answers to Questions About Spiritual Warfare
How Can I Demolish Satan's Strongholds?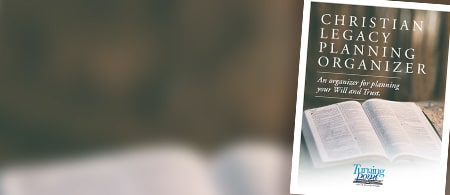 Christian Legacy Planning Organizer
Download Your Free Planning Guide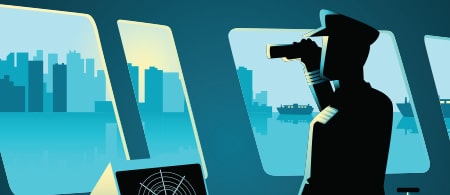 An Online Exclusive From This Month's Magazine
From This Point Forward: Our Guide
DO YOU HAVE QUESTIONS?
Dr. Jeremiah Has Answers
If you have questions about faith, you are not alone. For more than fifty years, David Jeremiah has been fielding all sorts of questions about God and His Word. Dr. Jeremiah has made it his life's work to find satisfying solutions to troubling spiritual questions. And there is good news: the Bible contains all the information we need to live a confident, vibrant faith in Christ Jesus.
Watch as Dr. Jeremiah answers some of the most common spiritual questions he hears as a pastor and international Bible teacher.
A CELEBRATION OF TURNING POINT'S GROWTH AND REACH
State of the Ministry Interview
As Turning Point closes its fiscal year, take a look at the incredible details of the ground we've taken back from Satan's clutches over the last twelve months...and where we're drawing our battle lines next!
We have proclaimed salvation to 36,323 people through Your Greatest Turning Point, our booklet outlining the path to salvation.
We expanded our broadcast network to reach secular audiences on the History Channel, Fox Business News, Newsmax, and others.
We have proclaimed God's comfort through our Shelter in God book, It's Time to Move Forward online event, and the Home for Christmas Channel.
We reached millions by leveraging the latest digital media technology available to us today, nearly doubling the demand for Dr. Jeremiah's Bible study resources.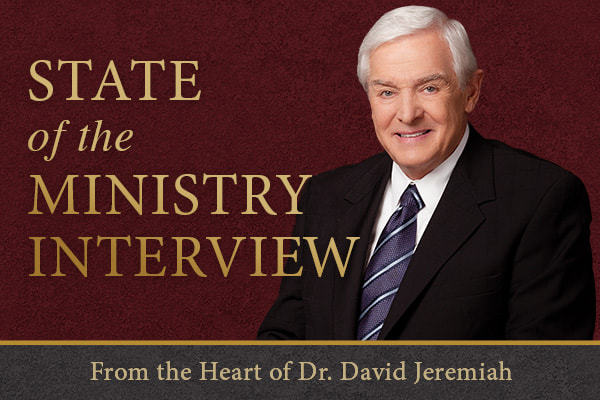 TAKE A PEEK INSIDE DAVID JEREMIAH'S LATEST SPIRITUAL WARFARE RESOURCE
Satan's Strategies Revealed
Whoever first said, "To be forewarned is to be forearmed," could have been thinking of the believer's defense against Satan. The more we know of the tactics of any enemy, the better able we are to prepare our defenses and, thereby, remain unmoved. With regard to Satan's strategies, we find numerous examples in Scripture.
He Twists the Word of God
He Disguises Himself
He Imitates
He Counterfeits
He Steals, Kills, and Destroys
He Afflicts and Oppresses
He Accuses
He Blinds
He Hinders
FREE TICKETS WILL BE RELEASED THIS SUMMER
Join David Jeremiah LIVE This Fall!
Come discover the unchanging Word of God and enjoy an exceptional experience delivered in a safe, healthy manner. To ensure your safety we are working closely with venues and local authorities to follow all health and safety guidelines.
Joining Dr. Jeremiah for this powerful night of ministry are Michael Sanchez, David Michael Jeremiah, and musical guests soon to be announced. Dates and locations for the fall 2021 tour include:
October 5: TAMPA, FL
October 7: JACKSONVILLE, FL
October 26: HOUSTON, TX
October 28: FORT WORTH, TX
Join others from your community at these dynamic events with Dr. David Jeremiah!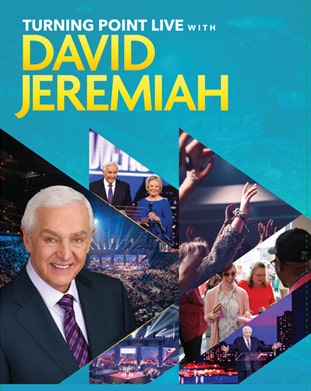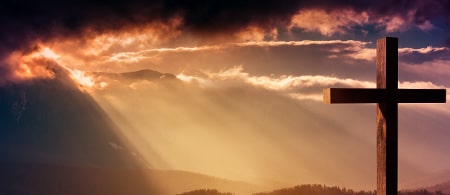 Do You Know God...Really?
Become a Christian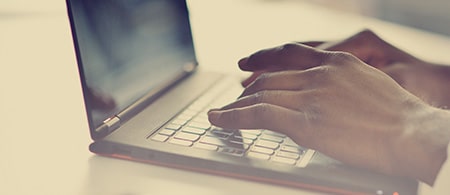 Has God Used Turning Point in Your Life?
Share Your Story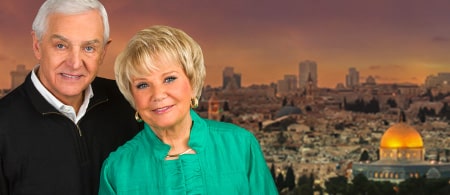 Join Us March 22–April 1, 2022
Turning Point's Holy Land Tour
NOW STREAMING ON YOUTUBE
New Devotionals From PassagesTV
What example did Jesus give us for servant evangelism? David Todd Jeremiah searches Scripture to show us Jesus' humility and how it applies to our own life.
Jesus Shows Us What It Means to Be a Servant
How Can We Be a Light in the World Today?
Make Sharing the Gospel a Priority in Your Life!
Live a Life of Servitude
To learn more about PassagesTV, visit our website.