This Could Be the Day!
Digital Prophecy Outreach
Right now.
At this very moment, we could see the Lord return and hear the trumpet blast.
This could be the day!
We know what God has said about the End Times, and it gives us hope—a light at the end of the tunnel. But today, we must also be the light in the tunnel. Many are lost and afraid of the future. They sense what the pages of prophecy reveal: Time is running out.
Like never before, we have a sacred trust to offer hope and reach the lost. The world needs Jesus, and the saints need to be equipped with prophetic answers straight from Scripture. That is the heart behind Turning Point's new prophecy website.
This Could Be the Day! might be the most significant online outreach we have ever launched.
As a dual–purpose digital platform, This Could Be the Day! will equip believers with practical, prophetic answers to the troubling events of our day. Meanwhile, those asking difficult questions about these dark days will find biblical answers… and hope.
Think of this new online outreach as a prophecy master class, providing meaningful insights into key biblical topics, such as:
The next events on the prophetic calendar
Facts about the Rapture and Tribulation
The role of Old Testament prophecy in our world today
What we know about the mark of the Beast
Practical ways to prepare for the Last Days
And much more!
You won't want to miss a second. Together we can shine the light of prophetic hope in the tunnel of today's circumstances and boldly proclaim the powerful message that this could be the day!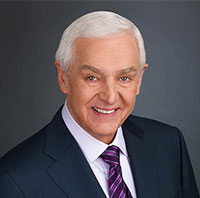 About Dr. David Jeremiah
Dr. David Jeremiah is one of America's most trusted Bible teachers. For more than 39 years he has helped millions deepen their understanding of the Bible through 4,552 daily Turning Point Radio releases and a daily Turning Point Television program that reaches millions of people globally.
The Revelation Prophecy Chart 3–Pack
Enter your address to receive a free Bible prophecy timeline 3–pack. This beautifully detailed timeline of God's prohetic calendar is a must–have for every student of Bible prophecy.
This resource is free of charge. However, your generous support is greatly appreciated. Click here if you would like to give a donation to Turning Point.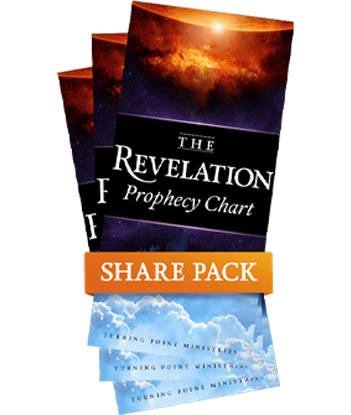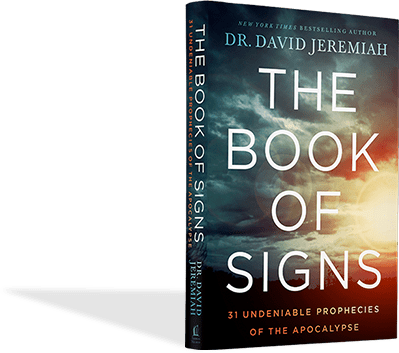 While the Rapture will be a joyous occasion for everyone in Christ, it will open the door to God's judgment for those who are not. What does this mean for babies and young children? We have it on the authority of Scripture that God judges a child differently than He judges an adult. Those too young to understand the consequences of their choices are considered innocent and will be spared from judgment—whether at death or the Rapture.
Here are three reassuring reasons for believing Jesus will rapture babies and young children with mature believers.
God's Character. One of God's names in the Bible is "Father" (Romans 8:15). This title gives us an indication of how He regards the helpless and innocent among us. In the book of Deuteronomy, we find the Lord preventing an unbelieving generation of Israelites from entering the Promised Land while their children were exempt from that penalty (Deuteronomy 1:39). Other verses refer to young children as "innocents," indicating God treats their naïve sinful desires differently from the willful sinfulness of mature individuals (Jeremiah 2:34, 19:4).
God treats the naïve sinful desires of children differently from the willful sinfulness of mature individuals.
As Psalm 145:9 says, "The Lord is good to all, and His tender mercies are over all His works." God's goodness and mercy will not allow Him to hold someone responsible for a decision they cannot make. The blood of Christ will cover children who are too young to understand the Gospel message.
Salvation's Condition. God's plan of salvation is a gift that we choose to accept or reject. Anyone who recognizes right from wrong has reached the age of accountability, meaning God will hold them responsible for their actions. Small children do not understand what they must do to be saved (Acts 16:30-31), so they are protected from judgment for sin by the blood of the Lord.
Think of it this way: When a teenager defiantly says "No!" to his parent, the result will be discipline. But when that teen's two-year-old sister says "No!" the consequences will be different. Instead of punishment, the two-year-old will receive patient correction and instruction; her parents will teach her about having respect for their authority—something a teenager should already know. In other words, there is a difference in accountability between a young child and an older child or adult.
The age of accountability varies from person to person.
The age of accountability varies from person to person. Until a child understands what Christ's sacrifice on the cross means to them personally and realizes their sin and guilt before God, the blood of Christ covers them. This principle also applies to those who, while they are mature physically, have never matured mentally. They may be in an adult's body, but their mind is comparable to a child's.
Christ's Compassion. In the Gospels, Jesus' love for young children is evident on more than one occasion. When Scripture refers to His interactions with children, it often uses "little" to highlight His tender compassion toward little ones (Matthew 19:13-14; Mark 10:13-14; Luke 18:16). Indeed, His declaration to "Let the little children come to Me" refers to the infants and babies people brought to Him.
It could not be clearer: Jesus is not willing for little ones to be lost.
The most emphatic statement appears in Matthew 18:14, where Jesus says, "Even so it is not the will of your Father who is in heaven that one of these little ones should perish." It could not be clearer: Jesus is not willing for little ones to be lost. When the Lord raptures His Church, He will carry the babies and young children to heaven.
For those of us who have reached the age of accountability, the object is not only to go to heaven but to take as many people with us as we can. Share the Gospel, teach children, build one another up, strengthen one another, encourage those who are fallen, and reach out to those who are hurting. The Lord charges us to "Occupy till I come" (Luke 19:13, KJV). This could be the day! We have an urgent responsibility to live out the truth and share it with as many people—young and old—as we can.
The Here & Now
What
the Rapture

means for you…today
For Christians, the Rapture is a source of hope. All who have lost loved ones to the sting of death can find comfort in the knowledge that they will see them again. Knowing Jesus promised to return for us provides strength during difficult times.