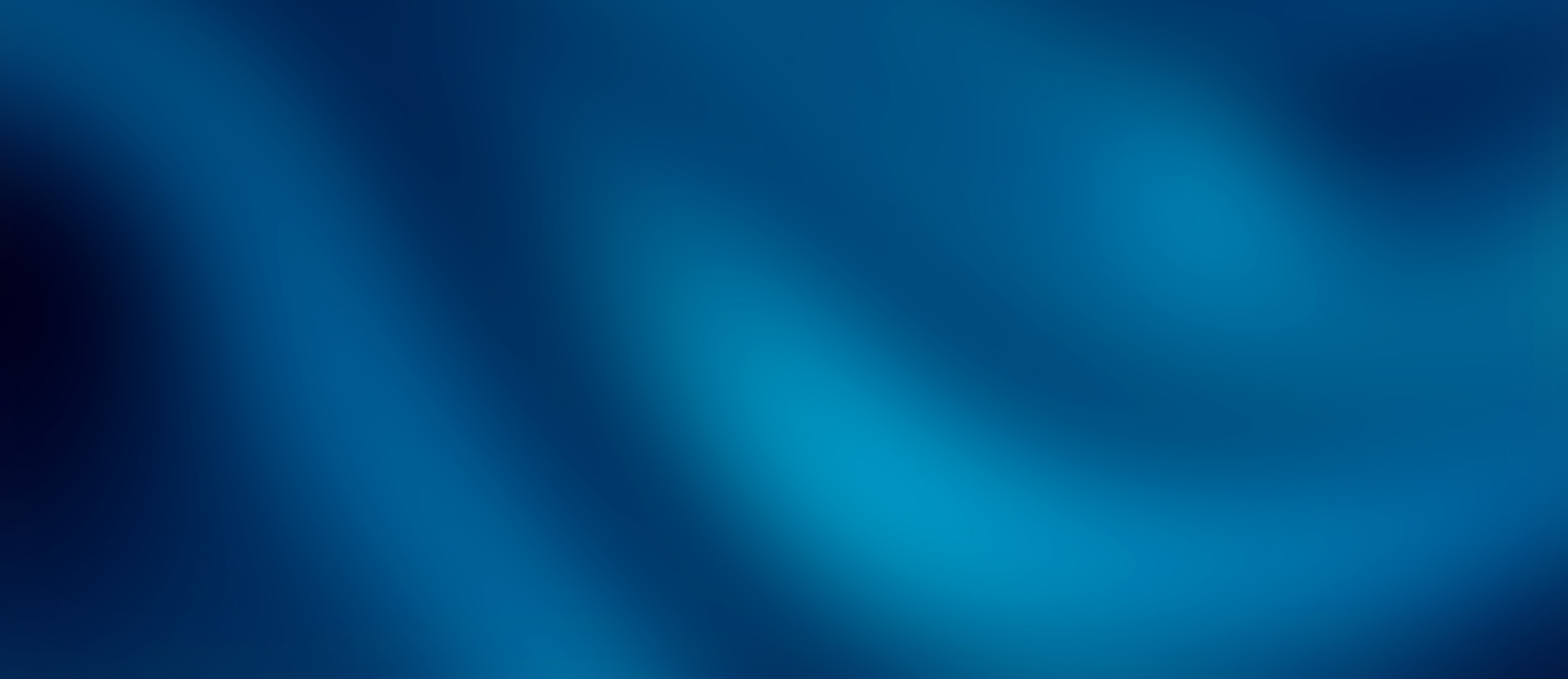 Airing Today
The Greatest Promise in the Bible
Previously Recorded
Romans 8:28 has been called the greatest verse in the greatest chapter in the greatest book in all of Scripture. It offers Christians a unique way of processing life when bad things happen to them. Dr. David Jeremiah explores five transformational truths contained in this verse.
Play With Audio
Featured on this Broadcast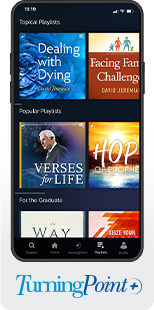 Available Now on TurningPoint
There is so much to explore! From Dr. David Jeremiah's most popular messages to topical playlists—it's all available now on TurningPoint !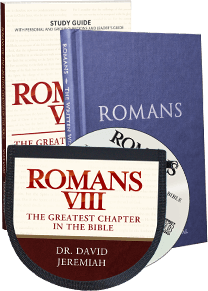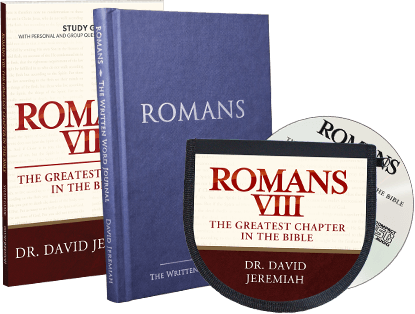 COUNT YOUR SPIRITUAL BLESSINGS
Romans VIII Set
Romans 8 has been called the greatest chapter of the Bible because it cuts through doctrinal details to reveal the profound truth of what it means to be free in Christ. Study this watershed passage with Dr. David Jeremiah's Romans VIII set.
Learn More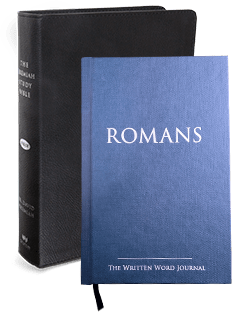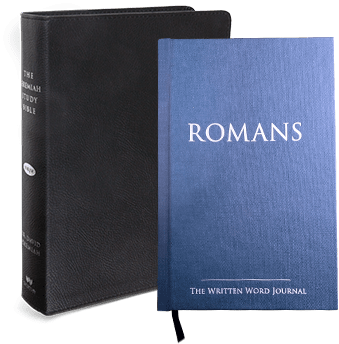 THE WRITTEN WORD JOURNAL
The Jeremiah Study Bible
This set will take you on a journey through the pages of Scripture with David Jeremiah as your guide. With his study notes on every page of the Bible and the journal by your side, you are sure to uncover fresh discoveries about familiar stories.
Learn More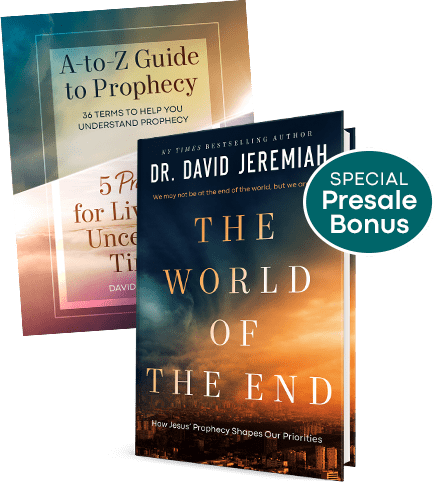 HOW JESUS' PROPHECY SHAPES OUR PRIORITIES
The World of the End
Drawing from the words of Jesus, Dr. David Jeremiah's latest burden is spelled out in his new book and series, The World of the End. This teaching lays out priorities for believers in an era of heightened deception and confusion and brings perspective straight from Matthew 24:1-14, where Jesus gives His longest and last address to His disciples in the Olivet Discourse. Jesus warned of deception in the Last Days, that there would be war, strife, and persecution. But His words must be echoed today: See that you are not troubled, for all these things must come to pass, but the end is not yet…. And this gospel of the kingdom will be preached in all the world as a witness to all the nations, and then the end will come (verses 6, 14).
Dr. Jeremiah suggests there is One voice we ought to trust more than other voices, one expert we ought to prefer above all the other "experts," and One whose opinion we ought to value more than all other opinions. Amid the thousands of shrill voices screaming for our attention, there is but One voice we need to hear.
The voice of Jesus Christ.
Instead of scanning the headlines, tuning into talk shows, or following the latest social media personality trying to figure out what the future may hold, you should spend as much time listening to His voice to know Him better. Then when the future becomes the present, you will enjoy a wondrously close relationship with Almighty God and be prepared to walk with the Lord Jesus Christ in strength. No matter what happens!
The Next Step in our Digital Broadcast Ministry
TurningPoint Now Available!
Online streaming platforms are everywhere and used by seemingly everybody. One estimate puts the number of people watching platforms like Discovery and Apple TV at more than three billion people worldwide. Online video streaming is our present reality. This is why we are utilizing the technology of our time with the launch of a new platform called TurningPoint .
You will have instant, on-demand access to the vast library of content from Dr. Jeremiah and Turning Point. Enjoy the latest prophecy teaching from Dr. Jeremiah, find a library of topical Bible studies for your small group, or search for biblical content to help you minister to others. Think of it as Discovery or Apple TV but with a godly purpose! TurningPoint is an extensive digital Bible teaching library available to you 24/7.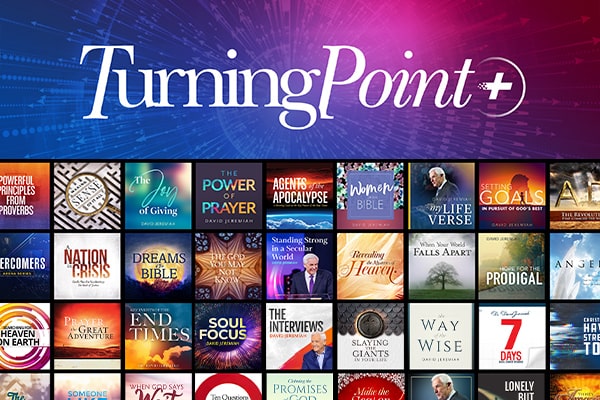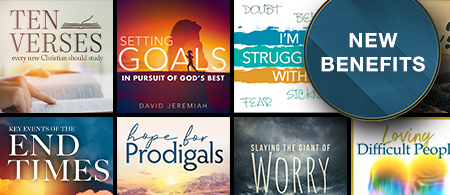 See What's New Just For You
Exclusive Bible Strong Partners Features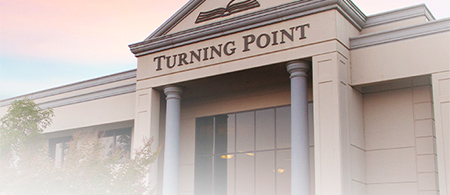 We're Glad You're Here!
Learn Even More Ways to Stay Connected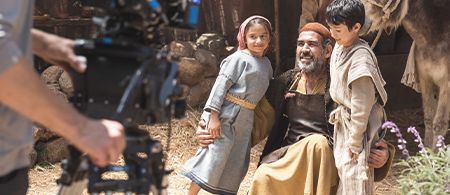 Filming Concludes on Why the Nativity?
Why the Nativity? Moves Into Post-Production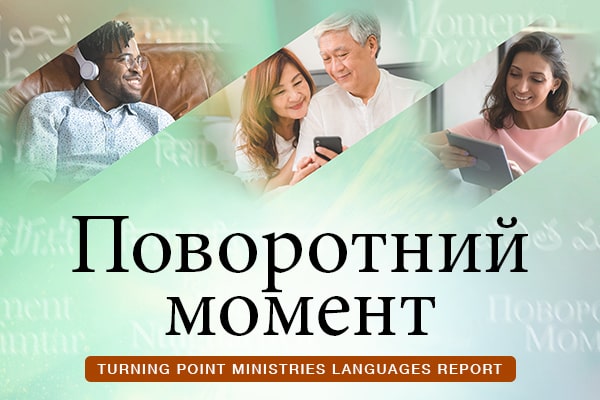 Going Global with God's Word
Seizing the Opportunity
As a part of our Turning Point family, you now speak Ukrainian!
Even better—you're multi-lingual! Together with Turning Point, you're sharing God's Word in fourteen different languages. We are reaching your family, neighbors, community, our nation, and the world with the Gospel in their own language. And we've only just begun!
We live in an age when technology can help bridge the language barrier in teaching God's Word. What an opportunity for us to speak to the needs of people everywhere—the fear, the grief, the suffering, the hopelessness, the questions of "Why is my life important?" and "Is there a God?"— in their own language.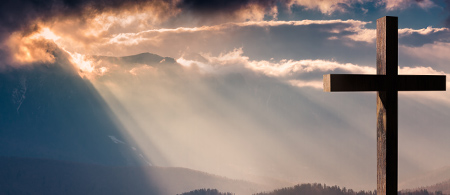 Discover hope—find renewal
Become a Christian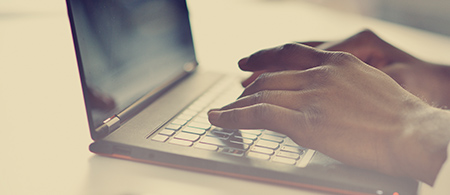 Do you have a favorite message from Dr. Jeremiah?
We Want to Hear From YOU!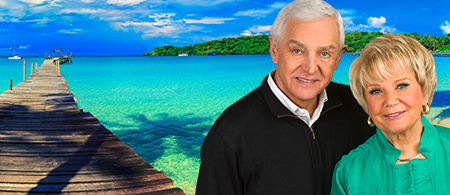 Discover the intersection of relaxation and inspiration
Travel With Turning Point
Television Series:
Now Airing
Here are the current teaching series now airing on Turning Point Television. Enter your email address in the box below to receive updates about upcoming broadcasts.
Series Updates »
Please enter a valid email address
You've been successfully signed up!