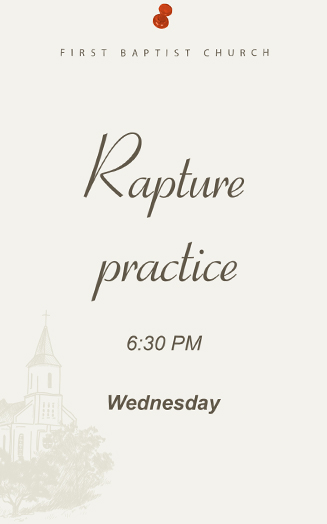 Can you imagine...
walking into church one Sunday and seeing this announcement posted on the bulletin board?
Can you imagine...
walking into church one Sunday and seeing this announcement posted on the bulletin board?
oh, I know it might seem silly
...to think about attending a rehearsal for the Rapture—but here's the amazing reality:
God's Word outlines ten ways we should be preparing for Christ's return!
And when you think about it, it only makes sense...rehearsal just means getting ready for something—it's preparation for a future event. And that is exactly what we should be doing in light of Christ's return.
,
You need to be personally prepared for the Rapture!
THIS IS NOT SOMETHING THAT CAN WAIT! WE WILL NOT HAVE ANY WARNING. THE RAPTURE WILL TAKE PLACE IN "THE TWINKLING OF AN EYE."
The Rapture and What We Should Do Until Christ Returns
This offer includes the handbook, Dr. Jeremiah's teaching on DVD, plus a convenient reference tool bookmark.
These resources highlight ten things every Christian should do until Christ returns!
You'll gain a new, clearer–than–ever view of the Rapture, the Millennium, the Tribulation, the Second Coming, and other prophetic events!
You'll also gain new practical new insights into your daily walk with the Lord. Discover what it means to be called to fellowship, humility, love, unity, ministry, evangelism, obedience, righteousness, comfort, and "remembering."
The Rapture Quiz: Fact or Fiction
You got
70

% correct.

Now, challenge your friends to take the quiz:

Retake the quiz here
Answers to Questions About Prophecy
A perfect resource for those just beginning their journey into prophecy as well as those well-versed in the Scriptures.
For anyone who finds biblical prophecy mysterious or troubling, Dr. David Jeremiah has compiled this easy–to–understand question–and–answer book to help you piece together the puzzling events of the End Times.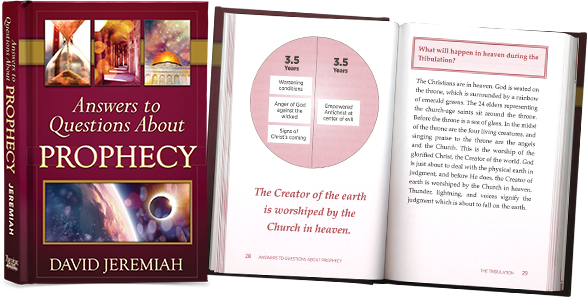 This 162-page volume addresses some of the most puzzling and debated questions regarding biblical prophecy. It will also help you share the truth with those you love!
More than 60 questions and answers
Walk down the Romans Road to salvation
Handy topical index
Ask Yourself
If Jesus returned today, what evidence would there be that I am doing my duty— doing the Master's business with what He has given me?
I believe this resource set will help you faithfully carry out Jesus' call until His return.