Reading Plan
Now that you have the steps, it's time to get started. The downloadable reading plan below will guide you through the entire Bible in one year.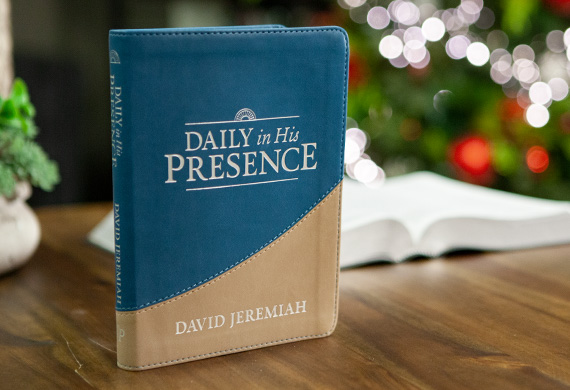 Daily in His Presence
In the new year, take a few moments each day to pause—to shift your focus from everything that's going on in the world and connect your heart with the heart of Jesus. As you read through the Bible, let Dr. Jeremiah share Scripture and a few words of wisdom with you every day of the new year through the 2020 Turning Point devotional.
| | January | February | March |
| --- | --- | --- | --- |
| Day 1: | Genesis 1 – 4 | Leviticus 14 – 15 | Deuteronomy 26 – 27 |
| Day 2: | Genesis 5 – 8 | Leviticus 16 – 18 | Deuteronomy 28 – 29 |
| Day 3: | Genesis 9 – 12 | Leviticus 19 – 21 | Deuteronomy 30 – 32 |
| Day 4: | Genesis 13 – 17 | Leviticus 22 – 23 | Deuteronomy 33 – 34 |
| Day 5: | Genesis 18 – 20 | Leviticus 24 – 25 | Joshua 1 – 4 |
| Day 6: | Genesis 21 – 23 | Leviticus 26 – 27 | Joshua 5 – 7 |
| Day 7: | Genesis 24 – 25 | Numbers 1 – 2 | Joshua 8 – 10 |
| Day 8: | Genesis 26 – 28 | Numbers 3 – 4 | Joshua 11 – 13 |
| Day 9: | Genesis 29 – 31 | Numbers 5 – 6 | Joshua 14 – 17 |
| Day 10: | Genesis 32 – 35 | Numbers 7 | Joshua 18 – 20 |
| Day 11: | Genesis 36 – 38 | Numbers 8 – 10 | Joshua 21 – 22 |
| Day 12: | Genesis 39 – 41 | Numbers 11 – 13 | Joshua 23 – 24 |
| Day 13: | Genesis 42 – 43 | Numbers 14 – 15 | Judges 1 – 3 |
| Day 14: | Genesis 44 – 46 | Numbers 16 – 18 | Judges 4 – 5 |
| Day 15: | Genesis 47 – 50 | Numbers 19 – 21 | Judges 6 – 8 |
| Day 16: | Exodus 1 – 4 | Numbers 22 – 24 | Judges 9 – 10 |
| Day 17: | Exodus 5 – 7 | Numbers 25 – 26 | Judges 11 – 13 |
| Day 18: | Exodus 8 – 10 | Numbers 27 – 29 | Judges 14 – 16 |
| Day 19: | Exodus 11 – 13 | Numbers 30 – 32 | Judges 17 – 19 |
| Day 20: | Exodus 14 – 16 | Numbers 33 – 36 | Judges 20 – 21 |
| Day 21: | Exodus 17 – 20 | Deuteronomy 1 – 2 | Ruth 1 – 4 |
| Day 22: | Exodus 21 – 23 | Deuteronomy 3 – 4 | 1 Samuel 1 – 3 |
| Day 23: | Exodus 24 – 27 | Deuteronomy 5 – 8 | 1 Samuel 4 – 7 |
| Day 24: | Exodus 28 – 30 | Deuteronomy 9 – 11 | 1 Samuel 8 – 12 |
| Day 25: | Exodus 31 – 34 | Deuteronomy 12 – 15 | 1 Samuel 13 – 14 |
| Day 26: | Exodus 35 – 37 | Deuteronomy 16 – 18 | 1 Samuel 15 – 16 |
| Day 27: | Exodus 38 – 40 | Deuteronomy 19 – 20 | 1 Samuel 17 – 18 |
| Day 28: | Leviticus 1 – 4 | Deuteronomy 21 – 23 | 1 Samuel 19 – 21 |
| Day 29: | Leviticus 5 – 7 | Deuteronomy 24 – 25 | 1 Samuel 22 – 24 |
| Day 30: | Leviticus 8 – 10 | | 1 Samuel 25 – 27 |
| Day 31: | Leviticus 11 – 13 | | 1 Samuel 28 – 31 |
| | April | May | June |
| --- | --- | --- | --- |
| Day 1: | 2 Samuel 1 – 3 | 1 Chronicles 7 – 9 | Job 21 – 24 |
| Day 2: | 2 Samuel 4 – 7 | 1 Chronicles 10 – 12 | Job 25 – 30 |
| Day 3: | 2 Samuel 8 – 11 | 1 Chronicles 13 – 16 | Job 31 – 34 |
| Day 4: | 2 Samuel 12 – 13 | 1 Chronicles 17 – 19 | Job 35 – 38 |
| Day 5: | 2 Samuel 14 – 16 | 1 Chronicles 20 – 23 | Job 39 – 42 |
| Day 6: | 2 Samuel 17 – 19 | 1 Chronicles 24 – 26 | Psalms 1 – 8 |
| Day 7: | 2 Samuel 20 – 22 | 1 Chronicles 27 – 29 | Psalms 9 – 17 |
| Day 8: | 2 Samuel 23 – 24 | 2 Chronicles 1 – 4 | Psalms 18 – 21 |
| Day 9: | 1 Kings 1 – 2 | 2 Chronicles 5 – 7 | Psalms 22 – 27 |
| Day 10: | 1 Kings 3 – 5 | 2 Chronicles 8 – 11 | Psalms 28 – 33 |
| Day 11: | 1 Kings 6 – 7 | 2 Chronicles 12 – 16 | Psalms 34 – 37 |
| Day 12: | 1 Kings 8 – 9 | 2 Chronicles 17 – 20 | Psalms 38 – 42 |
| Day 13: | 1 Kings 10 – 12 | 2 Chronicles 21 – 24 | Psalms 43 – 49 |
| Day 14: | 1 Kings 13 – 15 | 2 Chronicles 25 – 28 | Psalms 50 – 55 |
| Day 15: | 1 Kings 16 – 18 | 2 Chronicles 29 – 31 | Psalms 56 – 61 |
| Day 16: | 1 Kings 19 – 20 | 2 Chronicles 32 – 34 | Psalms 62 – 68 |
| Day 17: | 1 Kings 21 – 22 | 2 Chronicles 35 – 36 | Psalms 69 – 72 |
| Day 18: | 2 Kings 1 – 3 | Ezra 1 – 4 | Psalms 73 – 77 |
| Day 19: | 2 Kings 4 – 5 | Ezra 5 – 7 | Psalms 78 – 80 |
| Day 20: | 2 Kings 6 – 8 | Ezra 8 – 10 | Psalms 81 – 88 |
| Day 21: | 2 Kings 9 – 10 | Nehemiah 1 – 3 | Psalms 89 – 94 |
| Day 22: | 2 Kings 11 – 13 | Nehemiah 4 – 7 | Psalms 95 – 103 |
| Day 23: | 2 Kings 14 – 16 | Nehemiah 8 – 10 | Psalms 104 – 106 |
| Day 24: | 2 Kings 17 – 18 | Nehemiah 11 – 13 | Psalms 107 – 111 |
| Day 25: | 2 Kings 19 – 21 | Esther 1 – 5 | Psalms 112 – 118 |
| Day 26: | 2 Kings 22 – 23 | Esther 6 – 10 | Psalm 119 |
| Day 27: | 2 Kings 24 – 25 | Job 1 – 4 | Psalms 120 – 133 |
| Day 28: | 1 Chronicles 1 – 2 | Job 5 – 8 | Psalms 134 – 140 |
| Day 29: | 1 Chronicles 3 – 4 | Job 9 – 12 | Psalms 141 – 150 |
| Day 30: | 1 Chronicles 5 – 6 | Job 13 – 16 | Proverbs 1 – 3 |
| Day 31: | | Job 17 – 20 | |
| | July | August | September |
| --- | --- | --- | --- |
| Day 1: | Proverbs 4 – 7 | Isaiah 60 – 63 | Ezekiel 25 – 27 |
| Day 2: | Proverbs 8 – 11 | Isaiah 64 – 66 | Ezekiel 28 – 30 |
| Day 3: | Proverbs 12 – 14 | Jeremiah 1 – 3 | Ezekiel 31 – 32 |
| Day 4: | Proverbs 15 – 17 | Jeremiah 4 – 5 | Ezekiel 33 – 35 |
| Day 5: | Proverbs 18 – 20 | Jeremiah 6 – 8 | Ezekiel 36 – 38 |
| Day 6: | Proverbs 21 – 23 | Jeremiah 9 – 11 | Ezekiel 39 – 40 |
| Day 7: | Proverbs 24 – 26 | Jeremiah 12 – 14 | Ezekiel 41 – 43 |
| Day 8: | Proverbs 27 – 29 | Jeremiah 15 – 17 | Ezekiel 44 – 46 |
| Day 9: | Proverbs 30 – 31 | Jeremiah 18 – 21 | Ezekiel 47 – 48 |
| Day 10: | Ecclesiastes 1 – 4 | Jeremiah 22 – 24 | Daniel 1 – 3 |
| Day 11: | Ecclesiastes 5 – 8 | Jeremiah 25 – 27 | Daniel 4 – 5 |
| Day 12: | Ecclesiastes 9 – 12 | Jeremiah 28 – 30 | Daniel 6 – 8 |
| Day 13: | Song of Solomon 1 – 4 | Jeremiah 31 – 32 | Daniel 9 – 12 |
| Day 14: | Song of Solomon 5 – 8 | Jeremiah 33 – 36 | Hosea 1 – 4 |
| Day 15: | Isaiah 1 – 3 | Jeremiah 37 – 39 | Hosea 5 – 9 |
| Day 16: | Isaiah 4 – 8 | Jeremiah 40 – 43 | Hosea 10 – 14 |
| Day 17: | Isaiah 9 – 11 | Jeremiah 44 – 46 | Joel 1 – 3 |
| Day 18: | Isaiah 12 – 14 | Jeremiah 47 – 48 | Amos 1 – 4 |
| Day 19: | Isaiah 15 – 19 | Jeremiah 49 | Amos 5 – 9 |
| Day 20: | Isaiah 20 – 24 | Jeremiah 50 | Obadiah 1 |
| Day 21: | Isaiah 25 – 28 | Jeremiah 51 – 52 | Jonah 1 – 4 |
| Day 22: | Isaiah 29 – 31 | Lamentations 1 – 2 | Micah 1 – 4 |
| Day 23: | Isaiah 32 – 34 | Lamentations 3 – 5 | Micah 5 – 7 |
| Day 24: | Isaiah 35 – 37 | Ezekiel 1 – 4 | Nahum 1 – 3 |
| Day 25: | Isaiah 38 – 40 | Ezekiel 5 – 8 | Habakkuk 1 – 3 |
| Day 26: | Isaiah 41 – 43 | Ezekiel 9 – 12 | Zephaniah 1 – 3 |
| Day 27: | Isaiah 44 – 46 | Ezekiel 13 – 15 | Haggai 1 – 2 |
| Day 28: | Isaiah 47 – 49 | Ezekiel 16 – 17 | Zechariah 1 – 5 |
| Day 29: | Isaiah 50 – 52 | Ezekiel 18 – 20 | Zechariah 6 – 10 |
| Day 30: | Isaiah 53 – 56 | Ezekiel 21 – 22 | Zechariah 11 – 14 |
| Day 31: | Isaiah 57 – 59 | Ezekiel 23 – 24 | |
| | October | November | December |
| --- | --- | --- | --- |
| Day 1: | Malachi 1 – 4 | John 1 – 2 | 1 Corinthians 10 – 13 |
| Day 2: | Matthew 1 – 4 | John 3 – 4 | 1 Corinthians 14 – 16 |
| Day 3: | Matthew 5 – 6 | John 5 – 6 | 2 Corinthians 1 – 4 |
| Day 4: | Matthew 7 – 9 | John 7 – 8 | 2 Corinthians 5 – 9 |
| Day 5: | Matthew 10 – 11 | John 9 – 10 | 2 Corinthians 10 – 13 |
| Day 6: | Matthew 12 – 13 | John 11 – 12 | Galatians 1 – 3 |
| Day 7: | Matthew 14 – 17 | John 13 – 15 | Galatians 4 – 6 |
| Day 8: | Matthew 18 – 20 | John 16 – 17 | Ephesians 1 – 3 |
| Day 9: | Matthew 21 – 22 | John 18 – 19 | Ephesians 4 – 6 |
| Day 10: | Matthew 23 – 24 | John 20 – 21 | Philippians 1 – 4 |
| Day 11: | Matthew 25 – 26 | Acts 1 – 3 | Colossians 1 – 4 |
| Day 12: | Matthew 27 – 28 | Acts 4 – 5 | 1 Thessalonians 1 – 5 |
| Day 13: | Mark 1 – 3 | Acts 6 – 7 | 2 Thessalonians 1 – 3 |
| Day 14: | Mark 4 – 5 | Acts 8 – 9 | 1 Timothy 1 – 6 |
| Day 15: | Mark 6 – 7 | Acts 10 – 11 | 2 Timothy 1 – 4 |
| Day 16: | Mark 8 – 9 | Acts 12 – 13 | Titus 1 – 3; Philemon 1 |
| Day 17: | Mark 10 – 11 | Acts 14 – 15 | Hebrews 1 – 4 |
| Day 18: | Mark 12 – 13 | Acts 16 – 17 | Hebrews 5 – 8 |
| Day 19: | Mark 14 | Acts 18 – 19 | Hebrews 9 – 10 |
| Day 20: | Mark 15 – 16 | Acts 20 – 21 | Hebrews 11 – 13 |
| Day 21: | Luke 1 – 2 | Acts 22 – 23 | James 1 – 5 |
| Day 22: | Luke 3 – 4 | Acts 24 – 26 | 1 Peter 1 – 5; 2 Peter 1 – 3 |
| Day 23: | Luke 5 – 6 | Acts 27 – 28 | 1 John 1 – 5 |
| Day 24: | Luke 7 – 8 | Romans 1 – 3 | 2 John 1; 3 John 1 |
| Day 25: | Luke 9 – 10 | Romans 4 – 7 | Luke 2:1-20; Jude 1 |
| Day 26: | Luke 11 – 12 | Romans 8 – 10 | Revelation 1 – 4 |
| Day 27: | Luke 13 – 15 | Romans 11 – 14 | Revelation 5 – 9 |
| Day 28: | Luke 16 – 18 | Romans 15 – 16 | Revelation 10 – 13 |
| Day 29: | Luke 19 – 20 | 1 Corinthians 1 – 4 | Revelation 14 – 17 |
| Day 30: | Luke 21 – 22 | 1 Corinthians 5 – 9 | Revelation 18 – 19 |
| Day 31: | Luke 23 – 24 | | Revelation 20 – 22 |