Dr. Jeremiah, in recent days, what have you seen God do at Turning Point that has blessed you, and what has God done through Turning Point that amazed you?
Momentum!
I've seen God take the little things that we do at Turning Point—things I sometimes don't realize are as important as they are—and watched God bless those little things and make this big thing happen, resulting in great impact.
For instance, having a weekend-only television release paved the way for a daily program. That momentum gave us the faith to expand Turning Point to seven days a week. We did. Now our weekday television broadcast is reaching millions. Daytime television has exploded, and now we are trying to keep up with the demands of a daily release!
Also, the momentum of our radio, television, and social and digital media presentations took off during COVID-19 when people were stuck at home and tuned into Christian programming…some for the first time ever. Turning Point was there for them. God took a tragic worldwide pandemic, and He turned it into an opportunity for good. We reached so many people last year who had never heard the Gospel, and we were instrumental in strengthening the Body of Christ the world over! Praise the Lord!
The pandemic took you off the road this past year. What are your plans to hold your live arena events looking ahead?
I am so ready to get back on the road again and do Turning Point rallies in towns across America. There is something special that happens at those events. These rallies energize me, I trust they bless those who attend, and they provide great content to air on television and radio. I just want to make sure that everybody knows we're working on those events, and by the grace of God, we're going to be back LIVE in many communities this year. I believe this is what God wants. I'm absolutely sure it's what I am excited about! I believe these are honoring to the Lord. Souls are saved! Lives transformed! I can't wait to get back out there!
"We are looking at more and more ways to infuse evangelism into what we do."
How would you define the ministry of Turning Point over the past five years?
God has been so good. We set goals for these years, and we shot so far beyond them it almost doesn't make sense. I don't think any of us could have imagined that this would have happened at this point in time, and all we would have missed if we would have stopped taking the steps of faith we did in the areas of opportunity God put before us.
Turning Point has experienced dramatic ministry growth. I constantly pray for God to do something so great only He can get the credit for it, and in the past five years, He has! We can put everything we know and everything we've done in our own strength into this work, and it wouldn't have come close to what God has done. Nobody can explain this outside of the power of God on this ministry.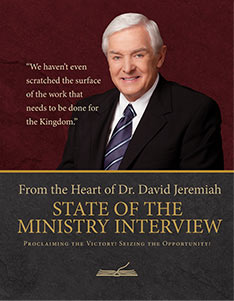 Easily print and save this interview
Download the PDF now
Download
Sorry, we encountered an error. Please try again.
Success! Your download should begin automatically.
What do you hope to see in the next five years at Turning Point?
I hope it's as full of surprises as the last five. We work every day to keep our arms around what God has done. We're not trying to build something huge necessarily, but what we are trying to do is to circulate the Word of God and see people come to Christ.
I have discovered that the average person today has little to no knowledge of the Bible. What we assumed people knew of God in the beginning of our ministry no longer holds true today. Very few ministries are serious about helping people understand what the Bible says, what it means, and what it can mean for them. That's what we do. And that's what we will always do.
Though many follow Turning Point for the strong presentation of Bible teaching, we must continue to create additional programming for those who don't have a basic understanding of the Bible or spiritual issues. So, while we haven't changed our content, we're creating additional ways to deliver it, and we're defining it in a different way so that we meet the needs of people where they are today. That's the difference.
We must be diligent in teaching…and reaching…people with the Gospel through Turning Point.
Your vision and philosophy for reaching more people with the unchanging Word of God seem to be far-reaching. It seems evangelism is a strong part of that plan.
God has given us one of the largest delivery systems of the Gospel in the world. A delivery system of radio, television, print, and digital media, which I believe comes with a great deal of responsibility.
So what do we do with that? We are looking at more and more ways to infuse evangelism into what we do—sharpen our focus on evangelism while we're teaching the Word of God. There are just so many people who still don't know the Lord.
What would you describe as our core strengths as a ministry?
We know God has called us to teach the Word. We focus our attention on the Scripture. That's the first thing.
Secondly, I hear from people everywhere that our commitment to excellence in the products and presentation and the programming of Turning Point is a core strength in attracting people to the Bible. Turning Point wouldn't be on television every day and on stations like the History Channel if we didn't have the excellence in production quality at Turning Point. You could have the best message in the world, but if the package is not God-honoring, the message won't be seen or heard.
"We know God has called us to teach the Word. We focus our attention on the Scripture. That's the first thing."
In your last book, you dedicated a chapter to risk. How do you take risks in stepping out in faith with ministry opportunities?
There's risk in so many of the things that we do that it becomes part of our DNA and who we are as a ministry as we try new ways in reaching the world.
We step out in faith in areas where people need to be reached for God. And when you do that, it's always a risk. We preach the Gospel in arenas. We go to New York and produce Christmas specials on Broadway that have reached more than 9 million people on television and online. That was a risk! As a result of those Christmas programs, we reached some 300,000 people who had never heard of Turning Point and many who had never heard the Gospel.
The world isn't pounding on our door, asking us to share the Gospel with them. There is no evangelical mindset in our culture. There's no biblical worldview. These are secularized people, and we'll reach them with our message, but we won't get them with our message first. We'll grab their attention with excellent technology and with excellent creativity in the presentations we produce. That's our goal. We want to reach, preach, and teach! And if we can do that, we'll have a chance to have an even greater impact doing what we already do in a culture that desperately needs Jesus!
Dr. Jeremiah, would you say God has put Turning Point here for such a time as this?
Absolutely! I believe God's put us here for a time like this! Did we know at the beginning Turning Point would grow to the presence that we have throughout the world? I didn't know. How could I know? But as Turning Point got started, we began to see how God worked—giving us moments along the way to step out in faith and seize opportunities. That momentum took us to the next level and then the next.
It's a profound thought that with all that has been accomplished through Turning Point Ministries, in many respects we haven't even scratched the surface of the work that needs to be done for the Kingdom. We have an opportunity to leave a legacy in this world that will go on for generations to come. I believe that with all my heart. And I believe that together, this is what we are accomplishing every day here at Turning Point.
Dr. Jeremiah, there is so much to be thankful for and praise Him for!
Amen! The staff at Turning Point gives God all the glory for this! And I recognize that none of these things could have taken place without the faithful friends who support Turning Point with their prayers and giving. I'm so deeply grateful for—and tremendously blessed by—their partnership. The impact we are making together in hundreds of millions of lives is truly astounding, and those who support Turning Point with their prayers and giving play a vital role in making all this possible.
I love doing eternal Kingdom work together!
By the Numbers
The growth and reach of Turning Point this year
7.2 million people visited DavidJeremiah.org this year.
Our Forward live event stream was viewed 5.8 million times across our website, Facebook, and YouTube.
More than 100,000 people have created an online personal ministry account in just the last six months—largely due to the launch of the Home for Christmas Channel!
Our mobile app has been downloaded more than 1.2 million times!
Our mobile app has been downloaded more than 1.2 million times—with more people now listening to Turning Point Radio on the app than on DavidJeremiah.org!
Turning Points Devotional Magazine has been sent to more than 415,000 homes each month for the first three months of 2021—an enormous growth over last year.
Strength for Today is our most requested devotional to date, with 150,000 copies in print!
Since January 2020, we've added 14 new daily television releases in the US and Canada:

Turning Point Daily Television viewership has increased 129 percent year-over-year in December 2020—impacting an estimated 350,000 viewers each day!
Increasing Our Reach in 2021
COMING SOON
JULY 2021
Angels—Who They Are and How They Help…What the Bible Reveals In his extraordinary book and teaching series, Dr. David Jeremiah will inspire and encourage believers as he explores the Scriptures to unveil the remarkable truth about angels, and their role and work in our world!
AUGUST 2021
God Has Not Forgotten You A timely message for our hurting world, in his new book, Dr. Jeremiah responds to those who are experiencing a season of loneliness or anxiety.
OCTOBER 2021
Turning Point Live Join Dr. Jeremiah at a live event this fall! These inspirational evenings with David Jeremiah will reach thousands as fellow believers gather to worship and hear the Word of God.
Tampa, FL • October 5
Jacksonville, FL • October 7
Houston, TX • October 26
Fort Worth, TX • October 28
Where Do We Go From Here? In this new Bible series, Dr. Jeremiah will examine the current events unfolding around us and answer the pressing question of how they connect to End Times prophecy.
DECEMBER 2021
Why The Nativity? Based on Dr. Jeremiah's best-selling book and teaching series, this cinematic Christmas production is unlike anything Turning Point has done before. This docudrama is strategically positioned to reach our new History Channel audience with a powerful retelling of the birth of Christ.
Your generous support enables us to fulfill our God-given mission:
Delivering the Unchanging Word of God to an Ever-Changing World