Together we are reaching AN EVER-CHANGING WORLD WITH THE UNCHANGING WORD OF GOD!
Look at the ministry of Jesus,
and you'll see Him reaching people in a variety of different ways...
He preached on hillsides and in marketplaces.
He stood on a boat and spoke to people on the shoreline.
He sat and talked with children.
He personally trained twelve men.
He spoke to a woman at a well.
And while the methods of communication have changed a bit since then, His Gospel message is still reaching people today in countless ways, on numerous platforms through you and Turning Point—on television and radio, online and in print, just to name a few!
In fact, we've watched in wonder as the Lord has expanded the reach of our ministry beyond any boundaries we had in sight.
This growth reflects the work of God—not only within Turning Point, but within individual lives.
Yes, you'll see big numbers in this report—hundreds of thousands, millions, tens of millions. But lives don't change collectively. They change personally, directly... one-by-one. This is the work God is doing in one person's heart...millions of times over...through you!
People are seeking out solid Bible teaching in droves, even as God's Word becomes harder to find. Though many can't go down the street to a local Christian bookstore anymore for a Bible or evangelism and discipleship resources...they can go to Turning Point.
By God's grace, and thanks to the faithful partnership of friends like you, we're here to reach them with the Truth and answers they need—often for free, or simply asking for a gift of any amount.
But the days are short. Jesus is coming soon. This growth we've seen in the last year is not an act of happenstance, but an act of God Himself for such a time as this...
Print & Save This Report
Download Here >>
Sorry, we encountered an error. Please try again.
Success! Your download should begin automatically.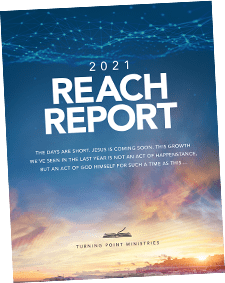 Your Reach on Television
Thanks to your generous support, Turning Point Television has expanded dramatically since January 2020—adding 7 new weekend broadcasts (including Fox Business, Newsmax TV, and WCBS New York) and 19 new daytime broadcasts during the week (including A&E, History Channel, RFD TV, Daystar, Cowboy Channel, and Miracle Channel).
Through this expansion we have been given the opportunity to bring the Word of God into over 1.7 million homes and reach an estimated 4.5 million people per week in the United States alone!
When you add English program viewership in Canada, the United Kingdom, Australia, and New Zealand—plus multi-language program viewership in Africa, the Middle East, Russia, India, and Indonesia—countless more lives are being impacted by the teaching of God's Word on television.
Turning Point Television Expansion Past 20 Months

Your Reach on Radio
Radio remains one of the most effective ways you're reaching new listeners and teaching existing ones through Turning Point.
Our half-hour Turning Point Radio program reaches over 1.5 million listeners every week in the United States. Dr. Jeremiah's solid Bible teaching can be heard over 5,000 times per day on more than 3,000 radio outlets worldwide—including 20 new stations added since January 2020.
20 new stations have begun airing Turning Point since January 2020. Praise the Lord!

Your Reach in Print
Requests for our monthly devotional magazine, Turning Points, skyrocketed this year—with nearly 5 million copies sent out across the U.S., the U.K., and Canada!
Each request represents an individual person desiring to grow deeper in their understanding of what the Bible says, what it means, and what it means for them!
Turning Points Devotional Magazine Distribution Worldwide


Your Reach Online
Together, we're reaching people with the life-changing Gospel message in an increasingly digital world—and our growth across all online platforms continues to explode!
Over the last year, DavidJeremiah.org had 83.91 million page views.
Over the last year, DavidJeremiah.org had 83.91 million page views. Our website has become a one-stop-shop for locating all of our TV and radio broadcasts, daily devotionals, printed resources, and more.
Thanks to mission-minded friends like you who see the enormous evangelism opportunity online, this number of web visitors grows every year. Our modern and high-quality presentation of the teaching of God's Word is on par with any other media company and meets the increasing number of people searching for biblical answers, teaching, and resources!
Total Page Views: 5 Fiscal Years
(DavidJeremiah.org)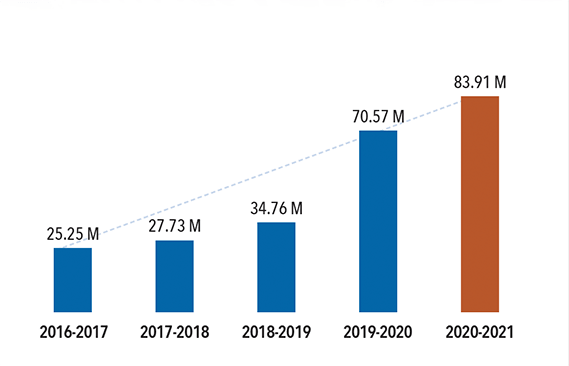 Social Media Engagement: 3 Fiscal Years (Facebook and YouTube)

Devotional Page Views: 5 Fiscal Years (DavidJeremiah.org)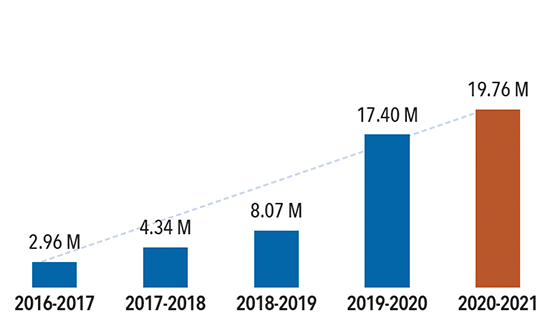 Whether people engaged with our daily devotional directly on DavidJeremiah.org or clicked through from their email inbox, we're seeing more people than ever—19.76 million in this last year—interacting with the Word of God through this digital resource!

Your Reach by the Numbers
Many new friends find the ministry of Turning Point and the Bible Strong teachings of Dr. Jeremiah for the first time each year—and this fiscal year has been no exception.
In fact, 405,860 individuals have looked to Turning Point for answers to their spiritual questions for the first time this year—a dramatic 37 percent increase! This explosion of first-time interactions includes people who have asked for ministry resources across the United States, Canada, and the United Kingdom.
First Time Ministry Contacts:
5 Fiscal Years

Of course, the need for solid Bible teaching and resources extends far beyond the English language—to people all around the world! By God's grace, and thanks to your generous giving, Turning Point currently broadcasts Dr. Jeremiah's teachings in twelve languages—with hopes to add another three languages to this list by year's end!
Turning Point's World Outreach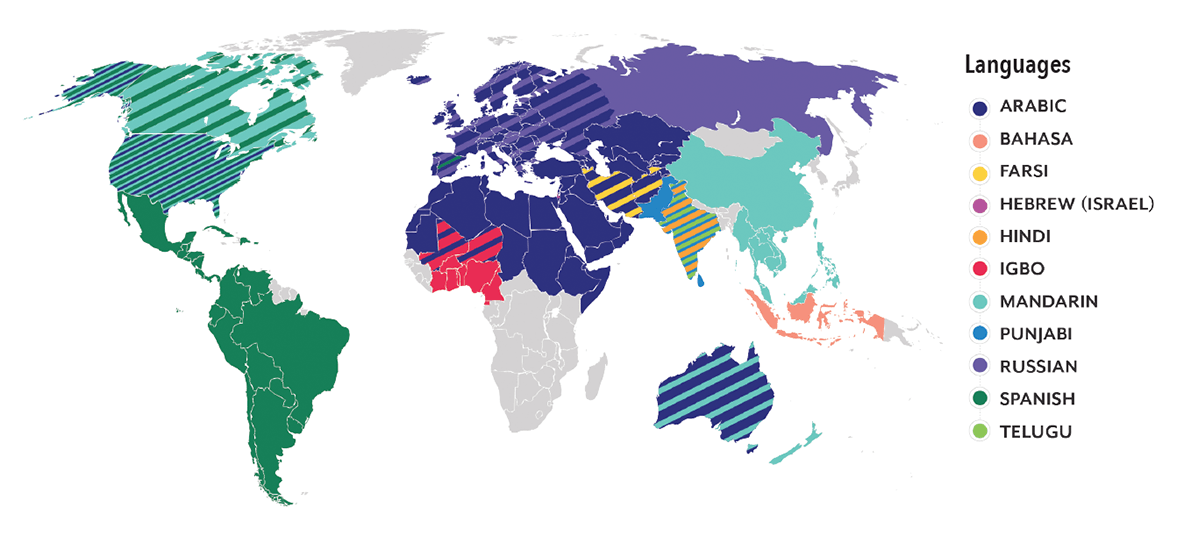 All of this—every broadcast on radio and television, every resource mailed out, every webpage or social media post created, every language and country we translate for—has one simple goal in mind:
Lives saved and transformed by the powerful Word of God!
And because of your faithfulness to pray and give, 38,486 people this year accepted Dr. Jeremiah's invitation to take their first steps to begin a relationship with Jesus Christ and requested our free booklet, Your Greatest Turning Point.

Let's Continue to Reach the World Together!
God is very clearly on the move through our ministry together. He has given us an explosion of growth over the last year... and an extraordinary opportunity to reach even further this coming year.
Your giving reaches multitudes!
As the Lord has provided through your faithfulness, Turning Point has stewarded resources accordingly to minister to your family and to multitudes worldwide.
You've seen throughout this report how God has blessed these efforts—the many millions of believers who have been spurred on in their faith and the tens of thousands who have given their hearts to Jesus.
Now, we look forward to the opportunity to reach even more people with the timeless teaching of God's Word as we enter this next year together!
TOTAL TV, RADIO, AND WEB COSTS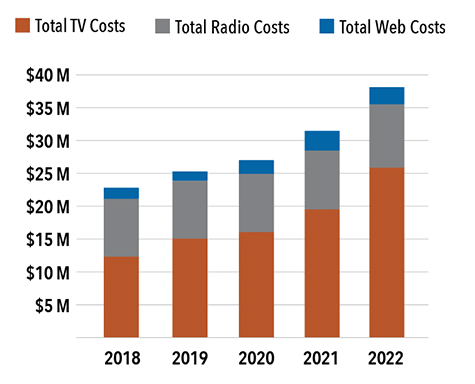 But we can only seize this moment of opportunity with your strong support today.
The profound growth that we're experiencing is stretching our ability to keep up—yet we must not stop. Instead, we must ramp up to keep the pace God is setting for us!
For us, this isn't about Turning Point getting larger. It's about eternity—and the countless individual people who still desperately need to hear the life-changing Word of God and begin a transformational relationship with Jesus before His soon return.
People are coming to Turning Point in droves, led to us by the Lord Himself.
We have a responsibility to make sure that each one receives the Truth they seek.
Our reach will never exceed His grasp—so let's reach further than we can imagine, impact more people than we can possibly count...and fill the kingdom of heaven with greater urgency than ever.
Please, pray about this. Ask God how He would lead you to respond—how far He would have you go personally to deliver the unchanging Word of God to an ever-changing world and reach the lost for Him.
Thank you, again, for the leading role you've played in reaching the world for Jesus already—and for stepping forward to expand our reach even further today! God bless you.
Your generous support enables us to fulfill our God-given mission:
Delivering the Unchanging Word of God to an Ever-Changing World