FREE Bookmark
All Things for Good Prayer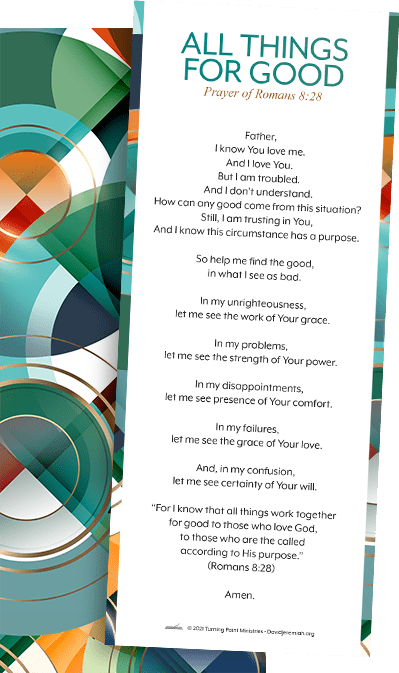 Prayer of Romans 8:28
God promises to work all things "together for good to those who love God," but it can be hard to understand how anything good could come from difficult circumstances.
Based on the words of Romans 8:28, the All Things for Good prayer will help you take your troubles, disappointments, and failures to the Lord with confidence. Contact us today, and we'll send you a copy of the prayer on an attractive bookmark that you can tuck into your Bible as a constant reminder of God's unfailing love.
Thank you for your faithful support of Turning Point's God-given mission: Delivering the unchanging Word of God to an ever-changing world.
Thank You
Your complimentary All Things for Good Prayer is being prepared for shipment! If you have any questions about your order, contact us at:
(877) 998-0222
or
Making Sense of It All Set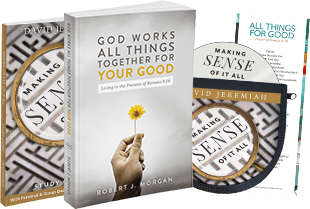 Gain a deeper understanding of Romans 8:28 along with biblical wisdom for dealing with life's challenges with Turning Point's Making Sense of It All resource set.
You'll receive Robert J. Morgan's book, God Works All Things Together for Your Good: Living in the Promise of Romans 8:28, as well as David Jeremiah's Making Sense of It All study guide and ten-message CD album. Of course, you'll also receive Robert Morgan's All Things for Good prayer bookmark.
Making Sense of It All will help you find the strength and hope to overcome adversity!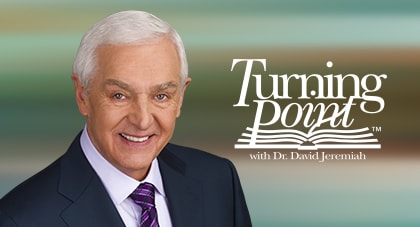 About Dr. David Jeremiah
David Jeremiah has been one of America's most trusted Bible teachers for more than 38 years. Each day he helps millions of people deepen their understanding of the Bible through daily Turning Point Radio and Television programs around the globe.