David Jeremiah's master class on finding God's purpose in your tomorrow.
Are you feeling paralyzed by fear of the unknown, anxious about tomorrow, disappointed by a shattered dream, or unfulfilled spiritually?
Satan would love to prevent you from realizing your God-powered potential.
If you want to rise from your rut, conquer your circumstances, face the future with fearlessness, define your dreams, and muster up motivation, then Forward is for you.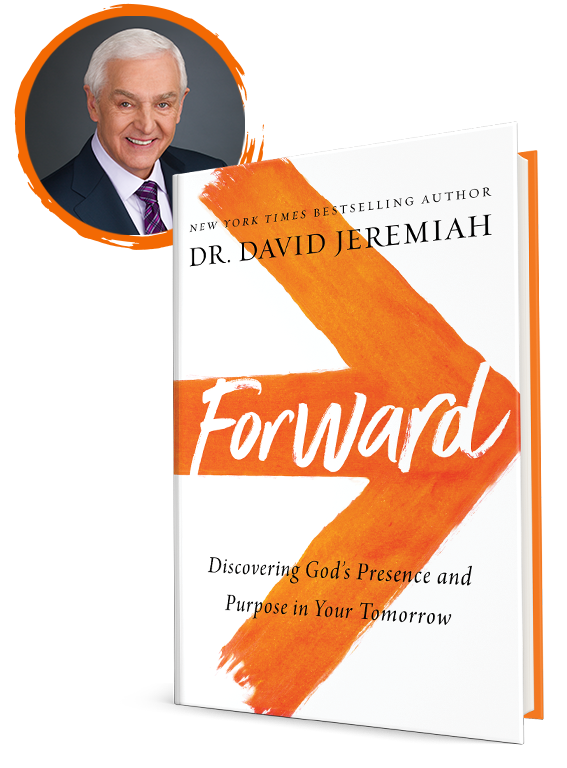 Praise for Forward
What others are saying...
Inside the Book
TEN STRAIGHTFORWARD STEPS FOR LIVING THE LIFE YOU'VE DREAMED OF
Introduction
Read Now
DREAM
Seize Your Tomorrow
PRAY
Consult With Your Creator
CHOOSE
Diminish Your Distractions
FOCUS
Make Your One Thing the Main Thing
RISK
Get Out of Your Safe Zone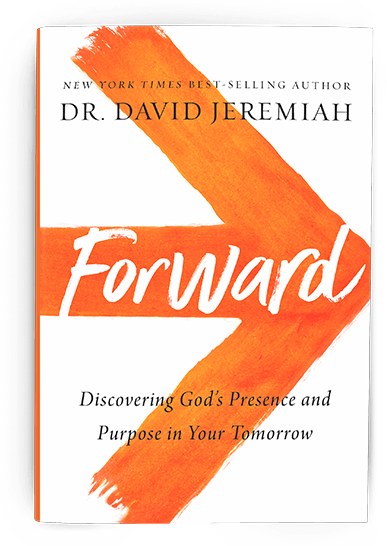 PURSUE
Chase Your Dream
BELIEVE
Get Your Mind Right
INVEST
Outlive Your Life
FINISH
You're Not Done
Until You're Done
Read Now
CELEBRATE
Turn Your Forward Into Forever

Excerpt from Forward
If you ever get into an unfortunate scrape, you might hire...
Frank P. Lucianna to represent you. He's a razor-sharp attorney in Hackensack, New Jersey, just across the Hudson from New York City. You can spot Lucianna in the courtroom daily, dressed in a dapper suit with a pocket square, chopping his hands in the air and defending people in trouble. He does it with energy and effectiveness.
Lucianna has been defending clients for quite a while. Forty-five years ago, a local newspaper claimed he was the city's "busiest criminal lawyer." Twenty-two years ago, the same paper called him "a consummate showman" and New Jersey's "oldest active attorney." Today, Lucianna still waxes eloquent before judges and juries at age ninety-seven.
Lucianna doesn't rest on his laurels. "This is a very consuming profession and it has taken a lot out of my life," he says. "I am constantly involved in preparing cases, and it's a tremendous strain, both mental and physical. Physical because when you go to trial in a case, your whole being is obsessed with trying to help the person you represent, and it places your body and mind under tension."
When asked about his future, Lucianna said, "I hope God lets me continue doing this. I don't want to retire. I don't want to go to Florida. I just want to do what I'm doing."1
Personally, I like going to Florida—but otherwise I feel the same. I hope God lets me continue doing what He's called me to do. My name isn't Archippus, but I take the one verse addressed to him in the Bible as though it were written to me: "Tell Archippus: 'See to it that you complete the ministry you have received in the Lord'" (Colossians 4:17, NIV).
Yes, your role may change. Your assignments may evolve and your situation may alter. You may have to make adjustments. Even so, one fact won't change: as long as God leaves you on earth, He has ongoing work for you. There's no expiration date to the principles I'm teaching you in this book. You never retire from the Christian life, and you never drop out of God's will.
I urge you—never stop starting, and do your best to finish what you start in the Lord's will.
In his book Finish: Give Yourself the Gift of Done, Jon Acuff describes how hard this seems for some people:
I've only completed 10 percent of the books I own. It took me three years to finish six days of the P90X home exercise program. When I was twenty-three I made it to blue-belt in karate. . . . I have thirty-two half-started Moleskine notebooks in my office and nineteen tubes of nearly finished Chapstick in my bathroom.
Acuff adds that he's not the only one who doesn't stick with things. "According to studies, 92 percent of New Year's resolutions fail. Every January people start with hope and hype, believing that this will be the New Year that does indeed deliver a New You. But though 100 percent start, only 8 percent finish."2
During the 2020 pandemic, I released a book called Shelter in God to encourage those struggling with the terrible crisis. One night, as the book was ready to go to press, I awoke with thoughts of all the biblical characters who experienced sheltering-like experiences. The next day, I compiled my list to add it to the epilogue at the end of the book. But then I read a study by Jefferson Smith that said sixty-three percent of readers never finish the book they're reading.3 I called my publisher at the last possible moment, and we changed the epilogue to a prologue. I didn't want anyone to miss the biblical emphasis of this truth.
It's a little frustrating to think that some people will read the first pages of some of my books and never get to the final pages. I work just as hard on the last page as the first one. But congratulations! You've obviously made it to this point in Forward, so don't stop now. Resolve to finish this book. And even more, resolve to finish whatever God places in your hands.
Finish What You Start
Let's face it. You can have a great vision, pray godly prayers, choose the right goals, and focus on the right things. So far, so good. You can also pursue your dreams and make huge investments in God's Word, His work, and His wealth. You can do everything we've talked about so far in this book. But if you don't finish what you start, it's like a building that never has a roof.
Dr. J. Robert Clinton teaches in the School of Intercultural Studies at Fuller Theological Seminary and has devoted vast amounts of time to researching the subject of lifelong leadership development. As part of his study, he identified about a thousand men and women in the Bible who were considered leaders: national leaders, Jewish leaders, church leaders, patriarchs, priests, kings, and so forth.
Many of these leaders were simply mentioned in the text without details, and you may be as surprised as I was to learn there are only forty-nine prominent leaders in Scripture whose lives were surveyed as a whole. We know how they started and how they finished.
Of these forty-nine, only thirty percent finished well. The other seventy percent fell short of God's plan for their lives—a fact that should jolt us. Some leaders such as Samson and Eli stumbled at midlife. Others such as Noah, David, Jehoshaphat, and Hezekiah stumbled near the end.4
But thank God for the thirty percent—for people like Joshua, Daniel, Peter, and Paul—who enjoyed walking with God in increasing intimacy throughout their days. They simply kept growing in the grace and knowledge of the Lord. They remained yielded to Him in all things. Like the trees planted in the courtyard of the Lord, they flourished and stayed fresh and green, bearing fruit whatever their age (Psalm 92:12–14).
Clearly, the greatest finisher in the Bible is Jesus. His entire life and ministry was motivated by a commitment to finish the work His Father gave Him to accomplish:
"Jesus said to them, 'My food is to do the will of Him who sent Me, and to finish His work'" (John 4:34).
"But I have a greater witness than John's; for the works which the Father has given Me to finish—the very works that I do—bear witness of Me, that the Father has sent Me" (John 5:36).
And when we come to His crucifixion, who can forget perhaps the most profound words in all of the Bible: "So when Jesus had received the sour wine, He said, 'It is finished!' " (John 19:30).
In the remainder of chapter nine, Dr. Jeremiah describes five challenges to finishing well. Request your copy of Forward today to explore these and the other nine steps that move us forward toward God's plan for our lives.
1. Jay Levin, "No Argument Here: 94-Year-Old Attorney Is a Marvel," North Jersey, March 13, 2017, https://www.northjersey.com/story/ news/2017/03 /13/no-argument-here-94-year-old-attorney- marvel/97264910/.
2. Jon Acuff, Finish: Give Yourself the Gift of Done (New York: Penguin Random House, 2018), 2.
3. Jefferson Smith, "63% of Your Readers Don't Finish Your Book. Here's Why," Creativity Hacker, August 18, 2015, https:// creativityhacker.ca/2015 /08/18/63-percent-of-readers/.
4. Adapted from Scott Thomas, "Pastors Who Finish Well," Acts 29, November14,2008,https://www.acts29.com/pastors-who-finish-well/.

Forward
Introduction
This book is about the rest of your life. It's about tomorrow. Your tomorrow—and the day after that. Your God-given future is not a haphazard jumble of confusing contingencies. If you feel stuck, you don't have to be. If you feel discouraged, it's time to deal with that. If you feel uncertain, you can get clarity.
You're traveling an appointed way filled with promise and productivity. Everything in your past has prepared you for what's next, and every promise of God will provide what's needed. This is no time to let anxiety, apathy, or anything else hamper you.
I've written this book to encourage you to push forward, whatever your age or circumstances. Get on with your life and chase your unfolding future—and do it with focus, faith, and fervor. I'm excited about whatever is next for you! Your coming days and years are brimming with blessings. Yes, there may be burdens, but God knows about those too. Don't dread tomorrow. Leverage it for the Lord and for others.
I've lived long enough to learn something: no matter what season of life you're in, your best and brightest days are just around the corner. That's not just my opinion and it's not a pious platitude; it's biblical truth. When you seek first the kingdom of God and His righteousness, your future is always unfolding at the speed of grace. God is waiting to use you now more than ever, and your life is far from finished. It's just beginning.
Think of it this way. Your car's rearview mirror is a fraction of the size of the windshield, and there's a reason for that. Safe drivers glance in the mirror, but they focus on the road ahead. How would you like to be in a car driven by someone preoccupied with the mirror? Too many people travel through life that way. They regret yesterday's failures, rehash yesterday's blessings, coast through life on a quarter-tank of fuel, and hope for a scenic overlook ahead. Too often that leaves them stalled by the side of the road.
Let me hand you a bucket and rag. Wash the windshield, buckle your seatbelt, and hit the forward gear. That was the apostle Paul's attitude when he declared, "I focus on this one thing: Forgetting the past and looking forward to what lies ahead, I press on to reach the end of the race and receive the heavenly prize for which God, through Christ Jesus, is calling me" (Philippians 3:13-14 NLT).
That's been my approach to life too, but I felt a sense of rediscovery in this regard on Sunday, April 14, 2019. That evening at Shadow Mountain Community Church where I serve, we invited musician Tommy Walker to minister to us in a concert. Tommy is a gifted and heartfelt artist, and his last song grabbed my heart. It was as though he had written and sung that song just for me. Its title was "Forward," and the words say, in part:
It's been a long, long road
It's been a crooked path with many twists
And turns, but I'm not looking back
I'm walking straight ahead
Believing what You've said Lord
That You're gonna be with me
No matter what life brings
Forward, I'm going forward
To the plans You have for me
To horizons yet unseen
Forward to Your new mercies I will find
As I'm pressing toward the prize
I'm going forward.
In speaking with Tommy after the concert and later reading what he wrote about this song, I came to appreciate those words even more.
Tommy said, "This song was written with a sense of determination to move FORWARD by faith into the next season of my life. The older I get, the easier it is to want my life to be safe, comfortable, and predictable. But that's not God's plan! The God we worship is a God who loves the new and He's all about bringing newness to our lives and the lives of those around us."
Tommy continued, "We will have to let go of the safe and familiar in order to step into the things that bring His life, joy, and power! God desires that all of us press in and press on by faith to the good plans and good works he has for each of us! It's never too late! Let's say no to fear, complacency, and comfort and move FORWARD by faith in Jesus' Name!"
His song became the theme of this book.
Effective men and women are forward thinkers. The nineteenth-century preacher F. B. Meyer wrote, "It is a mistake to be always turning back to recover the past. The law for Christian living is not backward, but forward; not for experiences that lie behind, but for doing the will of God, which is always ahead and beckoning us to follow."
Meyer went on to urge us: "Leave the things that are behind, and reach forward to those that are before, for on each new height to which we attain, there are the appropriate joys that befit the new experience. Don't fret because life's joys are fled. There are more in front. Look up, press forward, the best is yet to be!"
I've thought about this over and over, framing in my mind what that looks like for me. I believe there are ten actions that enable us to tackle life aggressively in the will of God. They are: Dream, Pray, Choose, Focus, Risk, Pursue, Believe, Invest, Finish, and Celebrate. I've set each of them forth in this book with a deep prayer that you'll share the excitement of living assertively in a forward direction.
This book is for young people who desperately need to know these things as they start moving into the fullness of God's will for them. It's for young parents and professionals are stunned by the pressures of life. It's for those in mid-life who need a fresh start. And it's for those of us who are older, because sometimes we forget our richest moments of divine service are at hand.
Have you ever needed to jump-start your engine? The ten steps I describe in this book will spark your interest and help you move forward with fresh energy. It begins when you start to sense God's desires and dreams for you, which are birthed in prayer. As those dreams evolve in your heart, you declutter your routine so you can live with sharper focus and deeper faith. You latch onto the truth of God—that He has a unique roadmap for you and has wonderfully fashioned you for the route He's chosen.
In the process, you have to cast off pessimism and press onward with a positive mindset like the heroes in the book of Revelation who were ready to "follow the Lamb wherever He goes" (Revelation 14:4, NIV). Your life is an investment with eternal dividends. Here on earth, you'll finish in God's timing only to immediately resume your activities in Heaven, where an eternity of worship, work, and fellowship awaits you.
In Jesus Christ your life is not obsolete; it's not out of fashion; and it's not over!
May the Lord Jesus use this book to help you discover—to rediscover—the dreams, desires, and driving force He has waiting for you as you shift to FORWARD!
Read Less
From the first page of the introduction in this book a fresh flame of hope and purpose was ignited in my heart.
—Sheila Walsh
Author, Speaker, and Co-host of the Life Today television program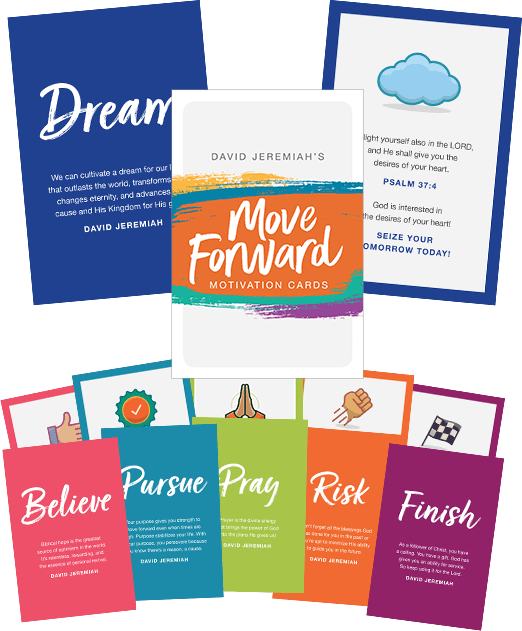 Automatically Included
With Your Copy of Forward
Move Forward Motivation Cards
Ready to move forward in your life? Perhaps you have determined to spend more time in prayer and Bible study. Or maybe you've been stuck in a rut and need motivation to trust God and boldly step with Him into "what's next!" Whoever you are, whatever your situation, or wherever you'd like to go, you can take the power of God's Word and some inspirational words of encouragement with you!
Dr. Jeremiah has put together ten Move Forward Motivation Cards, one for each topic in his Forward teaching series. Each has been created to help you stay motivated as you accept the challenge to move forward into a more promising tomorrow with God.
These cards make perfect Bible bookmarks, or you can place them in strategic places at home or work as you reflect on the Scriptures.
What is holding you back?
Perhaps you've found yourself thinking something like this...
Forward
reveals Dr. Jeremiah's personal approach to life and how to find the presence and purpose of God in your future.
It's Time to Move Forward!
Once again, Dr. Jeremiah has given us the message we need at the moment we need it the most. Powerful. Biblical. Inspirational. Practical.
—Rev. Johnnie Moore
President, The Congress of Christian Leaders, Author of The Next Jihad
With a Gift of Any Amount
You'll Receive:
- Forward hardback book
- Move Forward Motivation Cards
Request Now
With your Gift of $75 or More
You'll Receive:
- Forward hardback book
- Move Forward Motivation Cards
- It's Time To Move Forward interview with Sheila Walsh
- Correlating study guide with small group questions
- The complete message series on DVD or CD
Select Your Set
With A Gift of $100 or More:
- 3 copies of the Forward hardback book
- 3 copies of the Move Forward Motivation Cards
Request Now
More Praise for Forward
What others are saying...
"As a coach and teacher of young people, I am thrilled that Dr. Jeremiah's new book, Forward, is so relatable to the struggles of today's athlete. Athletes have dreams and goals yet they deal with fear, doubt and distractions. This book turns that narrative upside down. Fear turns to courage and faith, doubt turns to purpose, and distractions turn to trusting God's plan for your life. I am anxious to share this book with athletes and witness the work that God is doing."
—Patty Gasso
Head Softball Coach, The University of Oklahoma
"Can it be possible that God has a plan for my future? David Jeremiah tells us the answer is 'yes' and that God wants you to fully embrace it. In his book, Forward, he leads you to expectantly look for God's direction in your life and purpose for your future. It is such an encouraging read!"
—Steve Green
President, Hobby Lobby
"I have read every book David Jeremiah has written, but none have impacted me like his most recent, Forward! I measure a book by how much marking I do and how many pages I have folded down—and I've done a ton of both with this book! I couldn't put it down; I read this book in one sitting, and I won't be surprised if you do too."
—Pat Williams
NBA Executive and Hall of Famer, Author of Revolutionary Leadership
"Dr. Jeremiah beautifully teaches the liberating lesson of letting go of our past and pressing Forward with the perfect plan God has for each of us. I plan to borrow (with credit) his eloquent observation that with the Lord 'our future is always unfolding at the speed of grace!' A positive, uplifting, and motivating read for every believer."
—Matthew Crouch
President, Trinity Broadcasting Network
"Brilliant. Biblical. Beautifully inspiring! Forward, by Dr. David Jeremiah is a life-transforming journey to hope, help and the healthy direction to move your life toward the purpose, plan and unique path God has for your good and His glory. This book breathes LIFE into your future!"
—Pam Farrel
Author of bestselling Men Are Like Waffles, Women Are Like Spaghetti
"It doesn't matter if you are leading your family, your business, your church or a college basketball program. If you aren't moving forward, no matter the situation or circumstance, you are going to spiral backward—and quickly. In Forward, Pastor Jeremiah gives us a Bible-centered game plan and blueprint to keep moving our lives onward, upward, and forward."
—Tom Crean
Head Men's Basketball Coach, University of Georgia
"With so many suffocating in pessimism today this book is a breath of fresh air that provides the life-giving, biblical optimism we need to overcome our current challenges and create a better tomorrow. Dr. David Jeremiah provides us with oxygen for our souls and points us FORWARD with a plan to live the life God has created us to live. I'm so thankful for him, his ministry, and this great book that I'll be sharing with everyone I know."
—Jon Gordon
Best-Selling Author of The Energy Bus and The Power of Positive Leadership
"In Dr. David Jeremiah's new book Forward, we are encouraged and guided to find God's perfect will for our lives and for our tomorrows. In this time of seemingly little hope he lets us know with Christ all things are possible."
—David Green
Founder and CEO, Hobby Lobby
"I can't wait to pass Forward on to my teenagers, spouse, and parents because it has something crucial to say to every generation. We are all searching for answers and meaning in life, especially during troubling days in our world. As you read and apply this book, you'll not only find your purpose, you'll experience your heart coming to life again."
—Arlene Pellicane
Speaker, Podcaster, and Author of Parents Rising
"The world is paralyzed and panicked, but God's people were made for times like these. We don't just look forward, we push forward in the energy of Christ and with the foresight of biblical truth. Don't miss what's next for your life! The ink on these pages spills from the coffers of Dr. Jeremiah's biblical insights and life experiences. As you highlight his sentences, you'll sense how your future is highlighted with the golden glow of God's will. Thank you, Dr. J!"
—Robert J. Morgan
Author and Speaker
"From a new start to a strong finish, Dr. Jeremiah gives biblical and practical counsel on how to advance God's way. If you feel like you are stuck in a rut or just want to move to higher ground, Forward is the book to read now. Get ready to be inspired, challenged, and blessed!"
—Satish Kumar
Founder and Pastor Calvary Temple
Hyderabad, India
"If there was ever a time to focus on your dream, and move FORWARD . . . it's NOW! This book is guaranteed to get your mind right . . . and get your soul right too. If you are looking to ignite your passion, deepen your purpose, and create more IMPACT, READ THIS BOOK . . . it will CHANGE YOUR LIFE!!!"
—Todd Durkin, MA, CSCS
Owner, Fitness Quest 10; Author, Get Your Mind Right & Host of the Todd Durkin IMPACT Show Podcast
"'If you feel stuck now, you don't have to be. If you feel discouraged, it's time to deal with that. If you feel uncertain, you can get clarity.' Dr. Jeremiah explains the process of how to find and fulfill God's dream for your life, and promises that because God exists, there is a reason for you to look forward to tomorrow."
—Dr. John Ankerberg
Author, Speaker, and Host of The John Ankerberg Show
"Forward outlines the kind of life that I want to live every day. Dr. Jeremiah has identified the biblical and practical steps, shared by both Christians and Jews, that help us see past the dizzying array of worries and distractions to the simple, straightforward path of a life devoted to God."
—Yael Eckstein
President and CEO, The International Fellowship of Christians and Jews
No matter
who you are, what your age, what your circumstances, or what you desire to do, there is still time for God to bless you, use you, fulfill you, enrich you, and partner with you to accomplish great things in your lifetime!