Today's Devotional:
Jul. 6
Any Time, Any Reason
The Resolute desk has been used by many American Presidents in the Oval Office of the White House. It was a gift in 1880 from the United Kingdom and was made from the timbers of the HMS Resolute. The desk is massive, weighing thirteen hundred pounds, and was originally a partners' desk with open kneeholes on both sides. One of the most iconic pictures of John Kennedy's presidency shows the President's small son, John Jr., peaking out of the kneehole while his father, the President, worked at the desk.

Send me Dr. Jeremiah's Devotionals
Sign Me Up »
Please enter a valid email address
You've been successfully signed up!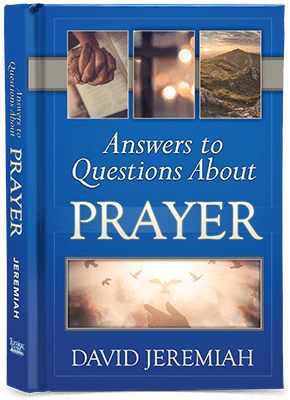 Begin Your Prayer Journey Today
Answers to Questions About Prayer
In Answers to Questions About Prayer, new from David Jeremiah, you will learn the answers to some of the most important questions you may have about talking to your Heavenly Father! This book is divided into five sections and makes it easy to find the answers to your questions. You will also find Prayers of Jesus to model and Scripture references for specific topics regarding prayer.
Prayer is so easy to do, and yet so often, we fail to go to God in prayer unless we are in a place of despair or trouble. When we fail to pray, we miss the tremendous blessing that comes from a daily conversation with our Creator. Prayer should not be left out of our everyday life. It is an instant connection—no waiting required—you can pray any time, any place, any day. And while we often have questions about prayer, God's Word contains the answers.
If you have questions about prayer and its importance in the Christian life, this book will provide the answers.
HARNESS THE LIFE-CHANGING POWER OF PRAYER
30 Days of Prayer
You are invited to participate in a unique, online 30 Days of Prayer campaign. Every day this month, a new prayer adventure will be featured for you here—a short, simple prayer you'll read and pray during your quiet time with the Lord. In addition, when you visit this site, you find powerful insights into a variety of prayer topics, complete with sections on prayer Q&A, the perfect prayer, praise reports, and even a place to submit your own prayer requests.
Each day's prayer will focus on a different topic—wisdom, the future, comfort, gratitude, and more. But one thing you can count on each and every time you bow your head and close your eyes: God WILL hear you!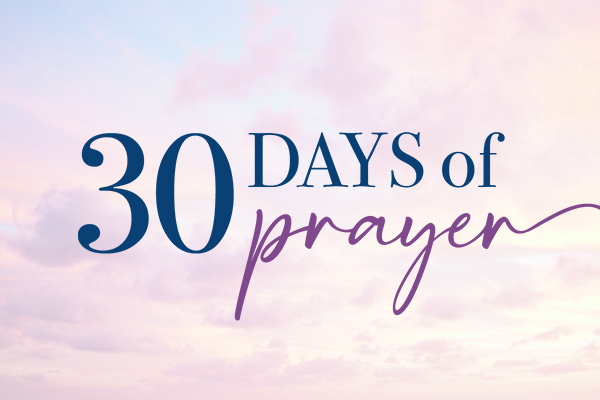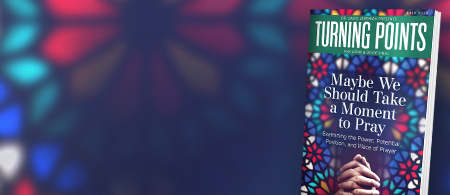 Request Your Copy Now
Turning Points Magazine & Devotional!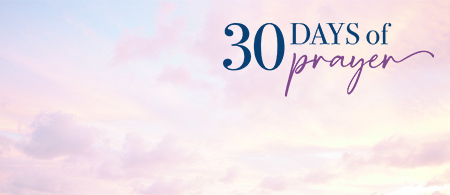 Have You Ever Wondered
Why Do Some Prayers Go Unanswered?
Stream Messages Anytime, Anywhere
Download the Free Turning Point App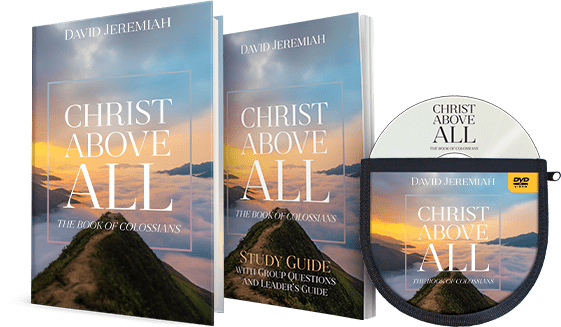 The Book of Colossians
Christ Above All
For almost two thousand years, history's most important question has been, Who was (and is) Jesus Christ? The question started in the first century A.D. and was answered by the writings later compiled into the New Testament. One of the churches where this question was raised was the church in Colossae—in today's modern Turkey. Deceitful teachers had infiltrated the church and were promoting false doctrines about Christ. They said He was not the eternal, divine Son of God and Son of Man, but an inferior created being. The founder of that church, Epaphras, went to Rome to consult with the apostle Paul about this heresy. And Epaphras returned to Colossae with Paul's answers and advice in the form of a letter to the Colossians.
In Christ Above All: The Book of Colossians, Dr. David Jeremiah goes verse by verse through Paul's letter to the church at Colossae. Students of this letter will discover Paul's two-part guide to answering history's most important question: Who Jesus Christ is and how to live faithfully as His follower.
Let David Jeremiah be your guide as you explore and apply one of the most theologically important books in the New Testament.
FILMING CONCLUDES ON OUR HIGHLY ANTICIPATED CHRISTMAS DOCUDRAMA
Dr. David Jeremiah's Why the Nativity?
Every year, millions of people around the globe celebrate Christmas. But do they understand the profound importance and authenticity of Jesus' birth?
Turning Point is partnering with Christians who have worked with major theme parks and blockbuster films to produce an innovative, cinematic presentation of the most pivotal moment in human history. By combining their visual storytelling with details from both Old and New Testaments, Dr. David Jeremiah will take you on a biblically accurate, Christ-centered, unforgettable journey through the wonders of Christmas.
This groundbreaking presentation of the Nativity will be accessible to millions of households through Turning Point's extensive line-up of television networks and digital platforms—and you can be a part of it! Access exclusive behind-the-scenes updates now on Instagram!
Submit Your Prayer Requests
How Can We Pray For You?
Our prayers matter—they can make all the difference in the world when we pray for the people around us. When we pray for others, we carry out His will and His blessings. We short circuit what God wants to do if we don't pray. Praying for others is a crucial aspect of spreading God's love. By praying for others, we demonstrate love for them just as Christ calls us to.
For these reasons, we ask—how can we pray for you? The Turning Point team desires to be by your side in prayer—asking, seeking and knocking with you for your needs to be met—over the next thirty days.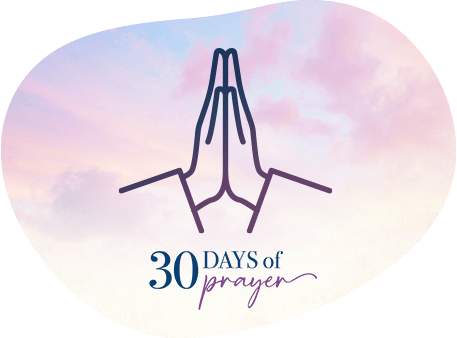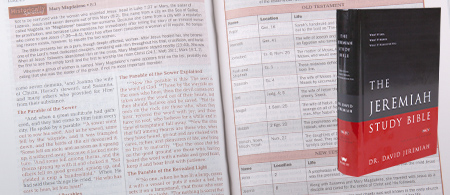 Dr. Jeremiah's Study Notes Are on Every Page!
The Jeremiah Study Bible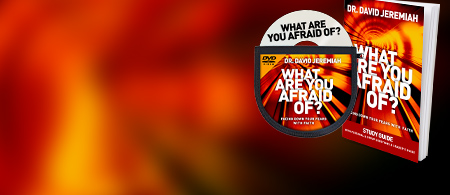 What Are You Afraid Of?
Face Down Your Fears With Faith!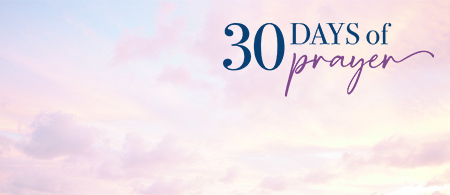 Learn More About the Life-Changing Power of Prayer
30 Days of Prayer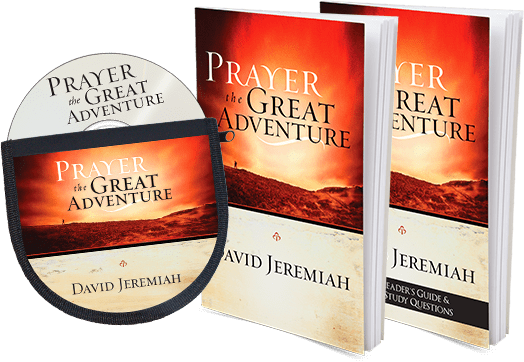 TAKE YOUR PRAYER LIFE WITH GOD TO THE NEXT LEVEL
Prayer—The Great Adventure
Prayer—The Great Adventure is a deeply personal book from Dr. David Jeremiah—revealing his own story of learning to pray out of desperation and inspiring you to find the same urgency and intimacy in every stage of your glorious walk with God.
This best-selling book features an in-depth exploration of the prayers and teachings of Jesus that have formed Dr. Jeremiah's personal prayer life—including The Lord's Prayer, the Sermon on the Mount, and His high-priestly prayer from John 17.
Discover the keys to embark on your own inspiring adventure—companionship with God through prayer!
The Perfect Prayer
Lord, Teach Us To Pray
As Christians, we can communicate directly with our Heavenly Father through prayer, but we often struggle to know how to pray and to be diligent in our prayers. When the disciples asked Jesus to teach them how to pray, He gave them, and us, the Lord's Prayer to follow as an example. The Lord, Teach Us to Pray bookmark is a daily reminder to worship and praise God and to bring our requests to Him through prayer.
Request this free beautiful bookmark today!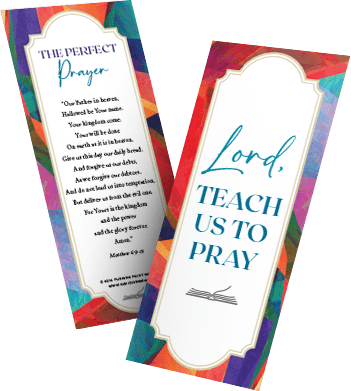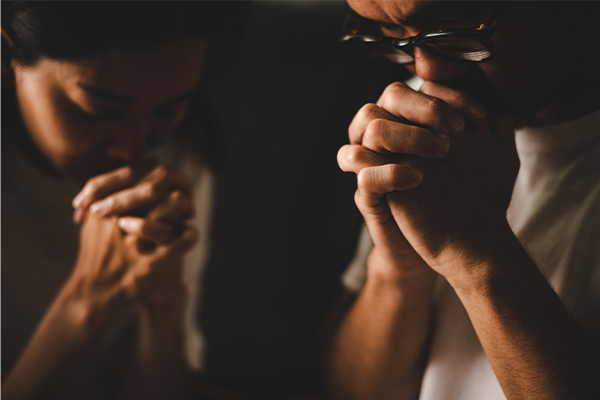 From this Point Forward
"Get Focused—Be A Prayer Warrior" by David Jeremiah
Motivational speakers and company conferences have their place, but human advice only goes so far. To really find spiritual focus, sit at the feet of the Lord Jesus. Nothing equals the motivation He gives for victorious living, and no one can equal His insight. Best of all, we don't have to shell out thousands of dollars to hear Him. We can arrange a personal meeting every day.
ANSWERS TO ALL OF YOUR MOST CRUCIAL QUESTIONS ABOUT PRAYER
The Ultimate Answers Library
Grow in your prayer life as well as in your knowledge of God's Word with Dr. Jeremiah's popular collection of Q & A books. The Ultimate Answers Library features his newest book, Answers to Questions About Prayer, and seven more books where you will find the answers to hundreds of questions about seven different topics—adversity, the Bible, heaven, living in the Last Days, prayer, prophecy, and spiritual warfare. Learn what God's Word says about each of these seven topics and equip yourself to answer the questions others may have regarding these important subjects.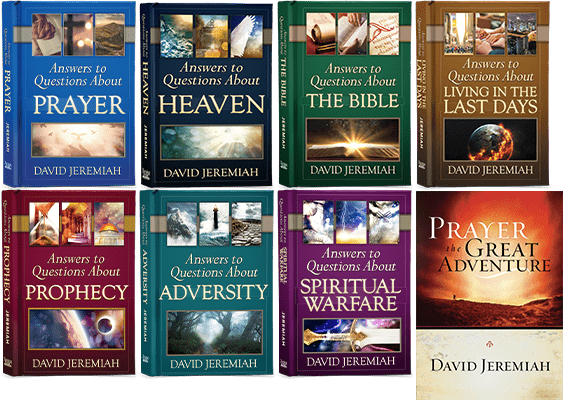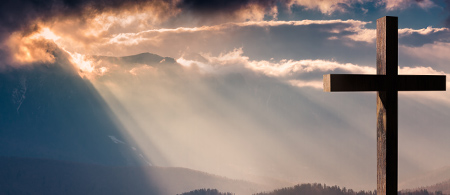 Discover hope—find renewal
Become a Christian Today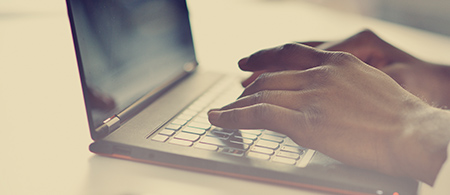 Do you have a favorite message from Dr. Jeremiah?
We Want to Hear From YOU!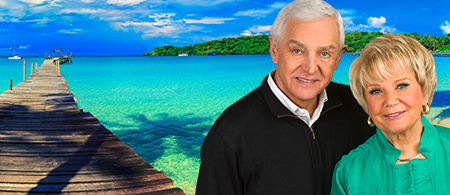 Join Us For an Inspiring Vacation
Travel With Turning Point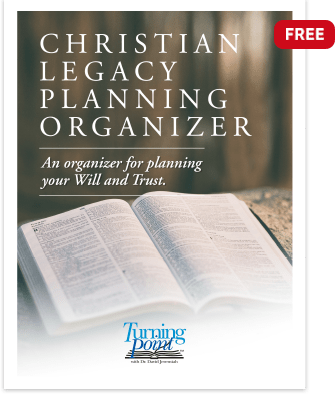 DOWNLOAD YOUR FREE LEGACY-PLANNING GUIDE
Christian Legacy Planning Organizer
We all enjoy planning for our family vacations and getaways with loved ones. However, how many of us spend more time planning a vacation than we do planning for the future? Probably most of us. Why? Because planning for a vacation is fun, exciting, and brimming with anticipation. Planning for our future seems to be a bit different since it can involve fear, confusion, and uncertainty. But, if you plan for your future legacy in an organized way, it can be just as simple as planning for that wonderful vacation that is so exciting. You just need to get started, and we want to help.
Begin the process of making plans that last by downloading your copy of Turning Point's free Christian Legacy Planning Organizer.
New From Airship Genesis
Invasion of Rocket Cove
Rocket Cove is under attack! When a mysterious ship appears over the Genesis Exploration Squad's hometown, the people of Rocket Cove are thrown into a panic. What is this mysterious ship? Who is piloting it? And what do they want?
When this invading ship starts moving around the town, affecting its residents in strange—and hilarious—ways, the questions only multiply. And just when the squad thinks the worst is over, a giant robot appears! It is up to the Genesis Exploration Squad to solve the mystery and move forward without fear against The Invasion of Rocket Cove.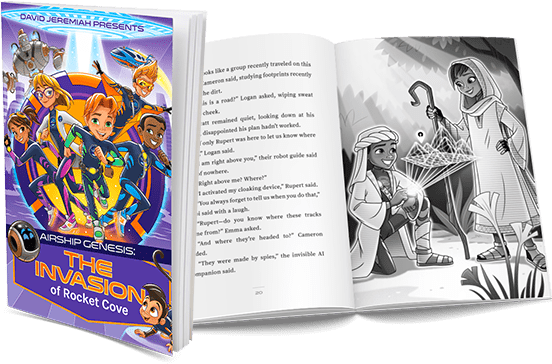 From Dr. David Jeremiah
Tour the Land of the Bible with Dr. David Jeremiah
After leading several trips to the land of the Bible, Israel has become one of my favorite places on earth. Donna and I are excited to return for another Turning Point Israel tour, March 19-29, 2019.
We'll visit historical places like:
Gethsemane
The Sea of Galilee
The Mount of Beatitudes
And more
I'll guide you through these sacred sites and others, teaching God's Word as we retrace our Savior's steps. Imagine seeing the same landscape Jesus saw, being baptized in the Jordan River, or singing at the Garden Tomb in Jerusalem.
These life experiences will change you forever.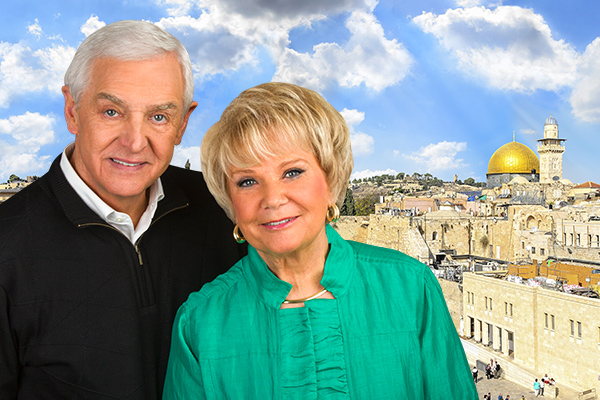 THANK YOU FOR YOUR SUPPORT OF OUR GOD-GIVEN MISSION:
Delivering the unchanging Word of God to an ever-changing world.