Today's Radio Broadcast
.
FEATURED ON RADIO
---
Home for Christmas Channel
Turning Point has curated an amazing line-up of free Christmas music, comedy, specials, messages, trivia, kids' activities, and more!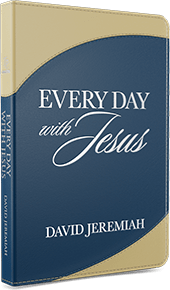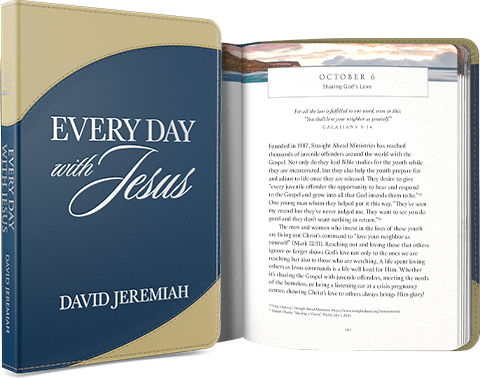 New 365-Day Devotional From Dr. David Jeremiah
Every Day With Jesus 2022 Devotional
One of Turning Point's most popular resources every year, the annual 365-day devotional is hot off the presses—and you are encouraged to consider this your meeting invitation to spend every day with Jesus. This beautiful leather devotional will provide an opportunity for you to spend time in the Word and enjoy quality time with the Savior each day of the year ahead.
Learn More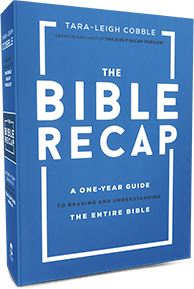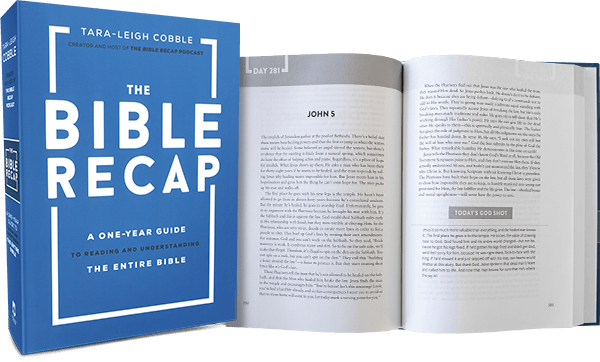 The Bible Recap
Share the Gift of God's Word
The Bible Recap isn't a devotional, but a Bible study tool—offering a comprehensive overview of each book, organizing how the events of the Bible unfold verse-by-verse, and helping you read the Bible in a new way. An excellent addition to your daily quiet time, this simple-yet-comprehensive book offers a simple way to read through the entire Bible—and understand it—in 365 days.
Learn More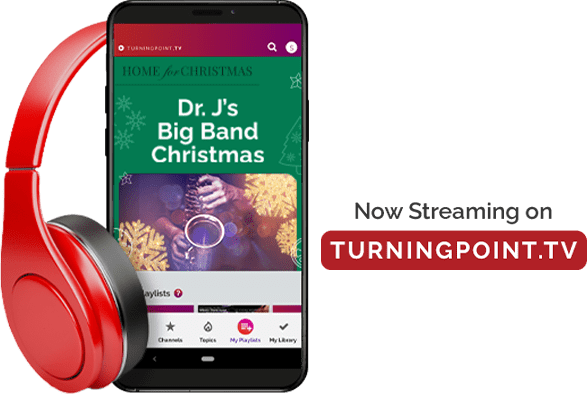 Back by Popular Demand
Dr. J's Big-Band Christmas
One of the best parts of the Christmas season is listening to all the wonderful music. Which is why we are thrilled to announce that Dr. Jeremiah's Big Band Christmas Playlist is back by popular demand on the Home for Christmas Channel.
This specially crafted song list is filled with some fantastic Big-Band tunes including:
We Wish You the Merriest (Frank Sinatra)
O Come All Ye Faithful (Tenth Avenue North)
My Favorite Things (Tony Bennett)
The Christmas Waltz (Harry Connick Jr.)
and many more!!
So turn up the volume and celebrate the Savior during this, the most wonderful time of the year!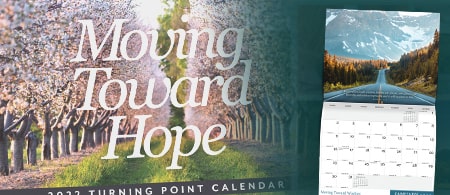 Available for a limited time
Turning Point's 2022 Calendar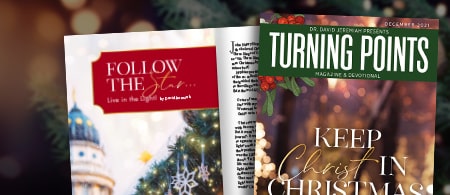 Turning Points Magazine & Devotional
Request Your Complimentary Subscription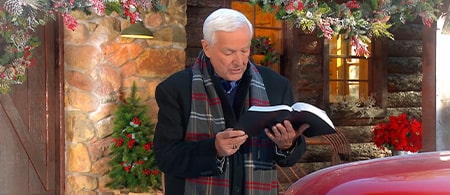 The Home for Christmas Channel
Dr. Jeremiah Reads the Christmas Story
Share the Precious Gift of the Gospel
The Heart of Christmas Project
Many of us may not need very much this Christmas, but some people could really use these encouraging words found in Every Day With Jesus.
The Heart of Christmas Project will reach people who are in prison across the country and across the border. The project is simple: To send a paperback version of the Every Day With Jesus devotional to prisoners, in both English and Spanish, along with a plan of salvation and other faith-building materials. This will be something these prisoners can own—a precious gift that they don't have to give back or return to the library, a powerful tool that can launch and grow their connection with Jesus Christ every single day.
Your generosity will help us continue to share the Gospel so that there is no day where someone cannot meet Jesus through Turning Point, no day where they cannot access solid Bible teaching, no day where they cannot grow in faith.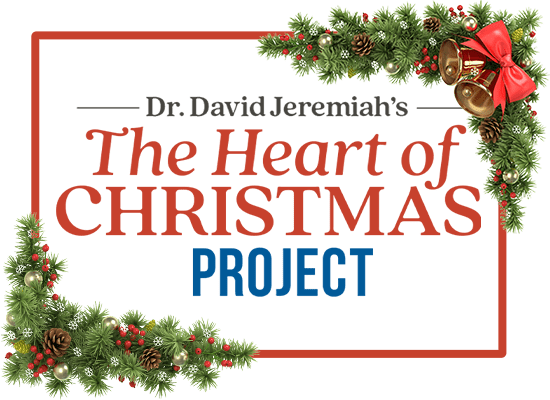 New this Year
Why the Nativity? First Look
Go behind the scenes for a 6-part miniseries about the production of Why the Nativity?, Turning Point's Christmas docudrama premiering during the Christmas season 2022. In pre-production since 2020 and filming in early 2022, Why the Nativity? is slated to be Turning Point Production's biggest project to date.
Listen to a special interview with Dr. Jeremiah as he explains the "why" behind Why the Nativity? This first look is loaded with sneak-previews of the set-building shop, costume preparation, special interviews with key people, and even offers two full tracks from the Why the Nativity? soundtrack.
REQUEST A SUBSCRIPTION WITH OUR COMPLIMENTS
Turning Points Magazine & Devotional
Each month, Turning Point's full-color beautifully illustrated magazine will help you apply the truth of God's Word to your life through articles and devotionals that correspond with David Jeremiah's broadcast ministry.
Inside every issue, you will find:
Daily devotionals
Inspiring articles from David Jeremiah
Important ministry updates
Radio and TV broadcast schedules
There is no charge for a subscription, and Turning Points is one of the best ways to stay in touch with the ministry of Dr. David Jeremiah. Begin your complimentary subscription today!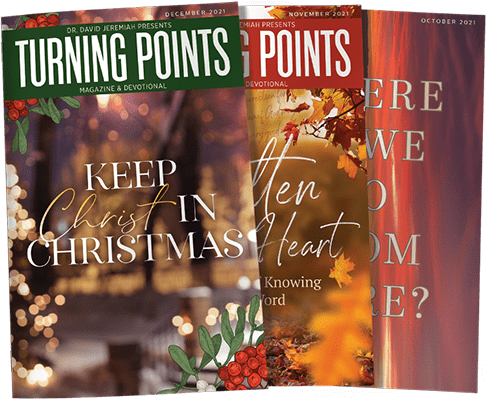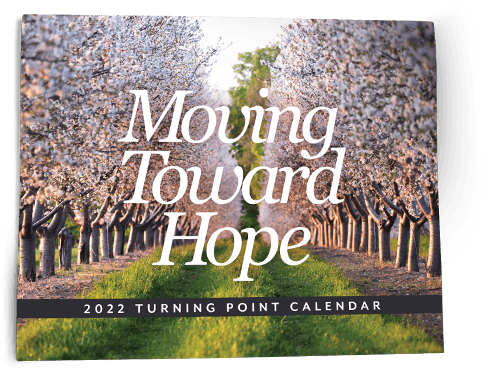 Available for a Limited Time
Turning Point's 2022 Calendar
As time passes, the anxiety caused by unexpected events may slip unforeseen into our daily lives. How do we prevent that from happening? By keeping our thoughts on the unfailing promises of God. Let's begin 2022 by putting the past year behind us and turning toward hope.
This new calendar, Moving Toward Hope, is designed to help you focus on the promises of God. Featuring beautiful panoramas of settings in nature, it will provide an ongoing reminder that no matter what we may face in the world, our hope rests in God. Each month features an inspirational theme and correlating Scripture, as well as a daily Bible reading plan, which will guide you through the entire Bible in the coming year.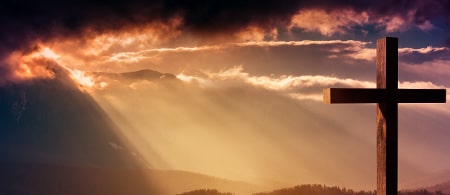 Do You Know God... Really?
Become a Christian Today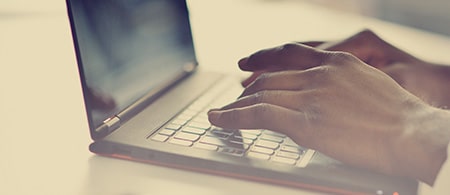 We Want to Hear From You!
Write to Us!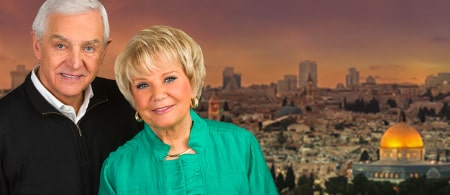 Step Into Scripture With David Jeremiah
2022 Holy Land Tour