Encouraging Bible Teaching, Uplifting Messages, and So Much More
The Turning Point App is For You!
Watch and listen to all your favorite content and new favorites you have yet to discover on the Turning Point App. Frictionless navigation, beautiful design, and familiar content in a streamlined, user-friendly format have all been crafted with you in mind. Downloading and using this app could not be more straightforward.
We all know life is simply sweeter when we are washed daily in the Word, but let's face it, the pace of life sometimes makes it challenging to find the time to seek out trusted sources of truth that we can fit into our busy routines. With the convenience of this app, you will find it easy to access all the rich resources from Dr. David Jeremiah whenever and wherever you need them most!
Learn More

Home

Explore

TurningPoint+

Playlists

Profile
Welcome to Your New Favorite App
Make Yourself at Home
On the Home screen of the Turning Point App, you will be welcomed daily to watch current series on-demand, explore suggested content you are sure to love, see what is airing on television and radio, and even build your own personalized queue.
Seamlessly revisit a powerful teaching series or pick up where you left off in a message. You will also find your beloved daily devotionals and access to popular resources all in one easy-to-navigate place.
It's been said that home is where the heart is, and you will find all you have come to love best and depend upon Turning Point for right here, ready when you are.

Take Me Home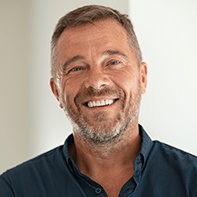 John V. writes:
"I wanted to send you a note letting you know how much your ministry has affected my life and by extension the lives around me. I started listening to Turning Point in the early 80's. I listen to every sermon that is on radio (although now I listen through the Turning Point app on my smartphone).
"I believe I have heard every single sermon that you have put on the radio and probably most of them four or more times….The first thing I noticed when listening to you was how much you were saying is relatable to me. It has been comforting to hear a Godly account of what goes through a Christian's mind at these different stages of life."
Take a Look Around...
There's So Much to Explore
Equip yourself with the Bible Strong teaching you know and love as you learn even more ways to enjoy Dr. Jeremiah's messages with on-demand access to a vast library of teaching series. Explore a complete catalog of Turning Point content based on popular topics, including Prophecy, Heaven, Spiritual Growth, and many more today. Search video, audio, and playlists galore.
Whether you are a new believer or a seasoned Christian, you will be encouraged and strengthened in your walk with the Lord as you spend time learning, growing, and exploring God's limitless love for you found throughout the Turning Point App.

Explore Now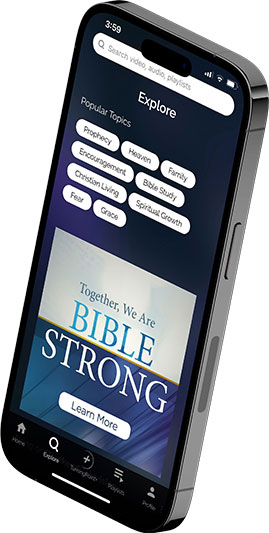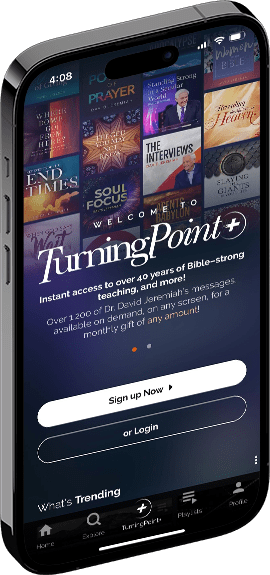 GOD'S WORD—READY TO STREAM
WHEN YOU ARE!
TurningPoint+
Streaming TV shows is great. But streaming the unchanging Word of God? Even better!
Right now, it is estimated that more than three million people stream content on platforms like Discovery+ and Apple TV+. This isn't the way of the future...but the way of the present. Online streaming is here to stay! Expanding the presence of sound Bible content on these types of platforms is essential!
Enter our brand-new platform, TurningPoint+! Think of it like Discovery+ or Apple TV+, but with a godly purpose—featuring a huge Bible Strong library of content ready to stream—over 1,200 audio and video messages on all of your devices.

Download Now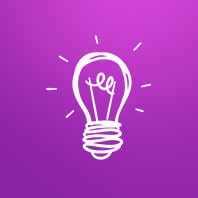 Did You Know?
Most people prefer the convenience of listening to Dr. Jeremiah's messages on the Turning Point Mobile App even over listening on our website!
Carefully Curated and Creatively Crafted
Playtime Anytime
Be encouraged and stay engaged with God's Word with customized playlists of your own design based on the content you love best. We have made it easier to find all the messages in a series in one place and listen or watch at your convenience in any order you'd like.
From Featured Playlists to What's New on Turning Point, you can find fresh inspiration and Biblical answers to many important questions as you experience the joy of getting to know your Bible and discovering God's power in your life. You are invited to delve into the magnificent truth compiled within the Playlist section of the Turning Point App.

Download Now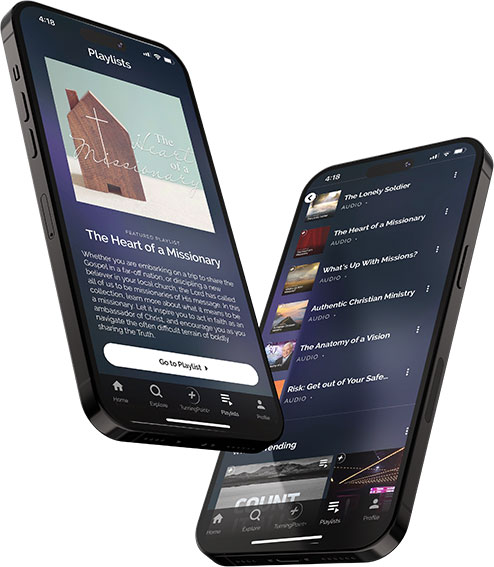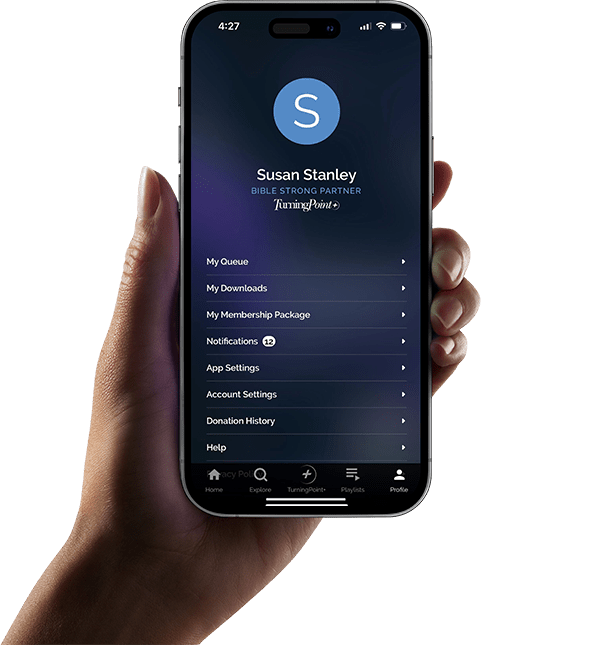 This App Belongs To
[Your Name Here]
Your Queue and your Downloads are all tucked neatly into the Profile section of your Turning Point App. Tailored to you, this is where you will see the details of your membership package, stay up to date with notifications from Turning Point and even access your donation history from this straightforward place.
This is also where you'll find how to customize your app and account settings, our privacy policy, and our terms and conditions.
It's all there, and it's all yours!

Download Now
Welcome to the Ease of Instant Access
Slaying the Giants Digital Kit
You can access the complete Slaying the Giants Digital Kit and start using it today! It is perfect for group study or individual use.
This ready-to-use digital kit includes:
Slaying the Giants in Your Life book in a convenient digital format
Downloadable and printable study guide
Streaming access to all 12 of Dr. Jeremiah's companion teaching messages
Streaming access to Dr. Jeremiah's bonus interview with Sheila Walsh
The Giant Slayer cards in a streamable, audio experience—with topics and Scriptures read aloud to music in a playlist
Request your Slaying the Giants Digital Kit today and start enjoying immediate access to these incredible resources!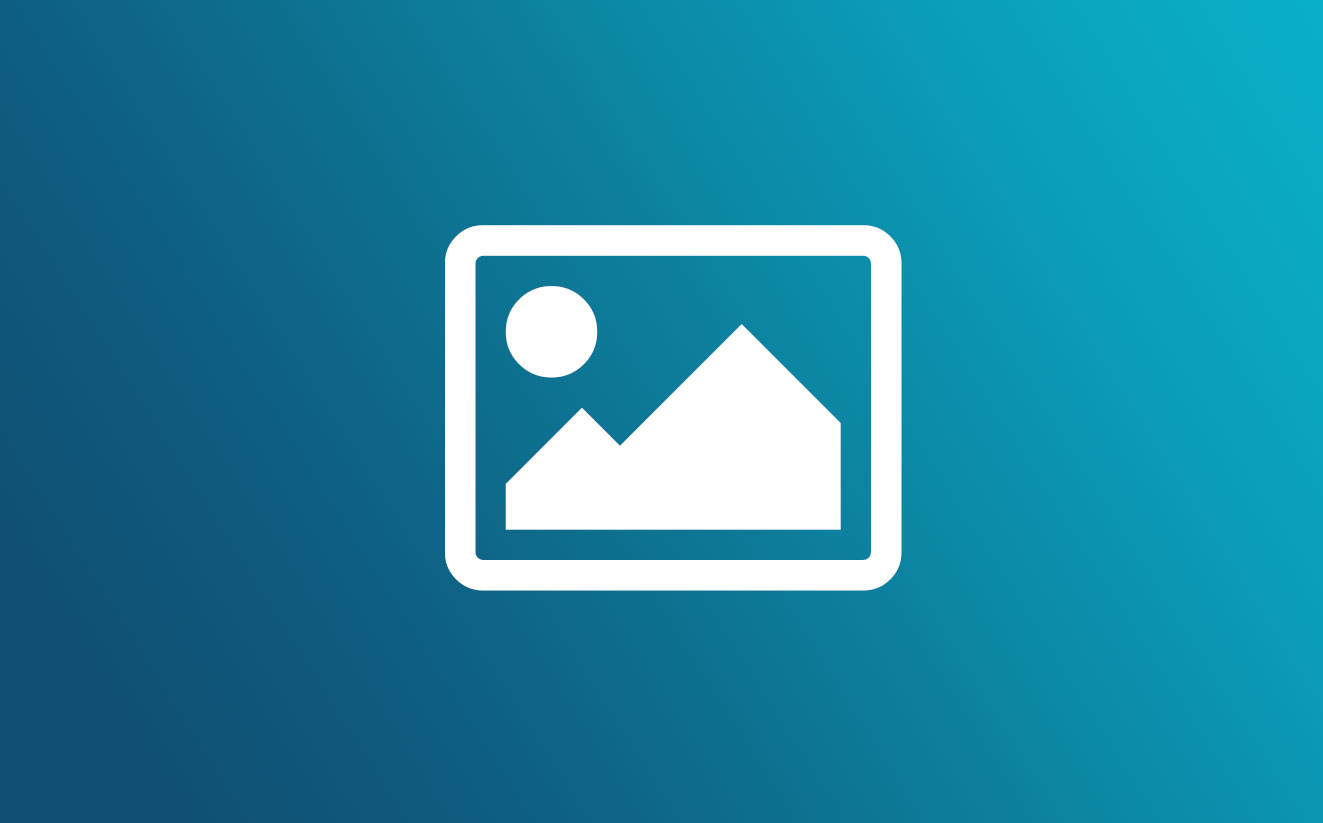 The Turning Point app is available on all your favorite platforms, including: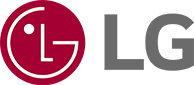 Stay Connected to Turning Point
Our mission is to deliver the unchanging Word of God to an ever-changing world, and that has led us to take the Good News and the "Good Teaching" of Jesus Christ across the globe in every way we can think of!
This site is one of the best places to find inspirational Bible teaching from Dr. David Jeremiah, ministry news, and much more. But it's not the only way to stay connected to the ministry of Turning Point.
Discover the many places and ways you can connect to all the rich resources available through the ministry of Turning Point.
Learn More
Additional apps available through Turning Point: