From the January 2022 Issue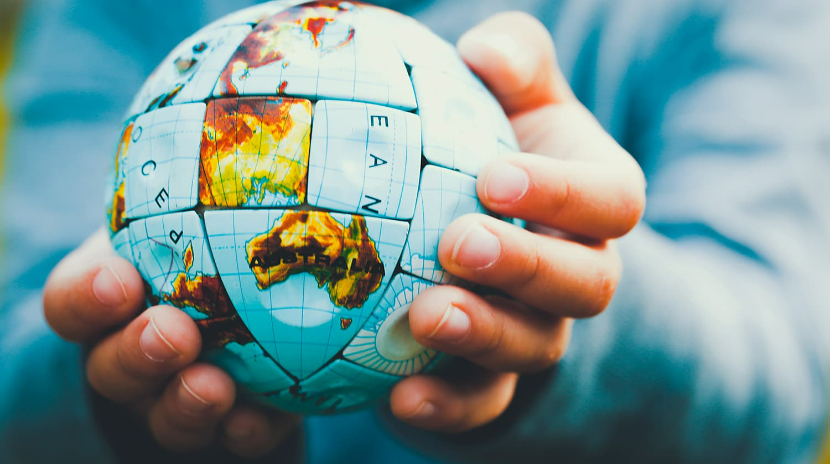 Online Exclusive: From This Point Forward
The World—Everything Is Different, but Nothing Has Changed
Chances are you've had a cup of coffee today, and the chances are the word "Starbucks" was on the cup. The now famous coffee company began in the Pike Place Market in Seattle in 1971. Since then, Starbucks has experienced the ups and downs of the economy, occasional missteps in corporate management, and the pressures of a rapidly expanding global enterprise. Despite all the changes and challenges, Starbucks persevered and developed a loyal customer base. Today it's the largest coffeehouse company in the world with 32,660 outlets in 83 countries. One of its secrets is a little green booklet about the size of a passport that tucks neatly into the apron of every employee. The Green Apron Book expresses the company's core values, which it wants to brew into every cup of coffee.
"As we grew from a small to a much larger group of individuals," wrote Howard Behar, the former president of the company, "The Little Green Book was a way to capture and write down the things that mattered to us about our mission and the kind of company we were creating." He said, "The principles are literally brewed into the way we work, make decisions, confront problems, care about one another, persevere, and create opportunities for our future."1
God's children have a little Book we can tuck into our pockets which provides the core principles we need to stay strong in an unstable world.
When companies, leaders, and people have enduring sets of core principles, they can withstand the onslaught of change that comes with passing seasons. A written reminder of our foundational values is akin to a ship's anchor. It provides stability in weather fair or rough.
In a greater way, God's children have a little Book we can tuck into our pockets or purses, which provides the core principles we need to stay strong in an unstable world. In times like these, we have an anchor.
What Is Different?
And the times are changing quickly. No one has any idea what the world will look like in ten years, let alone twenty or thirty. The rapid development of technology is more than we can take in. Those of us over the age of forty were born before the digital revolution really started. We've learned to use laptops, cameras, the Internet, and our personal electronic products, but it's like learning a foreign language. But those under the age of forty have grown up with the digital
revolution, and to them it's their mother tongue. This has created the biggest generational gap since rock and roll.2
Even greater is the moral generational gap. Those over forty in the western world grew up in a culture that still retained a semblance of its historic Judeo-Christian heritage. Our worldview contained some remaining vestiges of biblical truth. But our children are growing in an increasingly secular society.
Don't despair. The things that matter most haven't changed one iota.
If we're not careful, we'll let these dynamics shake what we believe; or we'll let the pace of change disorient and discourage us in our Christian life and service.
Sometimes we feel anger at the rapidity of change. Even in churches where the historic faith is still constantly proclaimed, people can feel frustrated at changes in styles of music, worship patterns, schedules, dress codes, and ministry goals.
Sometimes the changes around us produce anxiety. The Scottish psychiatrist R. D. Laing noted, "We live in a moment of history where change is so speeded up that we begin to see the present only when it is already disappearing."3 That makes us feel like we're aboard a runaway train.
His strength doesn't waver. His love for us never lessens. His purposes don't falter.
Sometimes we try to escape change by retreating into diversions and entertainments. Screenwriter Keith Cunningham claims that many movies are based on myths and stories that provide a sense of continuity for those overwhelmed by change. "We are a society continually disoriented by the pace of change, and thus constantly in search of meaning and stability," he wrote. Myths can buffer that sense of disorientation. That's the reason for the popularity of certain films and storylines.
4
Sometimes we just wring our hands and say—truthfully—that it can't be long until the Lord returns. We feel like Job who bemoaned, "Changes and war are ever with me" (Job 10:17b).
What Has Not Changed?
But don't despair. The things that matter most haven't changed one iota. The little Book in my suit pocket is as unchanging as Him who is from everlasting to everlasting. That strengthens us whatever change may come. When the English vicar Henry Lyte learned his health was failing, he grappled with how to react. He'd ministered twenty-three years to his seafaring people in the fishing village of Lower Brixham, Devonshire, England. He had lived with his family in a lovely home overlooking the coast. But at age 54, he reluctantly left his dear church to travel to Italy, hoping the warmer weather would be therapeutic. He passed away during the journey, but left behind a hymn he had penned for his own comfort: "Abide with Me." The second stanza contains a line we can all adopt as our prayer: "Change and decay in all around I see; O Thou who changest not, abide with me."
That prayer is based on sound theology. In Malachi 3:6, we read: "For I am the LORD, I do not change." Hebrews 1:10-12 says, "The heavens are the work of Your hands… Like a cloak You will fold them up, and they will be changed. But You are the same, and Your years will not fail."
Theologians call this the immutability of God, the word immutable referring to His unchanging essence. Arthur W. Pink suggested that we should devote more attention to thinking about the immutability of God, for it's a highly comforting truth. "God is compared to a rock," Pink wrote, "which remains immovable when the entire ocean surrounding it is continually in a fluctuating state…. Because God has no beginning and no ending, He can know no change. He is everlastingly 'the Father of lights, with whom is no variableness, neither shadow of turning' (James 1:17 KJV)."5
Dr. Pink went on to emphasize that God is immutable in His essence, His attributes, and His counsel. Then he came back to his basic illustration of a rock: "All praise to His glorious Name, He is ever the same. His purpose is fixed, His will is stable, His Word is sure. Here then is a Rock on which we may fix our feet, while the mighty torrent is sweeping away everything around us. The permanence of God's character guarantees the fulfillment of His promises."6
If God does not change, neither does His peace. Remember what Jesus told the disciples in John 14:27: "Peace I leave with you, My peace I give to you; not as the world gives do I give to you. Let not your heart be troubled, neither let it be afraid."
His strength doesn't waver. His love for us never lessens. His purposes don't falter. God is in control, and the One who doesn't change is more than sufficient to care for us amid the things that do change. We can rest securely in that. As Anna Waring wrote in another hymn celebrating the immutability of God:
In heavenly love abiding, no change my heart shall fear.
And safe in such confiding, for nothing changes here.
The storm may roar without me, my heart may low be laid,
But God is round about me, and can I be dismayed?
To the world, it's here today and gone tomorrow. For the believer, it's Jesus is the same yesterday and today and forever (Hebrews 13:8). So when everything seems to be different, remember that nothing has changed.
He hasn't changed, nor can He fail. You can fully rely on Him now and always.
---
Sources:
1Howard Behar, It's Not About the Coffee: Leadership Principles from a Life at Starbucks (NY: Penguin, 2007), 4.
2Ken Robinson and Lou Aronica, The Element: Finding Your Passion Changes Everything. (New York: The Penguin Group, 2009).
3Quoted by Ronald R. Sims in Changing the Way We Manage Change (Westport, CT: Quorum Books, 2002), 33.
4Keith Cunningham, The Soul of Screenwriting (Continuum, 2008), 54.
5 Arthur W. Pink, The Attributes of God (Grand Rapids: Baker, 2006), 46.
6Pink, 49.
This Month's Magazine Resource

2024 Calendar
Our 2024 calendar, The Unchanging Promises of God, illustrates the unfading, unfailing, relevant, and true promises of God's eternal Word. In 2024, renew your hope and find strength in the promises recorded in God's unchanging and enduring Word!
Subscribe Now
Each month, read articles and devotionals from Dr. David Jeremiah that will encourage, challenge, and strengthen your walk with the Lord.