From the Current Issue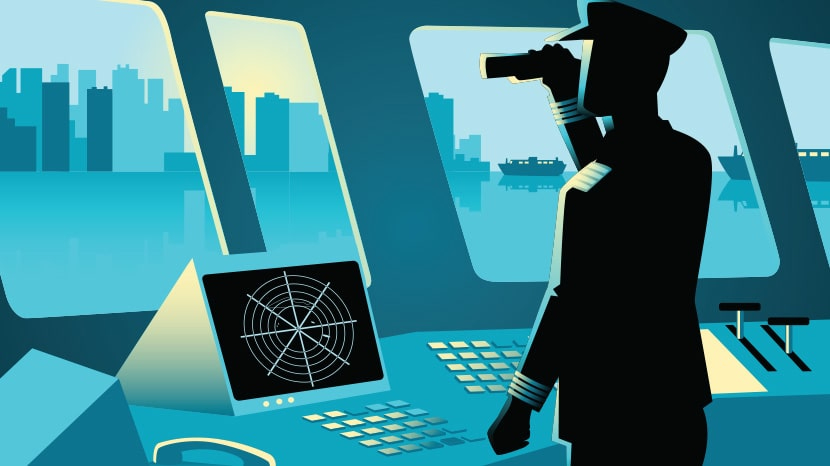 Online Exclusive: From This Point Forward
Our Guide
In 1893, a teenager named William Shotton signed up as an apprentice aboard the Trafalgar, which was transporting fuel from Wales to Brazil; then from New York to Java. Shotton wanted to see the world, and he relished the thought of sailing the high seas. His captain noticed he was an unusually dependable young man, and Shotton was promoted to third mate, then to second mate.
But in Java, things went terribly wrong when the crew contracted fever, resulting in the deaths of several sailors including the ship's captain. The Trafalgar sailed out of Java on October 29, 1893, under the command of the first mate, but the crew was still sick, and several sailors died and were buried at sea. When the first mate died, William Shotton, 18, found himself in the acting role of captain. He, too, was ill with the fever, and his surviving crew was mutinous. Somehow, Shotton maintained control of the ship, telling his men, "We are bound for Melbourne, and to Melbourne I mean to take the ship."
Our world has never needed leadership more, and we've seldom had less confidence in the global leaders occupying the world's capitals.
Since none of the other sailors knew anything about navigation, they followed Shotton's leadership; and little by little the ship made its way across the South Pacific, under the control of a sick boy overseeing a restless crew.
Shotton knew enough to steer the vessel toward its desired port, 1,500 miles away. Rough seas battered the Trafalgar, but on December 16, someone spotted the entrance to Melbourne Harbor, and the ship docked safely the next day. To Shotton's amazement, the crew that had given him so much trouble lined up and cheered him heartily for guiding them safely over the treacherous seas. A few months later, William Shotton became the very first recipient of Lloyd's Medal for Meritorious Service. He told the group, "I am very grateful to you, gentlemen, but I only did my duty."1
Today we're going through tumultuous seas. We're living in a society that has rejected its Creator, bankrupted its values, pornified its entertainment, aborted its babies, coarsened its culture, rekindled its racism, overspent its money, disparaged its churches, and turned a blind eye to the persecution of believers around the world. Our world has never needed leadership more, and we've seldom had less confidence in the global leaders occupying the world's capitals.
We want to ask: "Who's at the helm of this ship? Who's navigating our world?" The Bible cautions against trusting in earthly leaders. Psalm 146:3-5 says, "Do not put your trust in princes, nor in a son of man, in whom there is no help. His spirit departs, he returns to his earth; in that very day his plans perish. Happy is he who has the God of Jacob for his help, whose hope is in the LORD."
Happy are those who have a divine navigator for the voyage, a good shepherd for the trails, a guiding light for the pathways, and a leader who knows the way from here to eternity. When God navigates us, we can trust His guidance. Psalm 48:14 says, "For this is God, our God forever and ever; He will be our guide even to death."
Why God Guides Us
God guides us because He loves us and infuses our lives with purpose.
God guides us because He loves us and infuses our lives with purpose. He creates us for His glory and appoints our work in advance. If a teenager can navigate a limping ship with a restless crew into its appointed harbor, don't you think God knows how to steer your life and lead you safely through the turbulent seas into the heavenly port?
I want to praise God for His promise of guidance. Not only is He directing the course of history toward His pre-appointed end, He also has a specific plan for each of His children. The Bible says, "In Your book they all were written, the days fashioned for me" (Psalm 139:16). Jeremiah 29:11 says, "For I know the thoughts that I think toward you … to give you a future and a hope."
God leads us in paths of righteousness for His name's sake (Psalm 23:3). That's why He guides us—for His name's sake. It brings Him glory to provide unfailing guidance for His people.
Where does God guide us? He guides us to those needing His message.
How He Guides Us
That raises a vital question. If God has a plan for your life and if each day is already recorded in His book, how do we determine what He wants us to do? Think of the decisions facing you today. Perhaps you're thinking about getting married, changing jobs, relocating your family, seeking new medical treatment, or enrolling in college. Maybe you're thinking through issues of retirement and investment. Has someone invited you to become part of a ministry at church? How do you decide how to allocate your time and resources, making sure you're following the Lord's guidance completely?
One night as the famous Bible teacher F. B. Meyer stood on the deck of a ship approaching land, he wondered how the crew knew when and how to safely steer to the dock. It was a stormy night, and visibility was low. Meyer, standing on the bridge and peering through the window, asked, "Captain, how do you know when to turn this ship into that narrow harbor?"
"That's an art," replied the captain. "Do you see those three red lights on the shore? When they're all in a straight line I go right in!"
Later Meyer said: "When we want to know God's will, there are three things which always occur: the inward impulse, the Word of God, and the trend of circumstances …. Never act until these three things agree."2
That's good advice. Whenever I have to make a decision, I spend time in the Word of God. I look at the circumstances. And I think through the decision prayerfully. If I miss the way, the Lord knows how to get me back on track, but there's no better advice about guidance than what Solomon told us years ago: "Trust in the LORD with all your heart, and lean not on your own understanding; in all your ways acknowledge Him, and He shall direct your paths" (Proverbs 3:5-6).
Where He Guides Us
And where does God guide us? He guides us to those needing His message. He leads us through a lost world, and we must always remember: We aren't citizens of earth traveling to heaven; we are citizens of heaven traveling through earth. We're here on assignment, and if we're going to follow the Lord we must go where He's going—to the ends of the earth with His glorious Gospel. He doesn't lead us merely so we'll have a good time, but so we'll produce good fruit.
"To go as I am led, to go when I am led, to go where I am led … it is that which has been …the one prayer of my life," said Dr. A. T. Pierson.3 Amen!
The old book Springs in the Valley says this about guidance: "Look at the faith of the master mariner! He loosens his cable, he steams away from the land. For days, weeks, even months, he sees neither sail nor shore; yet on he goes day and night without fear, till one morning he finds himself exactly opposite the desired haven toward which he had been steering. How had he found his way over the trackless deep? He has trusted his compass, his nautical almanac, his glass, and the heavenly bodies; and obeying their guidance, without sighting land, he has steered so accurately that he has not changed a point to enter port. It is a wonderful thing…. It is glorious to be far out on the ocean of Divine love, believing in God, and steering for Heaven straightaway, by the direction of the Word of God."4
People will disappoint us and let us down in this life. But our God—our Captain— is faithful and true. He will safely guide us through life, through death, and forever!
---
1
Captain Frank Knight,
Stories of Famous Sea Adventures
(Philadelphia: The Westminster Press, 1966), chapter 11.
2 Marcus Laughlin, Setting Your Compass to Impact the World (Bloomington, IN: West Bow Press, 2013), 61.
3 Arthur T. Pierson, The Gospel, Volume 2 (Grand Rapids: Baker Book House, 1978), 8.
4
L. B. Cowman,
Springs in the Valley
(Grand Rapids: Zondervan, 1997), 351.
This Month's Magazine Resource

Unmasked
Prepare to stand firm against Satan as you shine the light of God's Word on his lies.
Subscribe Now
Each month, read articles and devotionals from Dr. David Jeremiah that will encourage, challenge, and strengthen your walk with the Lord.