From the November 2020 Issue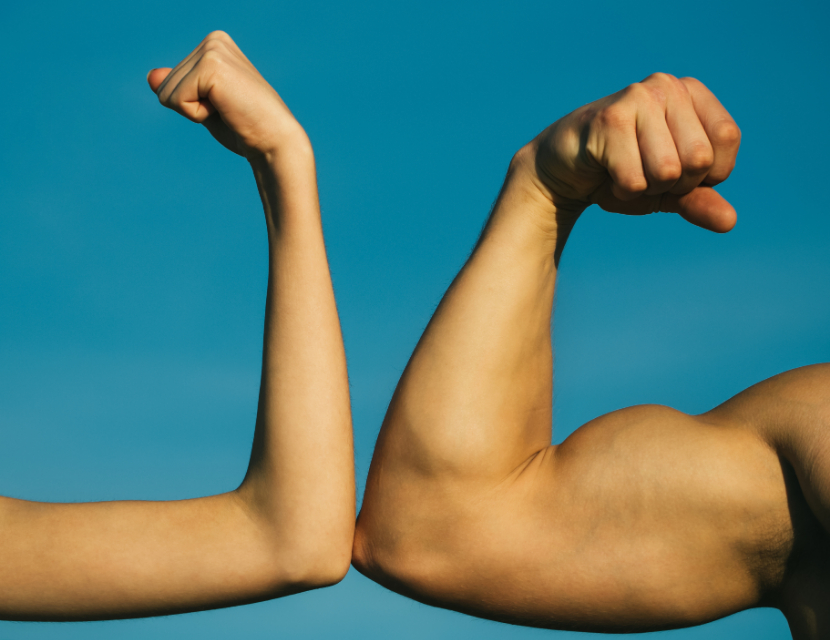 Last in Line...and Other Unlikely Strengths
You either love 'em or you hate 'em—reality television shows, I mean. The weekly broadcast schedules are filled with them now, all descendants of the grandfather of them all: Survivor.
Survivor takes 16-20 people into a remote setting, far from civilization, and has the contestants compete against one another for an ultimate cash prize. But the show's motto—"Outwit, Outplay, Outlast"—betrays the fact that Survivor is not only about friendly competition. The physical challenges and contests are exciting, for sure. And the exotic foods consumed and physical hardships endured make us glad we're sitting at home on a comfy sofa eating a familiar snack.
There could not be a more apt manifestation of weakness—in the world's eyes—than Mother Teresa, given her tiny stature.
But I don't think those are the main reasons people who love the show watch, and those who don't like it don't watch. It's the way the show's motto is fulfilled by the contestants. It's the strategies and alliances, the wheeling and dealing, the deceiving and double-crossing the contestants employ in their efforts to eliminate their competitors and claim the cash at the end of the show's season.
In other words, shows like Survivor and Big Brother provide the perfect settings for displaying how modern culture views strength: Use any method at your disposal to get to the top of the heap and grab the gold ring. Strength is not about moral or spiritual superiority, it is about superiority at any cost. It is about using anything at one's disposal, including other people, to achieve a stated goal.
The Puzzle of Paradoxes
When the late Mother Teresa of the Missionaries of Charity of Calcutta, India, stood before the most powerful men and women in Washington, D.C., at the National Prayer Breakfast in 1994, she pointed out how strength can be misused and illustrated biblical strength, both in the same speech. There could not be a more apt manifestation of weakness—in the world's eyes—than Mother Teresa, given her tiny stature. So tiny that she could barely be seen behind the podium, Mother Teresa shocked the gathered crowd by telling them, "Any country that accepts abortion is not teaching its people to love one another but to use any violence to get what they want. This is why the greatest destroyer of love and peace is abortion" (italics added).
We only gain true strength through weakness.
One of the "weakest" women in the world humbled a room filled with some of the "strongest" people in the world with nothing more than truth backed up by a life of spiritual strength and integrity. The contrast between spiritual strength and worldly strength could not have been more pronounced than it was that day.
When we use "any violence"—physical, emotional, interpersonal, financial, moral—to get what we want, we have resorted to using strength according to the world rather than according to the Word. Not surprisingly, strength is a paradox in Scripture, one of many that contrast the kingdom of God with the kingdom of this world.
For instance, according to Jesus, it is "more blessed to give than to receive" (Acts 20:35). That is, we become spiritually rich as we give ourselves in service to others and as we give of our resources. And God promises a rich harvest to those who give richly (2 Corinthians 9:6).
Another paradox: leadership. Instead of clawing our way to the top, Jesus said, "If anyone desires to be first, he shall be last of all and servant of all" (Mark 9:35). Paradoxically, Paul says desiring to lead is a good thing (1 Timothy 3:1). But true leaders are the ones brought to the fore by the Holy Spirit on the basis of their lives of service (Acts 20:28). Jesus illustrated this kingdom paradox in a parable when He advised, "But when you are invited, go and sit down in the lowest place, so that when he who invited you comes he may say to you, 'Friend, go up higher'" (Luke 14:10a).
And there are more paradoxes. We find rest and freedom by voluntarily submitting ourselves to a yoke (Matthew 11:28-29); we find life by dying (John 12:24); we are exalted when we humble ourselves (Matthew 23:12); we become great by becoming small (Matthew 23:11).
Perhaps the greatest paradox of all—and the one we are considering in this article—involves strength: We only gain true strength through weakness.
The Meek and the Weak
Would it not make sense that those destined to take over the world, to "inherit the earth," would be among humanity's strongest? Yet who did Jesus say would inherit the earth? The meek (Matthew 5:5). Of course, the world equates meekness with weakness. But consider this: In the King James Version of the Bible, Numbers 12:3 says that "the man Moses was very meek, above all the men which were upon the face of the earth." And I don't think anyone would mistake Moses for a weak man!
More modern translations of Scripture substitute "humble" for meek in that verse, which is entirely consistent with the paradoxes of Scripture. Strength comes through humility; strength comes through weakness. And no one learned that lesson more dramatically than the apostle Paul.
Either as a Pharisee or as an apostle of Christ, no one would have mistaken Paul for a weakling. But it is true that he was a humble man—a man who had been humbled by the Lord more than once. It was through his humility, his human weakness, that he became strong.
First, Paul was humbled on the road to Damascus. In all of his Pharisaical pride and prejudice, Paul (then Saul) prided himself on being a zealous persecutor of Christ's church. But when he found himself blind and sprawled in the dusty Damascus road, he didn't feel quite so prosecutorial (Acts 9:3, 8). For three days he remained without sight, all the while contemplating, I am sure, how one who was so religiously strong had been made so spiritually and physically weak. But out of that experience came one of the most unlikely conversions in history: Saul, the strong persecutor, became Paul, the spiritually strong apostle, via the road of weakness.
And it happened a second time well into Paul's apostolic ministry—a time for yet another strength-building exercise. Paul had been given great spiritual insight by God through a certain vision, one that could have resulted in pride on his part. To forestall such an occurrence, God made Paul weak through something the apostle called "a thorn in the flesh . . . a messenger of Satan to buffet me, lest I be exalted above measure" (2 Corinthians 12:7). Whatever it was, it limited Paul in some way, put human constraints on his abilities to carry out his ministry. He was sure this wasn't what God wanted and asked God three times to remove it. Instead of giving Paul freedom from the thorn, God gave him grace to live with it: "My grace is sufficient for you, for My strength is made perfect in weakness" (verse 9).
So revolutionary was this experience for Paul that it became part of his life message: "Therefore most gladly I will rather boast in my infirmities, that the power of Christ may rest upon me. Therefore I take pleasure in infirmities, in reproaches, in needs, in persecutions, in distresses, for Christ's sake. For when I am weak, then I am strong" (verses 9-10, italics added).
Taking pleasure in weakness. How does that square with "Outwit, Outplay, Outlast"? I'm not picking on the Survivor show in particular. It just happens to be a good example of how the world defines winning, how the world defines strength. What's odd is that another of the world's mantras about strength—"Only the strong survive"—is actually true in a biblical sense. If, that is, we view "strong" as "spiritually strong." There is no way to survive the trials and travails of life without being spiritually strong. And we become strong in the most unlikely of ways: by becoming weak in ourselves and strong in Christ.
You may be in a place right now in which you feel particularly vulnerable, particularly weak, and particularly defenseless. Looking around, do you view yourself as being the last in line in life? Congratulations! You are right where you need to be to become strong. You are in the only place where true strength can be found. Confess your weakness to God and ask for His grace to become sufficient for you. You will find unlikely strength through Him!
This Month's Magazine Resource

Unmasked
Prepare to stand firm against Satan as you shine the light of God's Word on his lies.
Subscribe Now
Each month, read articles and devotionals from Dr. David Jeremiah that will encourage, challenge, and strengthen your walk with the Lord.