From the Current Issue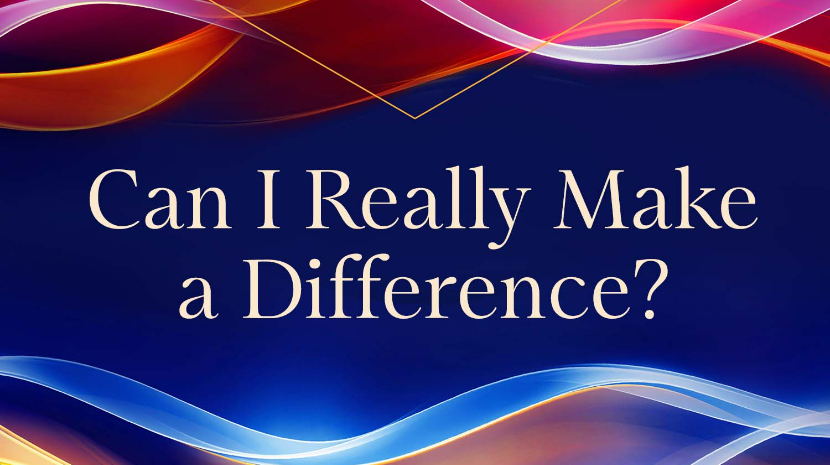 Can I Really Make a Difference?
Everyone wants to make a difference, but we're living in a world that fosters feelings of insignificance. There have never been more souls bustling over our little planet, nor more beautiful people populating our screens, nor more destructive headlines dominating our news. The race and pace of life intimidates us. The tenor of the End Times has a way of plundering our sense of worth and leaving us discouraged. And discouragement is, in large part, the feeling that we can no longer make a difference.
It's all a lie from Satan.
The Lord Jesus intends to impact thousands of lives through you, though you'll not see most of the results until He returns and the final outcome is tallied. The Bible says, "Therefore, my beloved brethren, be steadfast, immovable, always abounding in the work of the Lord, knowing that your labor is not in vain in the Lord" (1 Corinthians 15:58).
Every day we can make small differences in someone's life, and the Lord will turn the small differences into large blessings in His timing by His Spirit, for "little is much when God is in it."
Let's break this down in three ways.
One of Many
First, we are one of many. In just a few more spins on its axis, our planet will have eight billion people. Scholars estimate the world's population was about three hundred million in the day of Christ, and the world didn't reach a billion people until the 1800s. Now look at all of us! There are two ways of considering this. We could say, "Who am I among so many?" Or we could say, "Wow! What a lot of people to influence!"
Former governor Christine Todd Whitman said, "Anyone who thinks that they are too small to make a difference has never tried to fall asleep with a mosquito in the room."
I'm not comparing us to mosquitos, but the point is well taken. Who knows the power of one small note, smile, tweet, post, sermon, invitation, or kind act? Everything done in the Name of Christ has an unseen pass-along effect, and there are more people than ever to receive and pass along the blessing.
One of Few
While each of us is one in almost eight billion, we are one of a fewer number—the number of the redeemed, those willing to "follow the Lamb wherever He goes" (Revelation 14:4). Peter refers to the Church as "a chosen generation, a royal priesthood, a holy nation, His own special people" (1 Peter 2:9). Let's take just one word from that phrase. Have you ever considered the Church as a nation? We're a nation without borders, citizens of heaven scattered throughout the earth, marching under the flag of the cross. That image should bolster our spirits and fire up our hearts to make a difference everywhere we go as ambassadors for Christ (2 Corinthians 5:20).
One of Him
Even more wonderfully, we are one of Him. You are His Own, and He longs to bless you and make you a blessing. That phrase originally described Abraham. The Lord told him: "I will bless you…and you shall be a blessing" (Genesis 12:2). Isn't it wonderful? The Lord does the same with all His children. In other words, Christ says, "I will make a difference in your life, and you will make a difference in others."
The first step in making a difference is being different. Numbers 14:24 says, "But My servant Caleb, because he has a different spirit in him and has followed Me fully, I will bring into the land where he went, and his descendants shall inherit it."
When we follow the Lord fully, we have a different spirit in us. We live and labor by faith, knowing our work is not in vain in the Lord.
Brennan Manning said, "The longer you spend time in the presence of Jesus, the more accustomed you grow to His face, the less adulation you will need because you will have discovered for yourself that He is Enough. And in the Presence, you will delight in the discovery of what it means to live by grace and not by performance."1
Don't measure yourself by others, and never underestimate the difference Christ can make in you and through you. Jesus plus one is a mighty force. Start right where you are, start right now, and let's make a difference together.
Sources:
1Brennan Manning, Abba's Child (Colorado Springs, CO: NavPress, 2015), 29-30.
This Month's Magazine Resource

After the Rapture
In After the Rapture, Dr. David Jeremiah equips you to understand End-Times theology and Bible prophecy. Many people want to understand how the Rapture unfolds, and this is the perfect handbook to share with your unsaved friends and loved ones so they can prepare themselves before or cope with the challenges they'll face after the Rapture.
Subscribe Now
Each month, read articles and devotionals from Dr. David Jeremiah that will encourage, challenge, and strengthen your walk with the Lord.