Everything You Need Navigation Scripture Cards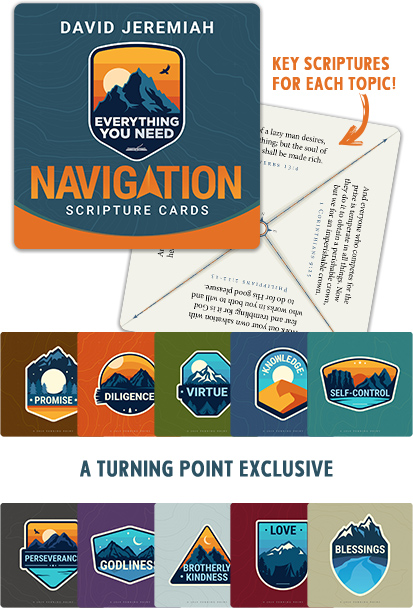 Use diligence, virtue, knowledge, self-control, perseverance, godliness, brotherly kindness, and love to help you navigate through life and unearth the promises of God! David Jeremiah has put together ten Scripture cards, one for each topic he covers in his book Everything You Need. Each card lists four Scriptures that will encourage you toward the characteristic you are striving to master.You'll want to keep these close at hand as you pursue a stumble-proof life.
Dr. Jeremiah's Scripture Navigation Cards are perfect for Bible bookmarks or to place around your house as reminders. Contact Turning Point and request your complimentary set today.
Thank You
Your complimentary Everything You Need Scripture Cards are being prepared for shipment! If you have any questions about your order, contact us at:
(877) 998-0222
or