In an age of disappointment...
Move from
Bitter to
Better!
If life isn't really going the way you want right now...you're not alone.
I know a guy who had big dreams and plans of greatness for his life—dreams given to him by God—until he disappeared without a trace. Some of this young man's jealous family deliberately placed him in a precarious situation. He was taken captive by a foreign cartel...sold into slavery...wrongly accused and imprisoned for a crime he didn't commit...the list goes on.
If you haven't guessed by now, this is the biblical story of Joseph—a guy who had more reason than most to be disillusioned and disappointed.
And yet...he didn't let his circumstances make him bitter. Instead, he trusted God to use his situation to make him better. In fact, those early dreams Joseph had were fulfilled through all the chaos and turmoil of his life—placing him in position (as Pharaoh's second-in-command) to get his family and all of Egypt through a horrible famine! Whether he found himself in a pit, prison cell, or palace, he saw his circumstances as a way to be better—to glorify God.
You and I face a
similar choice

in our lives today.

You and I face a similar choice in our lives today. Though our world has certainly not turned out how we might have expected or wanted, we can choose to be bitter about this...or we can choose to be better.

Here at Turning Point, we're choosing to be better. I invite you to join us!
Bitter
focuses on the many ways technology is being used to "cancel" the voices of godliness and morality.
Better
focuses on how this same technology allows us to take the Gospel further than ever before!
Bitterness
leads us to act out in ungodly ways and leads to destruction.
Better-ness
leads us to act in obedience and leads to restoration.
The bitter
perspective sees the world as our enemy.
The better
perspective recognizes the world as our mission field.
This "better" point of view was very much the apostle Paul's focus in the book of Romans. In what is often called the greatest verse in the greatest chapter in the Bible—Romans 8:28—Paul encourages us: "And we know that all things work together for good to those who love God, to those who are the called according to His purpose."
God has certainly called you and me for a purpose through our Turning Point ministry together—to deliver the unchanging Word of God to an ever-changing World.
And this age of disappointment is our moment of choice: Will we, too, believe God works all things for good and choose to be better?
I hope you'll join me in shouting, "YES!"
There has never been a better time because our increasingly bitter world needs to know the God who can transform their life! People are angry, hurt, upset, disappointed. They don't feel safe anymore. More people than ever are searching for answers. But fewer than ever are going to church for answers... more are scrolling on social media, listening to the many voices and personalities inundating radio, TV, and online.
Turning Point
needs to be there.
Turning Point needs to be there—providing the Word just one more scroll down on people's news feeds, just one channel away on their radios and televisions, just one search further online. By being available with strong Bible teaching, we can reach a whole world of people who are understandably growing bitter in these present circumstances and equip them to be better instead.
Help us reach
a world

in need: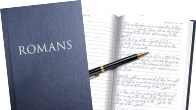 Request Now

with a generous gift
Embed the incredible truth of Romans 8:28—and the entire book of Romans—into your heart with the Romans: The Written Word Journal!

Give a gift of support
Give a gift without receiving a resource.

Turning Point is the broadcast ministry of Dr. David Jeremiah