Television Series:
Now Airing
Here are the current teaching series now airing on Turning Point Television. Enter your email address in the box below to receive updates about upcoming broadcasts.
Series Updates »
Please enter a valid email address
You've been successfully signed up!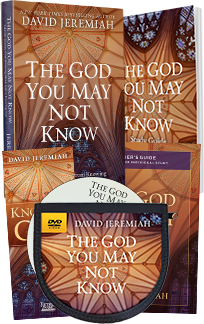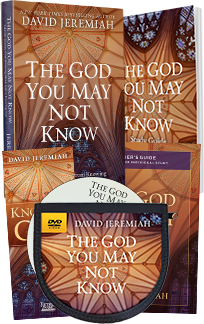 Journey From Knowing About God To Knowing God
The God You May Not Know Study Set
Develop an intimacy with God you may never have known. Discover His character and attributes as never before.
Encounter the holiness, the unlimited power, and the presence of the God you worship!
Request Now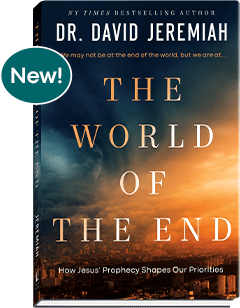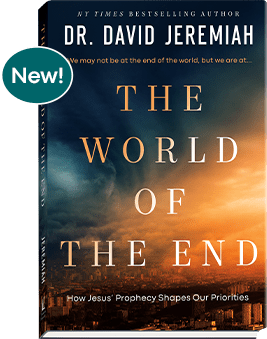 New Prophecy Book by Dr. Jeremiah
The World of the End
We may not be at the end of the world, but we are at the World of the End—a time when Bible prophecy is intersecting with our culture, technology, unhinged morality, and worldwide strife as never before.
Request this new resource today and discover how to trust that God is in control and that His plan is still working to completion!
Request Now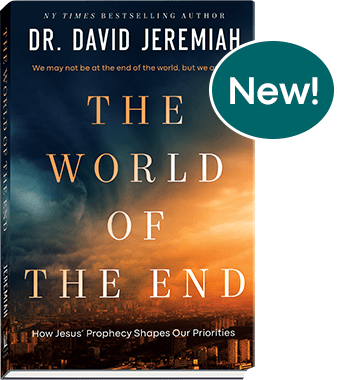 Preorder Your Copy Today!
The World of the End
We may not be at the end of the world, but we are at the World of the End—a time when Bible prophecy is intersecting with our culture, technology, unhinged morality, and worldwide strife as never before. And at this point in our culture, we must boldly proclaim the Word. This is why the Lord led Dr. Jeremiah to develop a new teaching series and book, The World of the End!
As you journey through The World of the End, you will learn how to:
Make the voice of Jesus a priority when considering the unusual events of the world around you.
See cataclysmic disasters, wars, and cultural divisiveness as signs of Jesus' soon return.
Trust that God is in control and that His plan is still working to completion.
Preorder your copy today and discover how to not just survive the circumstances of our world, but how to use them to make you a stronger believer and ambassador for Christ!
Attend a Free Live Event—Tickets are available Now
An Evening With Dr. Jeremiah LIVE This Fall
Join us as Dr. David Jeremiah challenges us to echo the words of Jesus so that His Voice will be our voice! Be encouraged by a hope-filled message from Dr. Jeremiah's new series, The World of the End: How Jesus' Prophecy Shapes Our Priorities, at this exciting event celebrating Turning Point's fortieth year of ministry!
Come discover the unchanging Word of God and enjoy an exceptional worship experience. Joining Dr. Jeremiah for this powerful night of ministry are David Michael Jeremiah, Michael Sanchez, and other musical guests!
Raleigh, NC | October 6
Orlando, FL | October 13
Greenville, SC | October 20
Buffalo, NY | November 11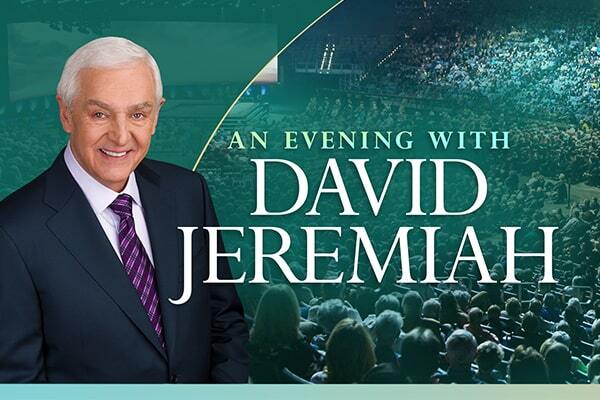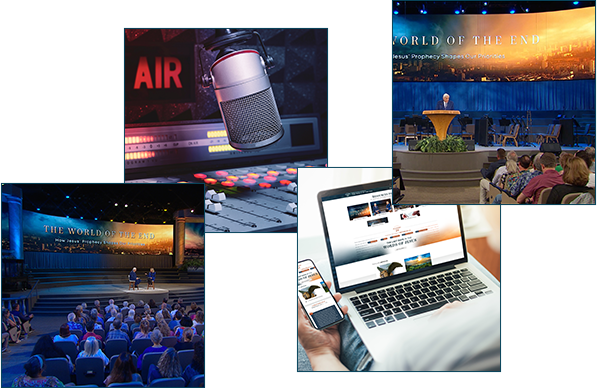 Discover What Jesus Told Us to Expect
The World of the End Campaign Home
Our world can be a heartbreaking place. But it's even more heartbreaking to see God's people recoiling in fear, reacting with rage, or paralyzed by confusion in response to the world's problems.
We can live victoriously, even in a world of loss. We can be the answer for a world full of questions. Jesus offers prophetic promises designed to equip us for a wonderfully effective witness in our world...a life of peace and joy, of hope and spiritual power.
That's why we've designed a convenient hub for all the great resources you need to align your priorities and lifestyle through the powerful prophecy Christ has given us with practical resources, including
Radio and television broadcast schedules.
Streaming audio and video messages.
Convenient ways to stay connected with regular campaign updates.
Powerful correlating study tools exclusively online at Academy 24.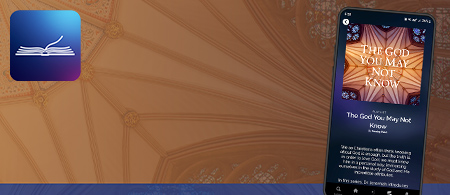 The God You May Not Know
Watch for Free on Our NEW App!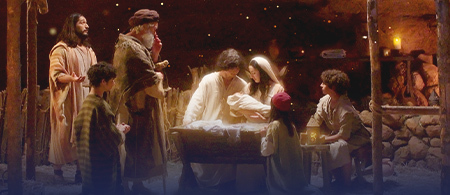 Watch the Official Trailer Now!
The Why the Nativity? Teaser Trailer is Here!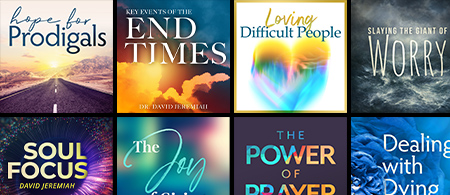 All New- TurningPoint
Immediate Access to Over 1,200 Messages
God's Word—Ready to Stream When you Are!
TurningPoint+
Streaming TV shows is great. But streaming the unchanging Word of God? Even better!
Right now, it is estimated that more than three million people stream content on platforms like Discovery+ and Apple TV+. This isn't the way of the future...but the way of the present. Online streaming is here to stay! Expanding the presence of sound Bible content on these types of platforms is essential!
Enter our brand-new platform, TurningPoint+! Think of it like Discovery+ or Apple TV+, but with a godly purpose—featuring a huge Bible Strong library of content ready to stream—over 1,200 audio and video messages on all of your devices.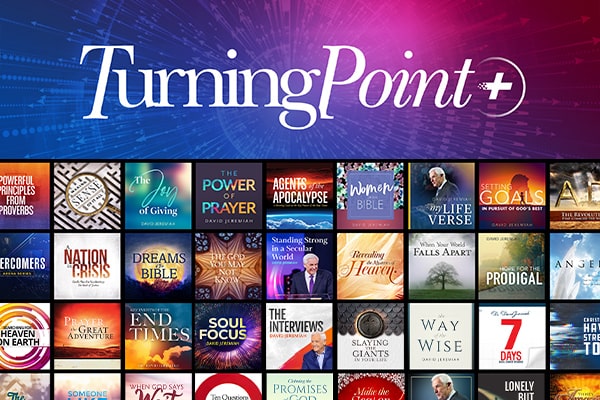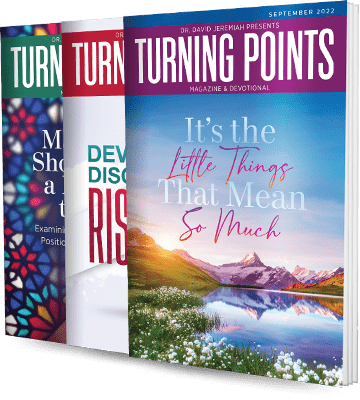 BE ENCOURAGED, CHALLENGED, AND STRENGTHENED
Turning Points—Free Magazine
One of the best ways to connect with the ministry of Dr. David Jeremiah is through Turning Points magazine. Each month, Turning Point publishes a beautifully illustrated magazine to inform you of all that's happening at Turning Point and to help you apply the truth of God's Word to your life every day.
Inside every issue, you will find:
Daily devotionals
Inspiring articles from David Jeremiah
Important ministry updates
Radio and TV broadcast schedules
There is no charge for a subscription, and Turning Points is one of the best ways to stay in touch with the ministry of Dr. David Jeremiah. We hope you will request a complimentary subscription today.
Moving Mountains
Turning Point's Exclusive 2023 Calendar
Our new calendar, Moving Mountains, will help you discover how you can move the obstacles in your life by faith!
With the ongoing chaos and uncertainty in the world today, there are times when even the smallest obstacle may seem like an insurmountable mountain. But we have a mountain-moving God. When we attempt to evade or push through a "mountain" in our life in our own strength, it often remains unmovable—just as large and imposing as before. But even the smallest acts of faith are powerful in the face of adversity and trials.
Make 2023 a year of faith in God and His ability to move the mountains in your life and order this vivid fourteen-month calendar.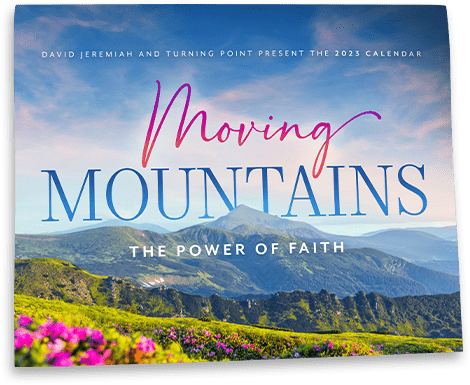 Delivering the Unchanging Word of God in Spanish
Momento Decisivo Now Airing on Television!
There is no better way to celebrate twenty years of Spanish-language ministry through Momento Decisivo than by crossing off another milestone in reaching the Spanish-speaking population of the world than to begin broadcasting on Spanish television!
Airing Momento Decisivo Television in Spanish will not only reach a domestic audience of 41 million people, but it has the potential to reach more than 559 million Spanish-speaking individuals worldwide. Our prayer is that God will move mountains and make a way in Spanish media for Momento Decisivo Television to flood the airwaves with sound Bible teaching for this language group.
You can now watch Momento Decisivo on
Daystar on Sundays at 10:30 p.m. EST
Enlace on Sundays at 8:00 a.m. EST & Wednesdays at 4:30 p.m. EST
History in Español on Sundays at 6:30 a.m. EST/PST
Estrella on Sundays at 8:30 a.m. EST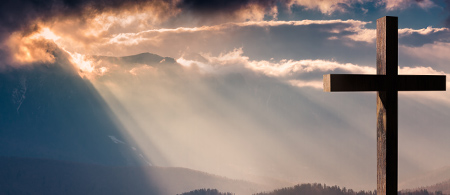 Discover hope—Find renewal
Become a Christian Today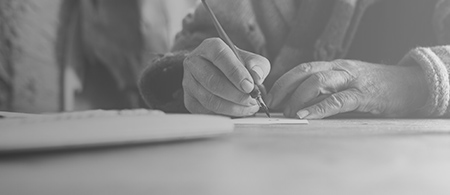 Has Turning Point Made a Difference in Your Life?
Write to Us!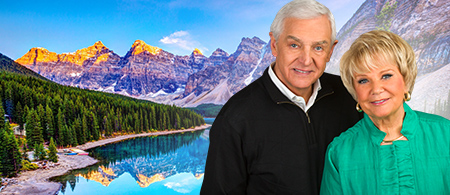 Discover the intersection of relaxation and inspiration
Vacation With Turning Point
Online Vacation Bible School Starts July 3
Airship Genesis Summer Blast!
Join Airship Genesis for a free five-week VBS program this summer. Each week you will find an exciting audio adventure featuring the Genesis Exploration Squad, a Bible lesson, a memory verse, a challenge, fun activities, and more. Your kids can learn about the importance of the Bible in their lives through five separate lessons:
The Bible gives us direction for all of life's adventures!
The Bible was written just for us by God!
The Bible is powerful for any situation.
The Bible should be shared with others.
God rewards us for living by the Bible.
Don't miss Summer Blast! The adventure begins on July 3.