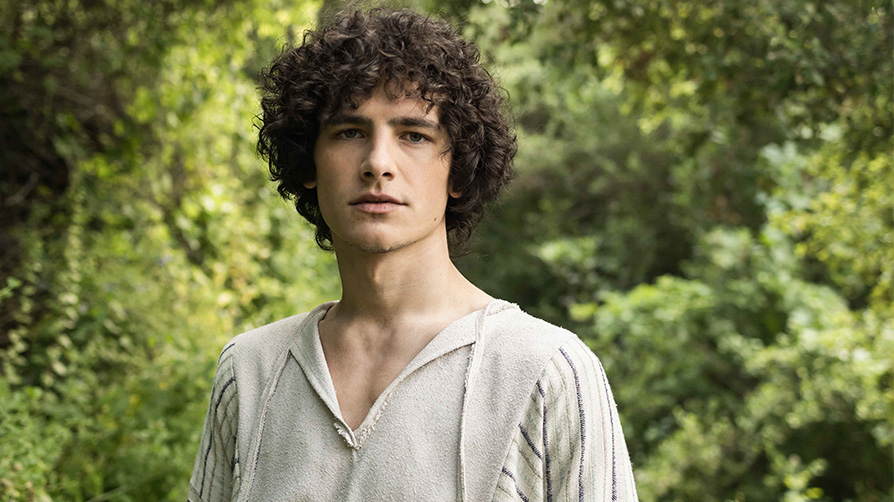 Article
Reflections of God's Love Through the Eyes of Joseph
There are times in life when anything that can happen will happen. But what happens when the things we never expect to occur, end up rocking the reality of our world? It is not what you go through that determines where you end up; instead, it is the paths you decide to venture down and the voices you choose to listen to. Who is the voice that is shaping the path before you? For 22-year-old actor Logan Polson, it was the voice of God in his darkest hour.
Who is the voice that is shaping the path before you? For 22-year-old actor Logan Polson, it was the voice of God in his darkest hour.
Though he is currently based out of Lynchburg, Virginia, pursuing a Bachelor of Fine Arts in acting at Liberty University, growing up in a military household Polson moved frequently. His home environment was full of sports and structure, so many logically anticipated him to follow the same path. However, there was a hint of discontentment in the pit of his soul that he could not make sense of.
At sixteen, almost seventeen, his life changed forever. His growing discontentment with life propelled him into heartache, substance abuse, and depression. When the bottle ran dry and mirrored the emptiness in his soul, he recognized God was the only One left to seek out.
It was a lonely night in the hospital bed after the doctors diagnosed him with a life-threatening blood clot disorder called Factor V Leiden. The doctors found a DVT blood clot extending from his hip to his ankle and insisted on surgery after encountering an abdominal aortic aneurysm in his stomach. It was bulging and swelling in the main vessel that ran from his heart to his stomach.
"I feel unworthy to say this, but I shouldn't be alive. It's a miracle," says Polson.
"I feel unworthy to say this, but I shouldn't be alive. It's a miracle," says Polson. "When the doctor came back in, he told me I couldn't do [anymore] sports…no more military, that life was gone. I cried a little bit and was sad, but I also felt the first amount of real peace that I hadn't felt in a long time."
While he was still hospitalized, God met him in a dream. This remains a pinnacle moment in his life because it is when he decided to run full force toward theater and acting. The irony is that the way God chose to speak to Polson is oddly parallel to the character he portrayed and starred as in Why the Nativity?—Joseph.
"I had a vision of a room, and in that room a door was closing, and a door was opening. Above the door opening, it said the word theater. So, I stepped through there…I woke up and remembered just feeling a sense of peace and clarity. I didn't know exactly what that meant, but I just knew I needed to take the next step and follow that," says Polson.
As a young, aspiring actor attempting to build his portfolio, he grew his natural talent by performing in student films, voice-over gigs, musical theater productions, and short films. Why the Nativity? came to him when he least expected it.
Turning Point Productions had been searching for the perfect people to portray the lives of Mary and Joseph. Executive producer and director Paul Joiner had a particular characteristic in mind when it came to Joseph, so when Polson landed the role, it propelled the film in a direction that surpassed the expectations of many.
"After having a couple of video chats with [Paul] and finally meeting him in person, he has this way about him that makes you feel like you're family already. Working with a director like Paul with his intentionality, care, and professionalism is surreal. I fell in love with his creative vision instantly, but after meeting the teams and seeing their scope [was] really when I started to realize that this was going to be something bigger than I expected," says Polson.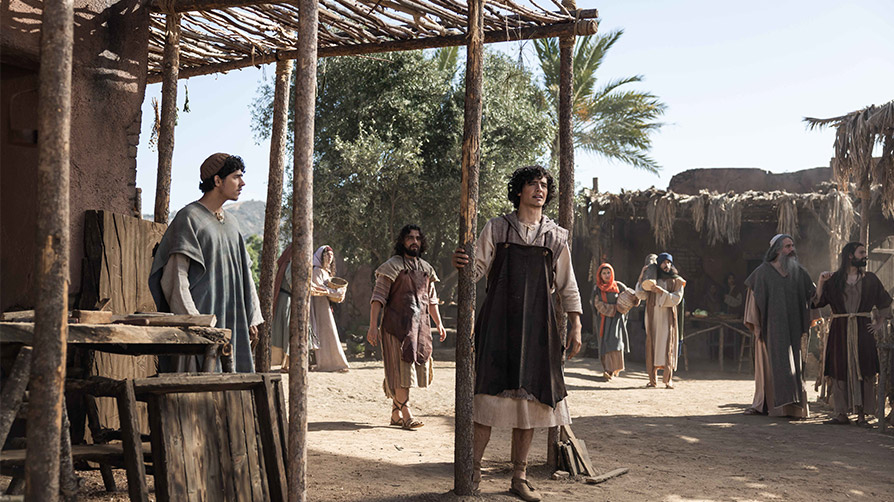 The character of Joseph in the Nativity story is one of the most significant roles to cast. In the Bible, Joseph was depicted as a good, honest man. He likely grew up with Mary in the little town of Nazareth. He was in love and betrothed to a woman he trusted, only for his world to never be the same. Joseph must have struggled to trust Mary and God, but the Lord spoke to him in a dream about the Baby to be born to him and Mary—the Messiah.
"Acting is often living truthfully under imaginary circumstances. It's not just the four walls that define our art, but the outside of it we are trying to reflect. As actors, we're trying to be a reflection of the world around us and hopefully point out the beauty, the flaw, and the reality of it all," says Polson.
Polson portrays the agony and fear Joseph must have felt in those moments perfectly. His eyes burn with intense compassion for his wife, yet he has an innocent concern for what they both do not know. Joseph is not always depicted as an outcast in the Bible, but the many nuances written in the script create more profound questions about him.
Where do we go when we feel there is no room for us, searching in a community with exclusivity and knocking on the doors of people who will not let us in? The sequence leading to the Nativity is perhaps the most impactful because the viewer sees the bigger picture for the first time.
The sequence leading to the Nativity is perhaps the most impactful because the viewer sees the bigger picture for the first time.
Polson's connection to the story was deeply rooted in his faith but was expressed and felt by all on set through his charismatic personality and compassion. His creative partnership with Mary, played by twenty-year-old actress Rose Anaya, from San Diego, gave relatable insight into their relationship. Why the Nativity? portrays Mary and Joseph as young people growing in love with one another, allowing viewers to travel with them through their different walks of life.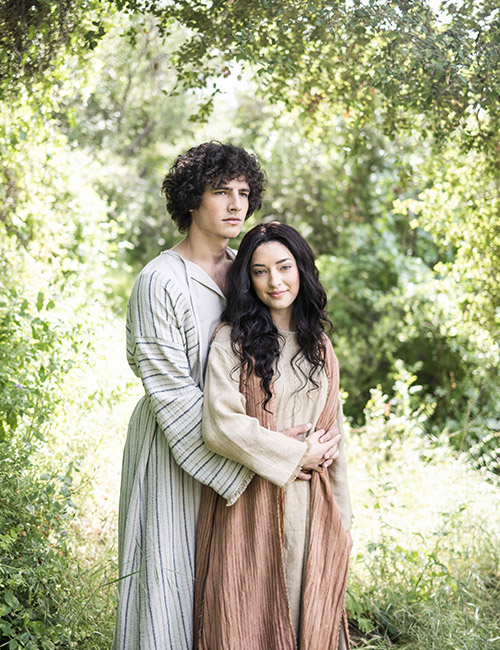 "Paul's vision gave clarity to each of our characters. Hearing what he saw for Rose as Mary, me for Joseph, and the message in the story allowed me not just to imagine this reality but internalize it. This gave such creative freedom," says Polson.
Nearing the end of their journey on set, lead actors Rose Anaya and Logan Polson concluded their time by filming perhaps the most pinnacle moment in human history, the Nativity scene. These scenes were shot in the evening after the sun had gone down, the cool night air surrounding the set as the crew found themselves wrapped in the beauty and awe of what the camera captured.
"Initially, when the time for filming the Nativity scene came, it surprised me. It was a special moment, and I thought I was ready to film it, having a good sense of the story. But when I got in the space, it finally hit me just how important and different the setting felt to me…I felt a mix of the nostalgia of the story and an act of gratitude for how that Baby would grow to be unconditional love," says Polson.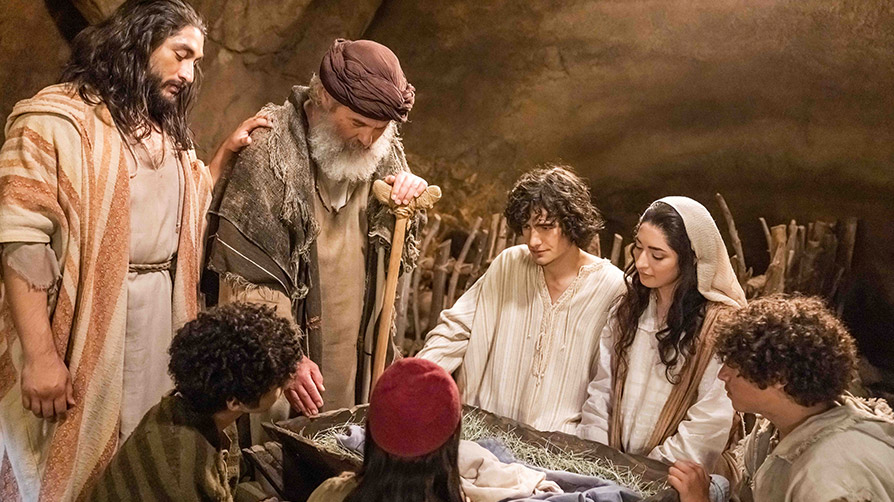 Polson was a beautiful representation of the kind of person Joseph was in the Bible. He carried himself with a humility that was a reminder to many of God's faithfulness in his life. He was near death in a hospital room, and now he found himself on a dynamic film, fulfilling the dream that was placed in his heart all those years ago.
"I hope people see this and start to ask questions. I hope they'll get a new perspective on the purpose of why God chose Mary and Joseph. And why Jesus came at the point in time He did," says Polson.
He concluded, "The man responsible for bridging the gap between the death we deserve and the eternal life promised was birthed through Mary. All this can be felt in an image, a moment, the story, and more specifically was felt to me, on the set of Why the Nativity?."
Want More? Here's What to Read Next:
Hang Tight...
Processing your application…
Reviewing your application…