This Could Be the Day!
Digital Prophecy Outreach
Right now.
At this very moment, we could see the Lord return and hear the trumpet blast.
This could be the day!
We know what God has said about the End Times, and it gives us hope—a light at the end of the tunnel. But today, we must also be the light in the tunnel. Many are lost and afraid of the future. They sense what the pages of prophecy reveal: Time is running out.
Like never before, we have a sacred trust to offer hope and reach the lost. The world needs Jesus, and the saints need to be equipped with prophetic answers straight from Scripture. That is the heart behind Turning Point's new prophecy website.
This Could Be the Day! might be the most significant online outreach we have ever launched.
As a dual–purpose digital platform, This Could Be the Day! will equip believers with practical, prophetic answers to the troubling events of our day. Meanwhile, those asking difficult questions about these dark days will find biblical answers… and hope.
Think of this new online outreach as a prophecy master class, providing meaningful insights into key biblical topics, such as:
The next events on the prophetic calendar
Facts about the Rapture and Tribulation
The role of Old Testament prophecy in our world today
What we know about the mark of the Beast
Practical ways to prepare for the Last Days
And much more!
You won't want to miss a second. Together we can shine the light of prophetic hope in the tunnel of today's circumstances and boldly proclaim the powerful message that this could be the day!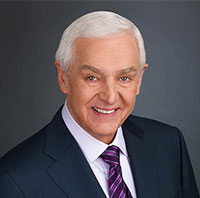 About Dr. David Jeremiah
Dr. David Jeremiah is one of America's most trusted Bible teachers. For more than 39 years he has helped millions deepen their understanding of the Bible through 4,552 daily Turning Point Radio releases and a daily Turning Point Television program that reaches millions of people globally.
The Revelation Prophecy Chart 3–Pack
Enter your address to receive a free Bible prophecy timeline 3–pack. This beautifully detailed timeline of God's prohetic calendar is a must–have for every student of Bible prophecy.
This resource is free of charge. However, your generous support is greatly appreciated. Click here if you would like to give a donation to Turning Point.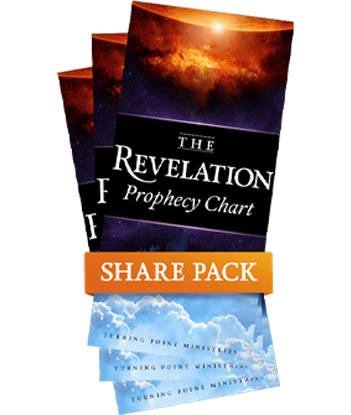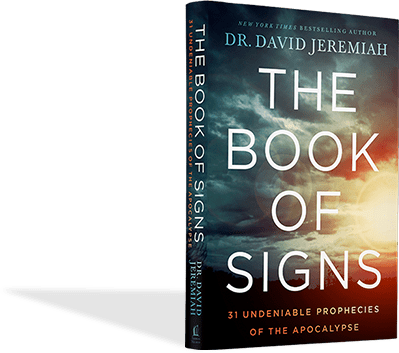 The Rapture of the Church is the next event on God's prophetic timeline. It is one of the great hopes of the Christian faith, and it is shrouded in mystery. When will it occur? What will it be like? Some wonder where the idea of the Rapture comes from, considering that the word "Rapture" does not appear in English translations.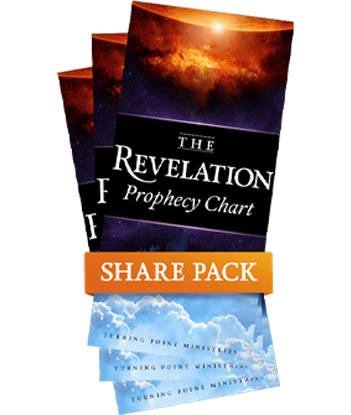 Where Does the Word "Rapture" Come From?
Our word Rapture derives from the Latin translation of 1 Thessalonians 4:17, which translates the Greek harpazo (to catch up or carry away) as rapiemur from the Latin rapio. Harpazo occurs fourteen times in the New Testament with four variations of meaning, each contributing to our understanding of the Rapture.
Harpazo in Scripture:
Matthew 11:12: take it by force
Matthew 12:29: plunder
Matthew 13:19: snatches away
John 6:15: take Him by force
John 10:12: the wolf catches
John 10:28: neither shall anyone snatch them
John 10:29: no one is able to snatch them
Acts 8:39: the Spirit of the Lord caught Philip away,
Acts 23:10: take him by force
2 Corinthians 12:2: a man… was caught up to the third heaven
2 Corinthians 12:4: he was caught up into Paradise
1 Thessalonians 4:17: shall be caught up together
Jude 23: pulling them out of the fire
Revelation 12:5: her Child was caught up to God
At the Rapture, Jesus will forcibly remove God's children from Satan's reach and plunder the earth of its believers, living and dead. He will pull us from the fiery judgment to come, and we will be caught up to heaven with Him. Oh, what a glorious day!
The following eight Bible passages provide the best information regarding Jesus Christ's imminent return and Rapture of the Church.
The Blessed Hope
Let not your heart be troubled; you believe in God, believe also in Me [Jesus]. In My Father's house are many mansions; if it were not so, I would have told you. I go to prepare a place for you. And if I go and prepare a place for you, I will come again and receive you to Myself; that where I am, there you may be also. And where I go you know, and the way you know.
John 14:1-4
Diligent Waiting (A Parable)
A nobleman went into a far country to receive for himself a kingdom and then return. Calling ten of his servants, he gave them ten minas, and said to them, "Engage in business until I come."
When he returned, having received the kingdom, he ordered these servants to whom he had given the money to be called to him, that he might know what they had gained by doing business. The first came before him, saying, "Lord, your mina has made ten minas more." And he said to him, "Well done, good servant! Because you have been faithful in a very little, you shall have authority over ten cities."
Luke 19:12-13, 15-17 (ESV, emphasis added)
"But you, brethren, are not in darkness, so that this Day should overtake you as a thief."
Watchful Waiting
The day of the Lord so comes as a thief in the night. For when they say, "Peace and safety!" then sudden destruction comes upon them, as labor pains upon a pregnant woman. And they shall not escape. But you, brethren, are not in darkness, so that this Day should overtake you as a thief. You are all sons of light and sons of the day. We are not of the night nor of darkness. Therefore let us not sleep, as others do, but let us watch and be sober.
1 Thessalonians 5:2-6
Eager Waiting
As it is appointed for men to die once, but after this the judgment, so Christ was offered once to bear the sins of many. To those who eagerly wait for Him He will appear a second time, apart from sin, for salvation.
Hebrews 9:27-28
Dead Men Walking
But I do not want you to be ignorant, brethren, concerning those who have fallen asleep, lest you sorrow as others who have no hope. For if we believe that Jesus died and rose again, even so God will bring with Him those who sleep in Jesus…. The dead in Christ will rise first.
1 Thessalonians 4:13-14, 16
"We shall all be changed—in a moment, in the twinkling of an eye, at the last trumpet."
The Mysterious Transformation
Behold, I tell you a mystery: We shall not all sleep, but we shall all be changed—in a moment, in the twinkling of an eye, at the last trumpet. For the trumpet will sound, and the dead will be raised incorruptible, and we shall be changed.
1 Corinthians 15:51-52
Transformation Into the Likeness of Christ
Our citizenship is in heaven, from which we also eagerly wait for the Savior, the Lord Jesus Christ, who will transform our lowly body that it may be conformed to His glorious body, according to the working by which He is able even to subdue all things to Himself.
Philippians 3:20-21
A Grand Exit
For this we say to you by the word of the Lord, that we who are alive and remain until the coming of the Lord will by no means precede those who are asleep. For the Lord Himself will descend from heaven with a shout, with the voice of an archangel, and with the trumpet of God. And the dead in Christ will rise first. Then we who are alive and remain shall be caught up together with them in the clouds to meet the Lord in the air. And thus we shall always be with the Lord.
1 Thessalonians 4:15-17 (empahsis added)
Amen. Even so, come, Lord Jesus!"
The Bible is God's story of redemption and reconciliation. It has a beginning and an end. In our modern translations, some of the books are not organized in chronological order, but we've got the beginning and ending placed correctly. Genesis marks the beginning of time, and Revelation marks the end. Many translations highlight the words of Jesus Christ in red. Do you know what the final red-letter words of Jesus are? "Surely I am coming quickly" (Revelation 22:20). And the response of our heart echoes that of the apostle John, "Amen. Even so, come, Lord Jesus!" (Revelation 22:20)
The Here & Now
What
the Rapture

means for you…today
For Christians, the Rapture is a source of hope. All who have lost loved ones to the sting of death can find comfort in the knowledge that they will see them again. Knowing Jesus promised to return for us provides strength during difficult times.