This Could Be the Day!
Digital Prophecy Outreach
Right now.
At this very moment, we could see the Lord return and hear the trumpet blast.
This could be the day!
We know what God has said about the End Times, and it gives us hope—a light at the end of the tunnel. But today, we must also be the light in the tunnel. Many are lost and afraid of the future. They sense what the pages of prophecy reveal: Time is running out.
Like never before, we have a sacred trust to offer hope and reach the lost. The world needs Jesus, and the saints need to be equipped with prophetic answers straight from Scripture. That is the heart behind Turning Point's new prophecy website.
This Could Be the Day! might be the most significant online outreach we have ever launched.
As a dual–purpose digital platform, This Could Be the Day! will equip believers with practical, prophetic answers to the troubling events of our day. Meanwhile, those asking difficult questions about these dark days will find biblical answers… and hope.
Think of this new online outreach as a prophecy master class, providing meaningful insights into key biblical topics, such as:
The next events on the prophetic calendar
Facts about the Rapture and Tribulation
The role of Old Testament prophecy in our world today
What we know about the mark of the Beast
Practical ways to prepare for the Last Days
And much more!
You won't want to miss a second. Together we can shine the light of prophetic hope in the tunnel of today's circumstances and boldly proclaim the powerful message that this could be the day!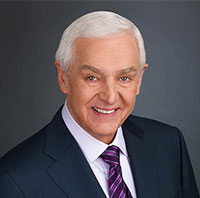 About Dr. David Jeremiah
Dr. David Jeremiah is one of America's most trusted Bible teachers. For more than 39 years he has helped millions deepen their understanding of the Bible through 4,552 daily Turning Point Radio releases and a daily Turning Point Television program that reaches millions of people globally.
The Revelation Prophecy Chart 3–Pack
Enter your address to receive a free Bible prophecy timeline 3–pack. This beautifully detailed timeline of God's prohetic calendar is a must–have for every student of Bible prophecy.
This resource is free of charge. However, your generous support is greatly appreciated. Click here if you would like to give a donation to Turning Point.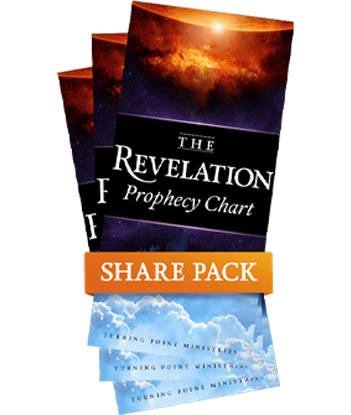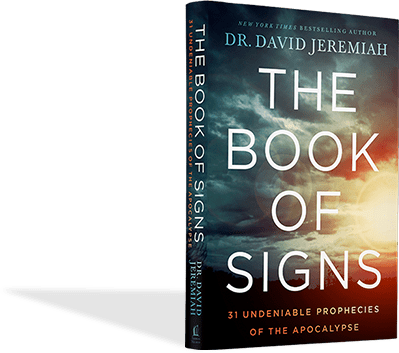 Gas prices will rise. It will rain again. Children will graduate from school. We will elect new leaders and pay our taxes. One day, we will die. Or will we? Some events are so predictable that we take them for granted. Death and taxes often come up. But there is a select group of people who will not die.
According to God's Word, those believers who are alive on earth at the time of the Rapture will rise at the sound of Christ's voice without tasting death. Scripture does not tell us when that day will occur, but it provides at least three reasons why the Rapture could happen at any time—possibly even today—and why we need to be ready.
Reason 1: The Rapture is a signless event. Unlike the Second Coming, no signs will precede the Rapture. This is called the doctrine of imminency—that is, the Rapture is imminent; it could happen at any moment. Specifically, nothing in God's prophetic program must take place as a prerequisite to the Rapture. Things may happen, but nothing must happen. That means we don't know when it could happen. It could be today or years from now.
Nothing in God's prophetic program must take place as a prerequisite to the Rapture.
Without any warning, Jesus Christ will return to rapture His saints and take them to heaven. As Christians, we are called to live prepared lives, ready to meet our Savior at any moment.
Reason 2: The Rapture is a surprise event. While many have attempted to predict the date of the Rapture and Jesus' Second Coming, we should take Jesus' words in Matthew 24:36-39 literally: No one, including Jesus and the angels, knows the time of His return. Only God the Father knows. Not knowing when Jesus will come for His Church gives us cause to be ready at all times.
Reason 3: The Rapture is a sudden event. Paul wrote that the Rapture would take place "in a moment, in the twinkling of an eye" (1 Corinthians 15:52). "Twinkling" likely refers to the amount of time it takes for light, traveling at 186,000 miles per second, to be reflected on the retina of one's eye. In less than a nanosecond, the Lord will call all believers to Himself!
First Thessalonians 4:16 says, "For the Lord Himself will descend from heaven with a shout, with the voice of an archangel, and with the trumpet of God." These are not three distinct sounds but one sound described in three different ways.
Christ Jesus' shout of "Come forth!" will summon every believer—living and dead—around the world.
This sound will ring with commanding authority like the voice of an archangel. Its volume and clarity will rival the blare of a trumpet. And the sound will be heard only by those who have trusted Christ as Savior. In John 11:43, Jesus shouted, "Lazarus, come forth!" At the Rapture, His shout of "Come forth!" will not summon a single individual but every believer—living and dead—around the world.
Reflecting on the Rapture
Many people have tried to predict the date of the Rapture. Based on Matthew 24:36-39, what would you say to them?
The Rapture could happen today! Do you feel prepared to meet your Savior? If not, what changes could you make to better prepare for the Rapture?
At the moment of the Rapture, God's people from every era—the disciples, the martyrs of the ages, your godly ancestors, and many more—will rise from their graves. Who do you most look forward to seeing? Spend some time in prayer thanking God for the hope of prophecy.
The Here & Now
What
the Rapture

means for you…today
For Christians, the Rapture is a source of hope. All who have lost loved ones to the sting of death can find comfort in the knowledge that they will see them again. Knowing Jesus promised to return for us provides strength during difficult times.