This Could Be the Day!
Digital Prophecy Outreach
Right now.
At this very moment, we could see the Lord return and hear the trumpet blast.
This could be the day!
We know what God has said about the End Times, and it gives us hope—a light at the end of the tunnel. But today, we must also be the light in the tunnel. Many are lost and afraid of the future. They sense what the pages of prophecy reveal: Time is running out.
Like never before, we have a sacred trust to offer hope and reach the lost. The world needs Jesus, and the saints need to be equipped with prophetic answers straight from Scripture. That is the heart behind Turning Point's new prophecy website.
This Could Be the Day! might be the most significant online outreach we have ever launched.
As a dual–purpose digital platform, This Could Be the Day! will equip believers with practical, prophetic answers to the troubling events of our day. Meanwhile, those asking difficult questions about these dark days will find biblical answers… and hope.
Think of this new online outreach as a prophecy master class, providing meaningful insights into key biblical topics, such as:
The next events on the prophetic calendar
Facts about the Rapture and Tribulation
The role of Old Testament prophecy in our world today
What we know about the mark of the Beast
Practical ways to prepare for the Last Days
And much more!
You won't want to miss a second. Together we can shine the light of prophetic hope in the tunnel of today's circumstances and boldly proclaim the powerful message that this could be the day!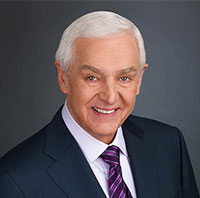 About Dr. David Jeremiah
Dr. David Jeremiah is one of America's most trusted Bible teachers. For more than 39 years he has helped millions deepen their understanding of the Bible through 4,552 daily Turning Point Radio releases and a daily Turning Point Television program that reaches millions of people globally.
The Revelation Prophecy Chart 3–Pack
Enter your address to receive a free Bible prophecy timeline 3–pack. This beautifully detailed timeline of God's prohetic calendar is a must–have for every student of Bible prophecy.
This resource is free of charge. However, your generous support is greatly appreciated. Click here if you would like to give a donation to Turning Point.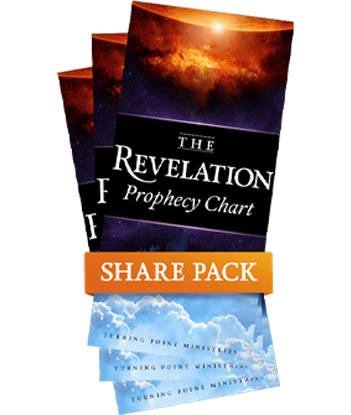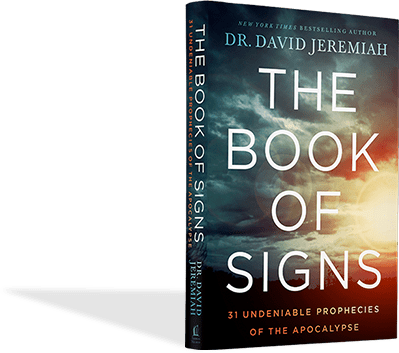 What do you do more than twenty thousand times during the waking hours of your day—without even thinking about it? Answer: blink your eyes. The average blink lasts between 100-150 milliseconds, or as little as one-tenth of a second.
Why is this important? Because if you are a Christian and are alive when Christ returns in the clouds for His Church at the Rapture, something is going to happen to you as quickly as the blink of an eye. The only advance warning you may have of this event is the sound of a heavenly trumpet and a shout from the archangel Michael (1 Thessalonians 4:16).
The notion of the blink of an eye, characterizing this event, is found in Paul's words in 1 Corinthians 15:52: "In a moment, in the twinkling of an eye, at the last trumpet.... The dead will be raised incorruptible, and we shall be changed." Why do I say "blink" instead of "twinkle"? For the same reason some modern translators choose "blink." In our modern vernacular, "twinkle" mostly refers to the rapid on/off nature of light—like the twinkling of a Christmas tree light. Or we often refer to the "twinkle" in someone's eye, referring to the "brightness" and "cheer" in a person's countenance.
The Greek word in 1 Corinthians 15:52 is used only here in the New Testament, and it simply refers to a rapid event or movement. Connected to "eye," it is probably better to translate the verse as "in the blink of an eye," as does the New English Translation: "In a moment, in the blinking of an eye... we will be changed." The Message creatively connects the blinking of the eye with the sound of the trumpet: "You hear a blast to end all blasts from a trumpet, and in the time that you look up and blink your eyes—it's over."
It all happens in the blink of an eye!
What is this event that Paul, in both 1 Thessalonians 4 and 1 Corinthians 15, writes about? It's the transformation of those alive when Christ comes for His Church, and those who previously died in their faith, into beings fit to inhabit heaven. The dead in Christ will be resurrected, and those alive when He comes will be transformed and caught up to meet Christ in the air. Or, as Paul puts it, mortality will put on immortality; the perishable will become imperishable. And so will we ever be with the Lord. And it all happens in the blink of an eye!
I spoke above about advance warning. How long will a trumpet blast and an angelic shout take? A few seconds at best? So it begs the question, What do we want to be found doing when that event happens? That question begs this answer: "Whatever we want to be found doing when Christ comes for us is what we ought to be found doing today, right now, at this moment.
I don't mean the specific activity—activities change throughout the course of the day. And I don't necessarily mean something "spiritual" like prayer, Bible study, witnessing and the like. No one can be engaged in such worthy activity at every moment of the day. Instead, I mean, What kind of heart and mind ought we to have knowing that Christ could return at any moment for His Church?
What kind of heart and mind ought we to have knowing that Christ could return at any moment for His Church?
To put it another way, let's ask the proverbial question that Christians have asked for centuries: If you knew that Christ would come tomorrow, how would you spend your last 24 hours in the human realm on earth? Once we hear the trumpet shout and Michael's cry, it will be too late. But today... well, we have today, and possibly tomorrow, and possibly a week or month or year before He returns. So we have time to consider this question. Having time doesn't mean putting off the question—after all, Christ could come today. It only means we may have more than "the blink of an eye" to live as a good steward of the grace of God.
What would you do if you knew you had 24 hours before meeting the Savior face-to-face? I've suggested five ways to think about this question below. I pray they will prompt all of us to live each day in the light of Christ's imminent return.
Daily Desires
When Christ returns for His Church at the Rapture, you might be eating, drinking, sleeping, mowing your lawn, having your quiet time, being involved in your vocation, playing with your children, attending a committee meeting at church—you could be doing any of the things that make up the normal agenda of your life. The words Paul wrote to the Corinthians, who were having disagreements about eating meat sacrificed to idols, summarize what should be the daily desire of every Christian: "Therefore, whether you eat or drink, or whatever you do, do all to the glory of God" (1 Corinthians 10:31).
Whatever you do. Those words take in all the things we do in our life. To the glory of God. The best way to prepare for the coming of Christ is to live every moment to the glory of God. Would you want to be doing something that doesn't glorify God at the moment Christ appears?
The best way to prepare for the coming of Christ is to live every moment to the glory of God.
Daily Direction
Doing all to the glory of God raises an immediate question: How do I know what glorifies Him and what doesn't? If our aim is to please someone, like our spouse, the longer and better we know them, the more we know what pleases them. The same is true when it comes to pleasing and glorifying God. The clearest way to begin knowing God is by reading His Word—all of it, consistently, daily, from now until the day Jesus returns. In fact, it was Jesus who prayed, "Sanctify them [make them holy] by Your truth. Your word is truth" (John 17:17). God's Word is living and able to lead us to glorify God in all that we do (Hebrews 4:12).
Daily Dialogue
The next way to know how to glorify God is through dialogue—prayer—with Him on a continual basis. Not every specific piece of guidance we need in life is found in Scripture. When Jesus was at the most critical moment of His life, He turned to God in prayer (Luke 22:39-46). We don't know everything He prayed, but the words we do know are the most important—for Him and for us when we pray—"Nevertheless not My will, but Yours, be done" (verse 42). If you and I are doing the will of God the day Christ returns, we will be glorifying God. Between today and that day, we must "pray without ceasing"—that is, pray all the time (1 Thessalonians 5:17).
Daily Discussion
Not a day goes by that we don't have a discussion, or at least a conversation, with someone. But if we knew Jesus was coming back within 24 hours (and He might), would that change the nature, urgency, or subject matter of our conversations? In some cases, would we seek forgiveness for our sin? In others, we might need to seek reconciliation where a breach had occurred. And most important of all, we might need to share the Gospel with someone who we know isn't ready to meet the Lord face to face. In all cases, we are to live at peace with all people (Romans 12:18). If the fact of Christ's return tomorrow would spur us to have long-delayed conversations with others, shouldn't the possibility of His return motivate us to have those conversations today?
If we knew Jesus was coming back within 24 hours (and He might), would that change the nature, urgency, or subject matter of our conversations?
Daily Determination
Finally, we must live our lives determined to present ourselves to Christ at His appearing in a manner befitting the Bride of Christ. Jesus' parable of the ten virgins (Matthew 25:1-13) tells how the young women were waiting for the arrival of the bridegroom. Not knowing when he would arrive, five took plenty of oil for their lamps; the other five didn't and they had to return and get more oil. While they were gone, the bridegroom arrived. The five wise virgins entered the feast; the five foolish virgins were shut out. Jesus' last words are our watchword: "Watch therefore, for you know neither the day nor the hour in which the Son of Man is coming" (verse 13).
May you and I live today and every day in light of Christ's imminent return.
The Here & Now
What
the Church Age

means for you…today
Jesus appointed His followers to share His teachings with others. Until He returns, we have an urgent responsibility to carry His message to our family, friends, neighbors, nation, and the ends of the earth.