This Could Be the Day!
Digital Prophecy Outreach
Right now.
At this very moment, we could see the Lord return and hear the trumpet blast.
This could be the day!
We know what God has said about the End Times, and it gives us hope—a light at the end of the tunnel. But today, we must also be the light in the tunnel. Many are lost and afraid of the future. They sense what the pages of prophecy reveal: Time is running out.
Like never before, we have a sacred trust to offer hope and reach the lost. The world needs Jesus, and the saints need to be equipped with prophetic answers straight from Scripture. That is the heart behind Turning Point's new prophecy website.
This Could Be the Day! might be the most significant online outreach we have ever launched.
As a dual–purpose digital platform, This Could Be the Day! will equip believers with practical, prophetic answers to the troubling events of our day. Meanwhile, those asking difficult questions about these dark days will find biblical answers… and hope.
Think of this new online outreach as a prophecy master class, providing meaningful insights into key biblical topics, such as:
The next events on the prophetic calendar
Facts about the Rapture and Tribulation
The role of Old Testament prophecy in our world today
What we know about the mark of the Beast
Practical ways to prepare for the Last Days
And much more!
You won't want to miss a second. Together we can shine the light of prophetic hope in the tunnel of today's circumstances and boldly proclaim the powerful message that this could be the day!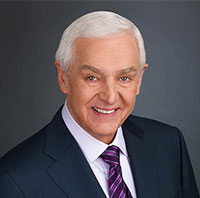 About Dr. David Jeremiah
Dr. David Jeremiah is one of America's most trusted Bible teachers. For more than 39 years he has helped millions deepen their understanding of the Bible through 4,552 daily Turning Point Radio releases and a daily Turning Point Television program that reaches millions of people globally.
The Revelation Prophecy Chart 3–Pack
Enter your address to receive a free Bible prophecy timeline 3–pack. This beautifully detailed timeline of God's prohetic calendar is a must–have for every student of Bible prophecy.
This resource is free of charge. However, your generous support is greatly appreciated. Click here if you would like to give a donation to Turning Point.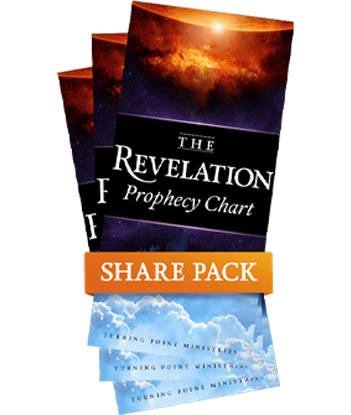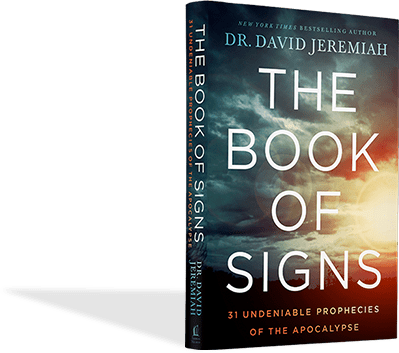 The book of Revelation marks the end of the Bible and the world as we know it. It's not hard to understand why many people get so caught up in the Tribulation and Second Coming that they miss the happy ending. Even the Millennium is not the end of all things. God's people—those who experience the Rapture and those who convert during the Tribulation—will live with Him forever in a renewed and restored world.
The Old Testament prophets saw a new heaven and new earth that would last forever, so incredible that it would cause us to forget the former world (Isaiah 65:17; 66:22). In the New Testament, we find the same hope: "We, according to His promise, look for new heavens and a new earth in which righteousness dwells" (2 Peter 3:13; see also Hebrews 1:12; Revelation 21:1). The earth will be our home forever, but its future majesty will exceed anything we can imagine.
Won't the Earth Be Burned Up?
Peter describes what will happen after Christ's Millennial Reign and the Great White Throne Judgment: "The day of the Lord will come as a thief in the night, in which the heavens will pass away with a great noise, and the elements will melt with fervent heat; both the earth and the works that are in it will be burned up" (2 Peter 3:10).
This world will be uncovered—not destroyed, purified—not burned up.
These words about burning and fire certainly sound like, well, burning and fire. But the original Greek does not suggest that interpretation. The New International Version gives a more accurate rendering: "The earth and everything done in it will be laid bare." This world will be uncovered—not destroyed, purified—not burned up. The material elements of the current earth will disintegrate and fall apart, and God will create something new out of what remains.
The Greek word Peter uses for the word "new" refers to newness of quality, not something that has never existed before. God never revoked His original declaration that the earth was "very good" (Genesis 1:31). Rather than destroying His original creation, He will restore it by eliminating the decay, corruption, disease, destruction, and wickedness. At the end of the Millennium, the present earth will be cleansed, purified, and made new.
Won't We Go to Heaven?
Today a great division between heaven and earth separates God and man. But Ephesians 1:10 tells us that, in "the fullness of the times," God will "gather together in one all things in Christ, both which are in heaven and which are on earth—in Him." All things will unite under Christ's headship in the new heaven and new earth. The wall between heaven and earth will be no more.
The wall between heaven and earth will be no more.
Jesus taught His disciples to pray, "Your kingdom come. Your will be done on earth as it is in heaven" (Matthew 6:10; Luke 11:2). Have you ever wondered when and how this prayer will reach its fulfillment? When God destroys sin and death, the Lord's Prayer will find its satisfaction.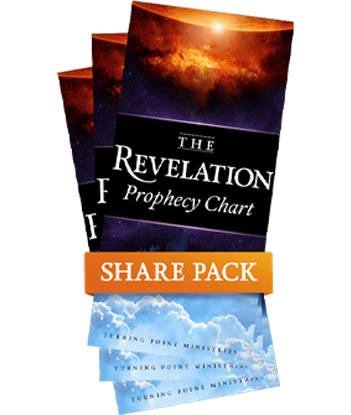 Some Christians are disappointed when they find out they're going to spend eternity on earth instead of "in heaven." But what would be the purpose of God's renovation if no one was going to live in it? While it requires a shift in thinking for many believers, we can look forward to "heaven on earth" finally becoming a reality after the Millennium.
What Will the New Heaven and Earth Be Like?
Just think, the beauty of today's starry skies and lush rainforests cannot compare with the splendor we will one day experience. In the new heavens and earth, we will have laughter without tears, life without death, singing without mourning, contentment without crying, and pleasure without pain. We will spend each day in the presence of our Lord and Savior, Jesus Christ, as well as our Heavenly Father and the Holy Spirit. The crown jewel of God's restored creation will be a glorious, brilliant, and sparkling city; God's Word calls it "New Jerusalem," but we will call it "home."
Only in God's great plan of redemption can we find rest for our souls and the satisfaction of our heart's deepest desires.
Each of us longs for the untarnished perfection of the Garden of Eden because God has placed the desire for something eternal in our heart (Ecclesiastes 3:11). Humanity's failed attempts to establish heaven on earth fill the pages of history, but eternity is a God-sized problem. Only in His great plan of redemption can we find rest for our souls and satisfaction for our heart's deepest desires.
Questions like this prompted me to write my new book, After the Rapture. Chapter eight, "How Will It All End?" sketches out the world of tomorrow, beginning with the Millennium and continuing through the New Jerusalem.
The Here & Now
What
the New Heaven & New Earth

mean for you…today
When we realize the earth will be our eternal home, we gain a renewed sense of responsibility for it. God will restore the world after the End Times, but for now, He has commissioned us to love and care for this planet (Genesis 1:26). Let's be responsible ecologists as we anticipate a beautiful future.
Learn More About New Heaven & New Earth