This Could Be the Day!
Digital Prophecy Outreach
Right now.
At this very moment, we could see the Lord return and hear the trumpet blast.
This could be the day!
We know what God has said about the End Times, and it gives us hope—a light at the end of the tunnel. But today, we must also be the light in the tunnel. Many are lost and afraid of the future. They sense what the pages of prophecy reveal: Time is running out.
Like never before, we have a sacred trust to offer hope and reach the lost. The world needs Jesus, and the saints need to be equipped with prophetic answers straight from Scripture. That is the heart behind Turning Point's new prophecy website.
This Could Be the Day! might be the most significant online outreach we have ever launched.
As a dual–purpose digital platform, This Could Be the Day! will equip believers with practical, prophetic answers to the troubling events of our day. Meanwhile, those asking difficult questions about these dark days will find biblical answers… and hope.
Think of this new online outreach as a prophecy master class, providing meaningful insights into key biblical topics, such as:
The next events on the prophetic calendar
Facts about the Rapture and Tribulation
The role of Old Testament prophecy in our world today
What we know about the mark of the Beast
Practical ways to prepare for the Last Days
And much more!
You won't want to miss a second. Together we can shine the light of prophetic hope in the tunnel of today's circumstances and boldly proclaim the powerful message that this could be the day!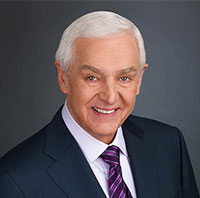 About Dr. David Jeremiah
Dr. David Jeremiah is one of America's most trusted Bible teachers. For more than 39 years he has helped millions deepen their understanding of the Bible through 4,552 daily Turning Point Radio releases and a daily Turning Point Television program that reaches millions of people globally.
The Revelation Prophecy Chart 3–Pack
Enter your address to receive a free Bible prophecy timeline 3–pack. This beautifully detailed timeline of God's prohetic calendar is a must–have for every student of Bible prophecy.
This resource is free of charge. However, your generous support is greatly appreciated. Click here if you would like to give a donation to Turning Point.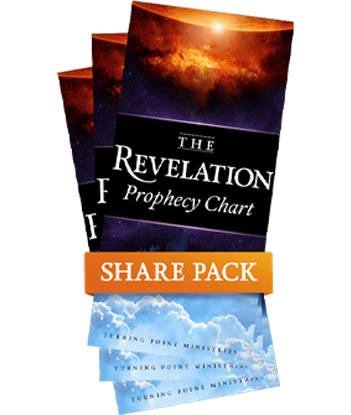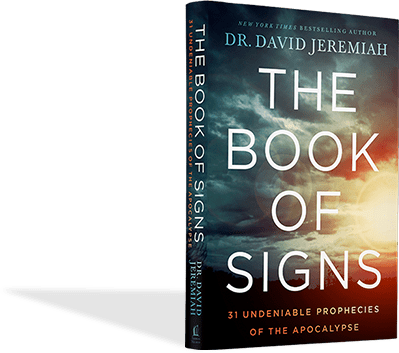 Heaven is often referred to in daily conversations, and even in books and films, but many people don't know what the Bible says about it. And out of that lack of knowledge, misconceptions are created. How much do you know about heaven? No doubt, you have an idea about heaven in your mind, but is it based upon the truth of the Bible?
It's easy to allow misconceptions to shape our understanding, and we must work hard to guard against this. While we don't know all that God has planned for us in heaven, the Bible reveals a great deal about what is next for us in our heavenly home.
Let's take a look at three common misconceptions about heaven.
1. The Earth Will Be Destroyed
A common misconception that once was held by many teachers was that God was going to destroy the earth at the end of the Millennium and create a new one, but that is not accurate. When we read 2 Peter 3:10-12, we see how this misunderstanding occurred:
But the day of the Lord will come as a thief in the night, in which the heavens will pass away with a great noise, and the elements will melt with fervent heat; both the earth and the works that are in it will be burned up. Therefore, since all these things will be dissolved, what manner of persons ought you to be in holy conduct and godliness, looking for and hastening the coming of the day of God, because of which the heavens will be dissolved, being on fire, and the elements will melt with fervent heat? (emphasis added)
Peter is not talking about the destruction of the earth, but rather the purification of the earth.
The New King James Version above says the earth will be "burned up" and "dissolved" with "fire." But when we look at the original Greek manuscript, the word for "burned up" actually conveys the idea of being uncovered or laid bare. In other words, Peter is not talking about the destruction of the earth, but rather the purification of the earth. All the evidence of decay that has prevailed since the fall will disintegrate. The fire Peter references will be a refining fire, melting away the old and corrupt elements of the earth. The planet will be purified, not destroyed.
The next verse in the passage says, "Nevertheless we, according to His promise, look for new heavens and a new earth in which righteousness dwells" (2 Peter 3:13). The word "new" in the original Greek does not indicate something that is created for the first time. Rather, it describes something new in quality. The coming new earth is the one that we live in now, but it will be completely renovated and refreshed. All signs of disobedience and disease and inherent evil in the world will dissolve, producing a state of perfection we've never experienced. The New Heaven—the "New Jerusalem" or Holy City with golden streets and pearly gates we hear about—will come down to earth.
God is not going to destroy the world. He's going to purify it of all its old corruption. What a glorious day that will be!
2. The Holy City Will Be Boring
One of the devil's biggest lies about heaven is the notion that somehow it will be boring. Imagine having nothing to do forever except float around on billowy clouds, flapping our wings, and singing one hymn after another. For some people, they imagine heaven as a place that is the same every day with an unending monotony, and this idea has perpetrated the thought that heaven will be boring. Heaven will not be boring. How do I know? Because God is not boring!
In heaven, we will finally be with the One who fulfills us and completes us—the One who fulfills the deepest longings of our heart.
Psalm 16:11 tells us about the excitement of being in God's presence: "You will show me the path of life; in Your presence is fullness of joy; at Your right hand are pleasures forevermore." When we are in heaven with God, we will experience true joy and pleasure. We will finally be with the One who fulfills us and completes us—the One who fulfills the deepest longings of our heart.
Not only will there be joy and pleasure, but we will also have work to do in heaven. Our work in heaven will keep us so occupied we won't have time to be bored. The book of Revelation depicts service happening at all times (Revelation 7:3, 15; 11:18; 15:3; 19:5; 22:3, 6). Service implies servants, and servants have tasks to perform and responsibilities to carry out. I don't think Christ is going to say to us, "Well done, good and faithful servant—take the rest of eternity off." Jesus' words in the parable of the talents, "Well done, good and faithful servant; you were faithful over a few things, I will make you ruler over many things. Enter into the joy of your lord" (Matthew 25:21), sounds like we're going to be given "many things" to do in heaven.
Let's remember also that God gave Adam work to do in the Garden of Eden before sin came into the world. Work was not a part of the curse. Adam was told to work the ground and steward the animals from the beginning. The curse brought suffering and toil and unfruitfulness that now thwarts our work. But work is a sanctified, God-given directive.
I don't think Christ is going to say to us, "Well done, good and faithful servant—take the rest of eternity off."
We will work in heaven, and our work will glorify God. We will work with greater joy and with greater results than ever before, and we will be in the company of innumerable angels and other believers just like us—praising and serving God. Heaven will not be boring!
3. We Will Be Floating Spirits
Many times people who have died are represented in books or movies as an ethereal spirit. But this is not so. We will be recognizable in heaven. We will know each other and communicate with each other.
How do I know this? The Bible tells us in several places that our resurrected and glorified bodies will be like the one Jesus had after His Resurrection (Philippians 3:20-21; 1 John 3:2; 1 Corinthians 15:49). While we don't know all the details, we gain perspective when we consider Jesus' physical body after His resurrection.
First, we will have real, physical, touchable bodies with the same familiar qualities. In Luke 24:39, Jesus spoke with His disciples after His resurrection and said, "Behold My hands and My feet, that it is I Myself. Handle Me and see, for a spirit does not have flesh and bones as you see I have."
Second, we will eat. We likely won't need food for sustenance, but we will still have the ability to enjoy it. During two of his post-resurrection appearances, Jesus ate with His disciples.
He showed them His hands and His feet. But while they still did not believe for joy, and marveled, He said to them, "Have you any food here?" So they gave Him a piece of a broiled fish and some honeycomb. And He took it and ate in their presence. (Luke 24:40-43)
Jesus said to them, "Come and eat breakfast." Yet none of the disciples dared ask Him, "Who are You?"—knowing that it was the Lord. Jesus then came and took the bread and gave it to them, and likewise the fish. (John 21:12-13)
We will know our friends and family, just as Jesus knew His, and we will have a new body that is free from the stain of sin and pain.
Finally, Jesus told His disciples that they will be able to interact with saints of the past in heaven: "And I say to you that many will come from east and west, and sit down with Abraham, Isaac, and Jacob in the kingdom of heaven" (Matthew 8:11).
Imagine walking the streets of gold with the patriarchs and meeting saints who came before us like Joseph, Isaiah, Peter, and so many other countless men and women of faith whose legacies inspire us in our walk with God. We will know them, and they will know us. We will know our friends and family, just as Jesus knew His, and we will have a new body that is free from the stain of sin and pain.
Has your view of heaven changed? God's Word is filled with exciting truths about heaven and so much more. As you study God's eternal plan for the future, you will gain a heavenly perspective for living today and discover a renewed anticipation and hope for what God has planned for all eternity. It will take place in a "new heaven and a new earth," it will not be boring, and we will know one another as we worship and serve our wonderful Lord and Savior throughout eternity.
The Here & Now
What
the New Heaven & New Earth

mean for you…today
When we realize the earth will be our eternal home, we gain a renewed sense of responsibility for it. God will restore the world after the End Times, but for now, He has commissioned us to love and care for this planet (Genesis 1:26). Let's be responsible ecologists as we anticipate a beautiful future.