This Could Be the Day!
Digital Prophecy Outreach
Right now.
At this very moment, we could see the Lord return and hear the trumpet blast.
This could be the day!
We know what God has said about the End Times, and it gives us hope—a light at the end of the tunnel. But today, we must also be the light in the tunnel. Many are lost and afraid of the future. They sense what the pages of prophecy reveal: Time is running out.
Like never before, we have a sacred trust to offer hope and reach the lost. The world needs Jesus, and the saints need to be equipped with prophetic answers straight from Scripture. That is the heart behind Turning Point's new prophecy website.
This Could Be the Day! might be the most significant online outreach we have ever launched.
As a dual–purpose digital platform, This Could Be the Day! will equip believers with practical, prophetic answers to the troubling events of our day. Meanwhile, those asking difficult questions about these dark days will find biblical answers… and hope.
Think of this new online outreach as a prophecy master class, providing meaningful insights into key biblical topics, such as:
The next events on the prophetic calendar
Facts about the Rapture and Tribulation
The role of Old Testament prophecy in our world today
What we know about the mark of the Beast
Practical ways to prepare for the Last Days
And much more!
You won't want to miss a second. Together we can shine the light of prophetic hope in the tunnel of today's circumstances and boldly proclaim the powerful message that this could be the day!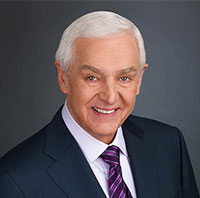 About Dr. David Jeremiah
Dr. David Jeremiah is one of America's most trusted Bible teachers. For more than 39 years he has helped millions deepen their understanding of the Bible through 4,552 daily Turning Point Radio releases and a daily Turning Point Television program that reaches millions of people globally.
The Revelation Prophecy Chart 3–Pack
Enter your address to receive a free Bible prophecy timeline 3–pack. This beautifully detailed timeline of God's prohetic calendar is a must–have for every student of Bible prophecy.
This resource is free of charge. However, your generous support is greatly appreciated. Click here if you would like to give a donation to Turning Point.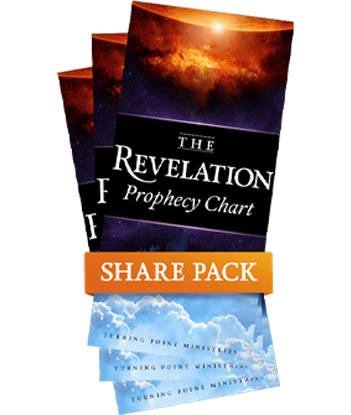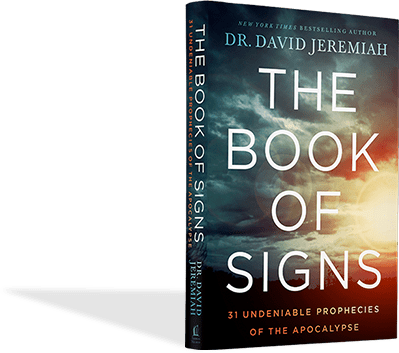 There is only one way to escape God's judgment, and that is by faith in Jesus Christ. Hebrews 11:6 tells us, "Without faith it is impossible to please Him, for he who comes to God must believe that He is, and that He is a rewarder of those who diligently seek Him." When we trust that Jesus is the only perfect human being who ever lived and accept Him as our Lord and Savior, God gives us credit for the perfect life He lived.
Maybe you know about God but do not know God.
Perhaps you have been watching Turning Point Television for years, or you've just recently stumbled across our website. We never want to assume that everyone in our audience knows Jesus as their personal Savior. Maybe you know about God but do not know God. The first step in knowing God is accepting Jesus as your Savior. God's Son came and dwelt among us, knew no sin, paid the sacrifice for our sins on the cross, rose three days later, and now sits at the right hand of God interceding on our behalf. If you have ever wanted to know how to receive Jesus as your Savior, here is a simple plan of salvation that will lead you to the cross of Jesus.
PLAN OF SALVATION
God loves you! "For God so loved the world that He gave His only begotten Son, that whoever believes in Him should not perish but have everlasting life" (John 3:16).
God has a wonderful plan for your life! "I have come that they may have life, and that they may have it more abundantly" (John 10:10).
Because of your sin, you are separated from God. "For all have sinned and fall short of the glory of God" (Romans 3:23).
The penalty for sin is death. "For the wages of sin is death, but the gift of God is eternal life in Christ Jesus our Lord" (Romans 6:23).
The penalty for your sin was paid for by Jesus Christ! "But God demonstrates His own love toward us, in that while we were still sinners, Christ died for us" (Romans 5:8).
If you repent of your sin, confess and trust Jesus Christ as your Lord and Savior, you will be saved from your sins! "That if you confess with your mouth the Lord Jesus and believe in your heart that God has raised Him from the dead, you will be saved. For with the heart one believes unto righteousness, and with the mouth confession is made unto salvation" (Romans 10:9-10). "For 'whoever calls on the name of the Lord shall be saved'" (Romans 10:13).
No matter what you have done wrong, God will forgive you.
GOD FORGIVES YOU
You're forgiven. How relieving is it to hear those words after you ask for forgiveness from a loved one for what you did wrong! God offers the same words to you. No matter what you have done wrong, God will forgive you. Nothing you've done is outside of God's forgiveness. God's forgiveness is like putting your sin as far away "as the east is from the west" (Psalm 103:12). When God forgives you, He welcomes you into His presence where there is joy and pleasure forever. Ephesians 1:7 says, "In Him we have redemption through His blood, the forgiveness of sins, according to the riches of His grace." You can receive God's forgiveness and have your greatest turning point today.
To receive God's forgiveness, simply ask Him to forgive you for your sin. Here is a simple suggestion for your prayer:
Lord Jesus, I'm like everyone else—I can't make it through life on my own. I'm imperfect. I'm prone to sin. I have come to realize that there's nothing in the world I can do to make myself acceptable to You. But I know that You have loved me so much that You were willing to submit to the cross and die on my behalf. That's a grace so amazing I cannot understand it; I can only accept it. And I do. I accept Your free gift, and I know that from this moment on, I am saved. I am a child of God. And I give the rest of my life to serving You and experiencing the joy that only You can offer. I thank You and praise You! Amen.
The Here & Now
What
the Great White Throne Judgment

means for you…today
Everyone who stands trial at the Great White Throne will be found guilty of violating God's law and sentenced to unending torment in the lake of fire. But there is good news! By accepting Jesus Christ's gift of salvation now, we can avoid this day of judgment.