Fresh insights into familiar parts of the Bible
...and an exciting grasp on hard-to-understand passages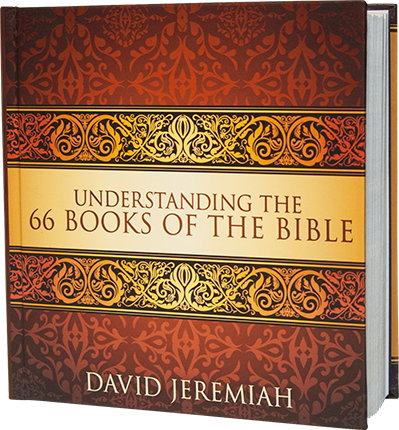 The fastest journey through the Bible you will ever experience
Understanding the 66 Books of the Bible
from Dr. David Jeremiah
The Bible is the mind of Christ between two covers, but those covers enclose ancient writings that may seem confusing. After all, God's Word is a library of 66 books, Genesis to Revelation. Even so, the Lord imparted His Word to teach us, not baffle us; and each of His 66 books is understandable and vital to our well-being.
Understanding the 66 Books of the Bible will orient you to each of God's special books whether you're a new reader or a veteran student, whether you want to visit the Gospel of John or take a journey into Nahum or Jude. In this volume you'll find:
In Understanding the 66 Books of the Bible you'll find blessings times 66 as you gain fresh insights into Genesis, Exodus, Leviticus, Numbers...and on to Revelation!
Not available for sale in stores or online anywhere else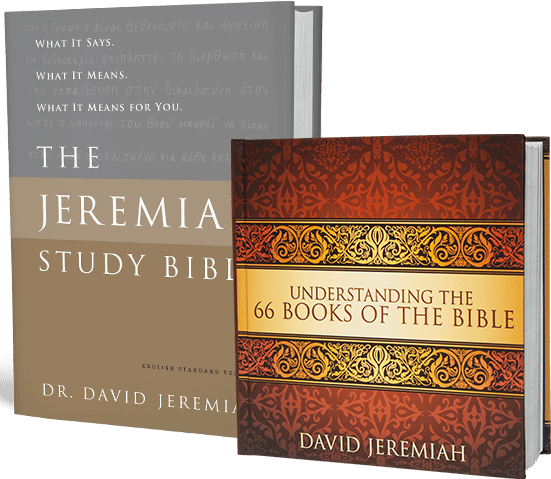 The Jeremiah Study Bible
Drawing on more than 40 years of study, Dr. David Jeremiah has compiled a legacy resource that will make an eternal impact on generations to come!
The Jeremiah Study Bible focuses on three simple things:
What does the Bible say
What does it mean
What does it mean for you?
Comprehensive in scope yet easy to understand, The Jeremiah Study Bible is a 2,200 page, one-of-a-kind study tool.
Features include:
Unique introductions to each book of the Bible
8,000 individual study notes with insightful and practical content
Words of Jesus in red-letter print
Hundreds of enriching sidebars with word studies, historical insights and geographical and archaeological information
More than 55 full-page articles exploring the essential themes of the Christian life
Teacher's topical index
And much more!