The Complete Q&A Library
Ultimate Answers Library Box Set
When you spend time studying God's Word, the more you will learn, the more you will understand, and the closer you will draw to the God of the Bible. But even if you have studied the Bible for years, it is natural to have questions.
In this Ultimate Answers Library, you will find the answers to hundreds of questions about six essential topics. Within each of the six books included in this collection, Dr. Jeremiah draws on his years of experience and study to answer many of the questions you and your family and friends may have. Learn what God's Word says about each topic and equip yourself to answer the questions of others.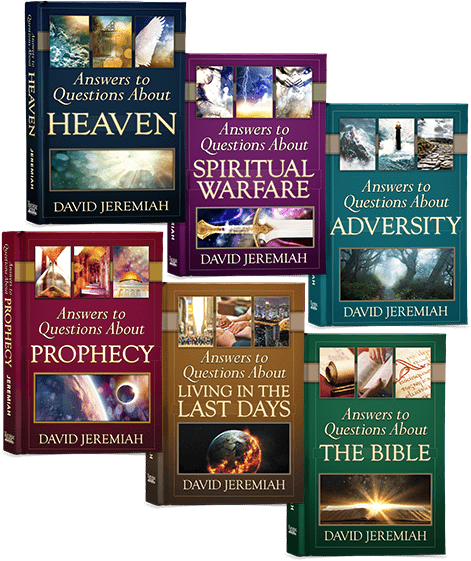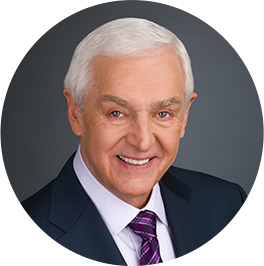 You don't need to walk through life as a question mark. God has the answers!
Brand-New From Dr. David Jeremiah
…The Bible
The 66 books of the Bible have been a "best seller" throughout history because Scripture offers an intimate look at God's heart, mind, and plans for us. The Bible is the greatest resource for growing our knowledge of God, but it can be challenging to locate answers when we have specific questions.
Filled with more than one hundred answers to common questions, Answers to Questions About the Bible makes a perfect companion for your study time.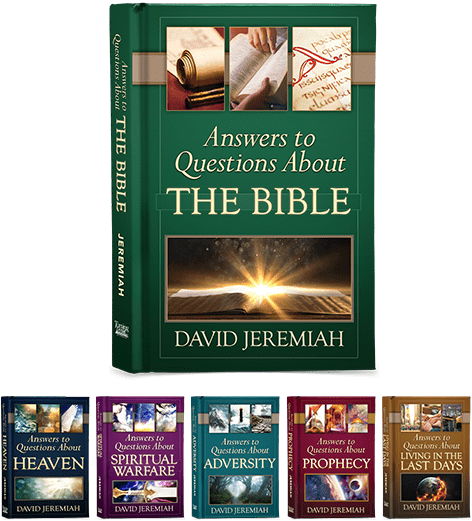 From Answers to Questions About the Bible
Why can we trust the accuracy of the Bible?
Why do Christians need to read and study the Bible?
How were people in the Old Testament saved?
Why does it seem like God is wrathful in the Old Testament and loving in the New Testament?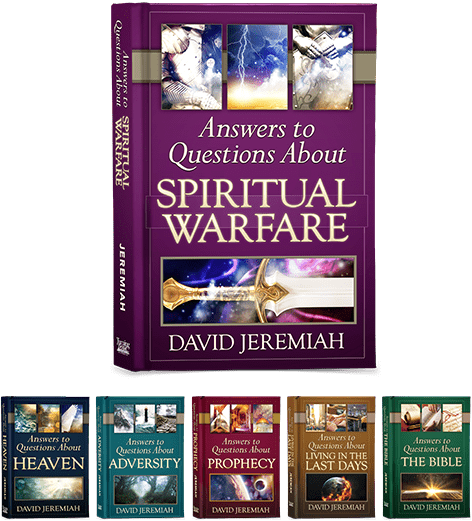 Identify the Enemy. Proclaim the Victory!
…Spiritual Warfare
In this volume of Dr. David Jeremiah's Ultimate Answers Library, you will find crucial questions about spiritual warfare, Satan, demons, prayer, and the believer's armor.
Answers to Questions About Spiritual Warfare addresses two perspectives—Satan's strategies against the human race and the believer's strategies for victory in spiritual battles.
Draw on Pastor David Jeremiah's years of teaching on this subject and gear up for victory in the spiritual realm with the help of more than seventy Answers to Questions About Spiritual Warfare.
From Answers to Questions About Spiritual Warfare
What does it mean to let the peace of God "rule" in my heart?
Are demons real?
How can I defend myself in a hostile world?
How can I demolish Satan's strongholds…?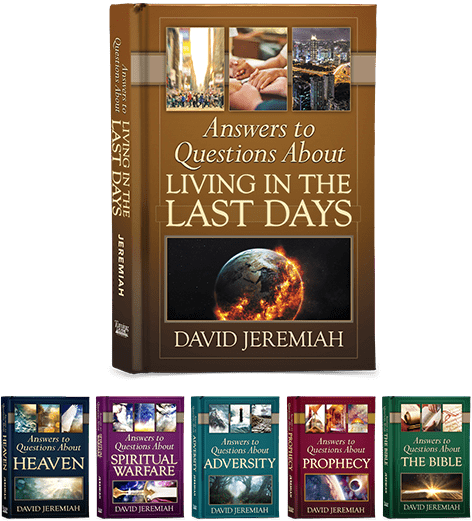 Find Certainty in Uncertain Times
…Living in the Last Days
God's End-Times plan is hurtling toward its dramatic conclusion.
Millions are confused, frightened, despairing.
The world we live in today is tempestuous. Society is slipping into moral decay. Many Christians and non-Christians alike have questions about our times. Perhaps the most critical question is, How can we boldly share our faith and live confidently in our days?
Discover more than seventy practical solutions for living in the Last Days with the help of one of America's foremost prophecy experts, Dr. David Jeremiah.
From Answers to Questions About Living in the Last Days
What signs of the Last Days are being fulfilled in our world today?
What should I do when I don't have the answer to life's questions?
How can I live an authentic life for Christ and be a witness to those around me?
How can I leave a godly legacy for my family and friends?
Prepare for the Lord's Soon Return
…Prophecy
Prophecy can be mysterious, even confusing.
It is one thing to look back at history and see how God has moved in human affairs. It is another matter to peer into the future and construct an accurate image of tomorrow's world with nothing to guide us but a book compiled from ancient manuscripts.
Thumbing through the pages of Answers to Questions About Prophecy is like interviewing a leading expert on biblical prophecy. In this volume, Dr. David Jeremiah answers more than sixty pressing questions about God's plans for the End Times as revealed in Scripture.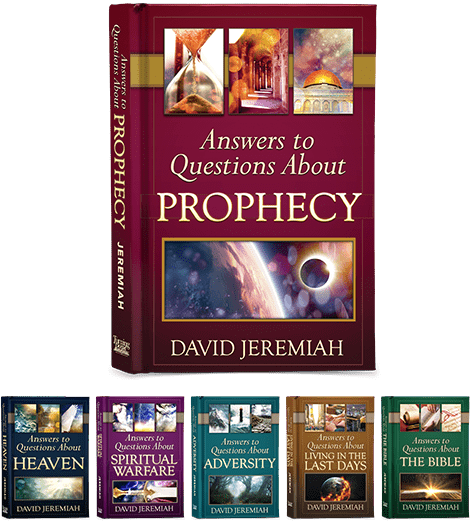 From Answers to Questions About Prophecy
What is the mark of the Beast?
Will Christians escape the Tribulation?
Is my name in the Book of Life?
Who is the Antichrist?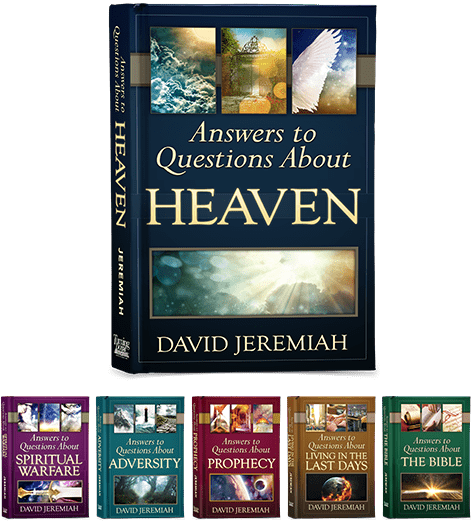 A Fascinating Tour of Your Future Home
…Heaven
What comes to mind when you think of heaven? Clouds and harps? Spires and domes? Most people form their impressions of heaven from television, movies, and their imaginations rather than a careful study of Scripture.
But the Bible contains over 500 references to heaven. It provides a virtual travelogue for God's children, with detailed information about our eternal home.
In Answers to Questions About Heaven, Dr. David Jeremiah offers simple, specific, biblical answers to 75 questions about heaven.
From Answers to Questions About Heaven
Is heaven a real, physical place?
Do I have a "guardian angel"?
What about children lost through miscarriages or abortions?
What if our earthly bodies are destroyed?
Soar Above Your Circumstances
…Adversity
Why is life so hard?
This question has haunted humanity from the beginning. The Bible has answers for us—not easy answers, but rich, satisfying, grace-tinted answers—if only we could locate them within the pages of God's Word. Where in the Bible do we turn for solutions?
Answers to Questions About Adversity is an instant source of eternal help. Drawing on his years of pastoral ministry, Dr. David Jeremiah pulls together the Bible's teaching about adversity through 95 questions and answers.
From Answers to Questions About Adversity
Why does God allow pain?
Is it possible to start fresh after I've failed so deeply?
What should I do when God says "No"?
God knows my pain, so why bother praying for help?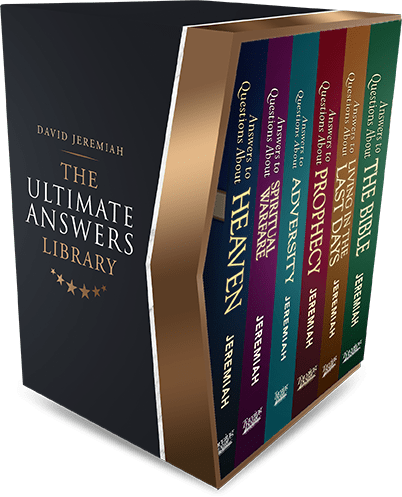 More Than 470 Concise Answers to Pressing Questions
Request Your Boxed Library Set
Yes, the Bible is detailed and deep, but you can understand it. Find straightforward answers to your most pressing biblical questions and discover hope in the truth about this life and about what's ahead with Dr. David Jeremiah's Ultimate Answers Library.
Individually, the books are small enough to carry with you for ready reference. Packaged together in a gift box, these handsome, hardcover volumes are ready to be displayed in a bookcase or study. For a gift of $150 or more, you can request the boxed collection with all six question-and-answer books from Dr. Jeremiah.
Request Your Answers Library