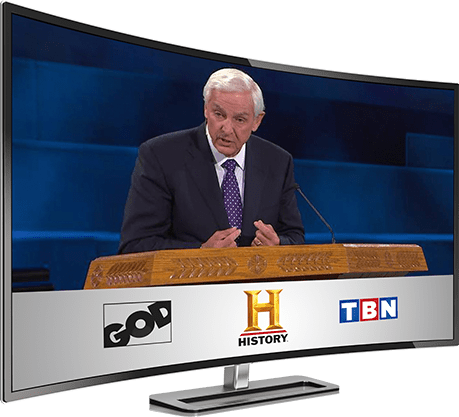 DAVID JEREMIAH'S POWERFUL PROPHETIC STUDIES
As Seen Monday-Friday on Turning Point Television
Some Christians ignore biblical prophecy because it seems irrelevant to the real world, others because it seems dark and frightening. Both groups are missing out on reassuring truths from God's Word.
During the month of February, Dr. Jeremiah will teach through the book of Daniel and then Revelation on Turning Point Television's weekday edition. Tune in as he explains the practical benefits of prophecy and the hope it offers when all else is lost. You won't want to miss this comprehensive look at biblical prophecy.
We planned these series months ago, and now God is opening doors for us to reach new audiences through expanded broadcast times and channels. View our new Turning Point Television weekday broadcasts on the schedule below.
WHAT THE PROPHECIES OF DANIEL TELL US ABOUT THE END OF DAYS
Agents of Babylon
David Jeremiah explains the prophecies of Daniel and what they reveal about the end of days.
The spirit of the End Times, or "Babylon," is alive like never before.
Throughout history, Babylon has been a symbol of the world's worst evils—extreme decadence, infinite cruelty, ravenous power, and implacable contention against God. And nowhere in the Bible do we find a more vivid picture of Babylon's malevolent nature than the book of Daniel.
Teeming with prophetic markers and visions—many of which have already been fulfilled—the parallels between the world described in Daniel and the world we live in today are positively staggering.
Request the Book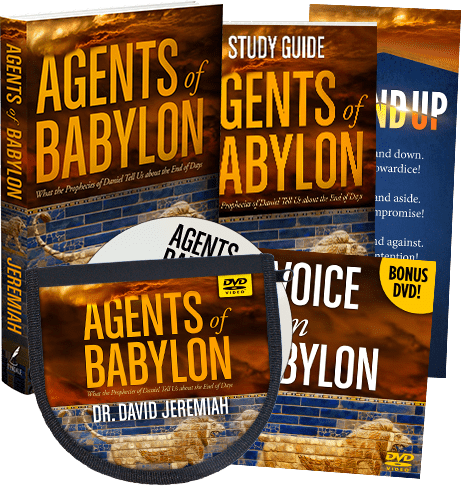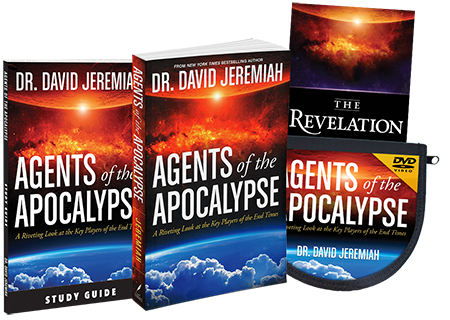 A RIVETING LOOK AT THE KEY PLAYERS OF THE END TIMES
Agents of the Apocalypse
Who will usher in earth's final days?
Are we living in the End Times? Is it possible that the players depicted in the book of Revelation could be out in force today? And if they are, how would we recognize them?
In Agents of the Apocalypse, David Jeremiah does what no prophecy expert has done before. He explores the book of Revelation through the lens of its major players—the exiled, the martyrs, the elders, the victor, the king, the judge, the 144,000, the witnesses, the false prophet, and the beast.
One by one, Dr. Jeremiah delves into their personalities and motives and the role that each plays in biblical prophecy. Then he provides readers with the critical clues and information needed to recognize their presence and power in the world today.
The stage is set, and the curtain is about to rise on Earth's final act. Will you be ready?
Request the Book
Watch Turning Point Television on Weekdays
FEATURING NEW TIMES & STATIONS IN THE UNITED STATES

History Channel
Monday-Friday 6:30 AM (ET/PT)
Turning Point will be the first religious program of its kind on the History channel!

GOD TV
Monday-Friday 6:00 AM (ET)

TBN
Monday-Friday 7:00 AM (ET)

Hillsong Channel
Monday-Friday 9:00 AM (ET)
UNDERSTAND OLD AND NEW TESTAMENT PROPHECY
Agents Book Set
Understand biblical prophecy like never before with David Jeremiah's Agents Book Set. Focusing on Daniel's Old Testament prophecies and John's book of Revelation, David will introduce you to the key operatives of prophetic events and give you the tools to identify characteristics of the End Times that are already evident in our world today.
Skillfully crafted to engage your heart and mind, this series will help you bring prophecy to life! As you draw connections between ancient prophecies and world events, you will find yourself anxiously awaiting the day when John's prophetic vision comes to pass.
It's an unparalleled, 360-degree look at biblical prophecy!
Request Both Books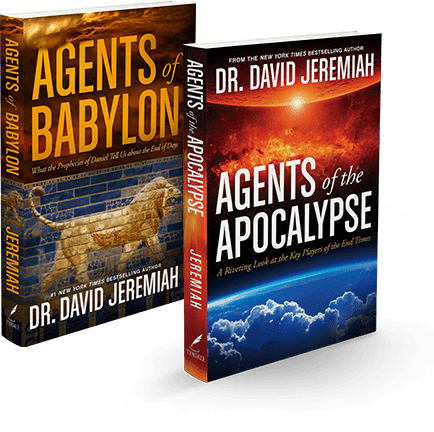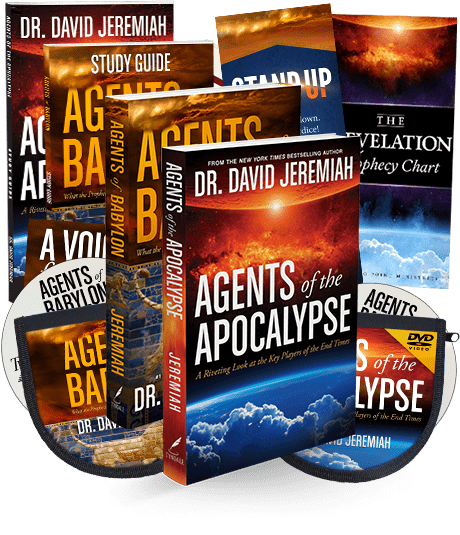 WITH YOUR GIFT OF $120 IN SUPPORT OF TURNING POINT
The Complete Agents Study Set
Frightful days loom ahead for planet Earth—world events suggest that God is setting the stage for Daniel's remaining prophecies and the Apocalypse. But as God's people, we can face the future with confidence in God's providential plan.
From Daniel's faithfulness in ancient Babylon to John's vivid descriptions of the Apocalypse, equip yourself with a solid understanding of biblical prophecy by requesting David Jeremiah's Complete Agents Study Set.
Your generous gift enables us to broadcast these timely messages on Turning Point Television and digitally through our website and mobile app. Thank you for your continued support.
Over the course of our three-plus decades of ministry, we have consistently seen that instruction on the topic of Bible prophecy brings more people to Christ than any other subject I teach.
David Jeremiah
About the author
David Jeremiah
Dr. David Jeremiah is one of America's most trusted Bible teachers.
For more than 38 years he has helped millions deepen their understanding of the Bible through 4,552 daily Turning Point Radio releases and a daily Turning Point Television program that reaches millions of people globally.
Dr. Jeremiah has authored many books, including Overcomer, Everything You Need, The Book of Signs, Revealing the Mysteries of Heaven, and Forward.