"Would you please partner with me in prayer as we
share the promise, hope, and victory we have in Jesus Christ?"
—Dr. David Jeremiah
This week's prayer:
by God's grace,
Turning Point is positioned to
multiply the impact of your gift as never before—
through a more extensive broadcast network,
a robust digital presence, greater reach into
parts of the world where Christians are persecuted,
and more effective means of reaching
every age group.
Let's take hold of what God has for us. Stand with me in focused prayer between now and Christmas. For the next eighteen weeks, let's pray and work and believe together, asking God to move in us and through us as never before.
I want this for you—and with all my heart, I want this for the multitudes of people around the world who are still missing out.
Your prayers and financial contributions will be a part of something HUGE that God is planning for this fall season!
Lost people need the Lord.
Believers need to be encouraged and emboldened.
Turning Point will point the way.
I urge your to be a part of it all, in two key ways...
1. Please support this ministry campaign in prayer.
Download and print the Seeing God Clearly Prayer Guide. Place it in your Bible, on your desk, or near your computer—anyplace where you will see it often. Let it inspire you to see God clearly in your life and in our world.
2. Please give a generous gift today to help us produce these eighteen critical weeks of television and radio broadcasts, online outreaches, resources, events, and more.
I want to thank you for your generosity, and bless you, by sending you our exclusive 2020 Turning Point calendar: Clearly God. Each year, it is one of Turning Point's most popular resources, and supplies are limited. As you send your most generous gift possible, I urge you to request yours today.
Complete Prayer Schedule:
August 29 - September 4
A Prayer to Begin
"Father, You can do all things. Nothing is impossible for You. Your Word tells us if we ask anything according to Your will, You will hear our prayers. So we ask You to move in our lives! Move us from a place of worry and concern to a place of courage and boldness. Move us from a place of contentment and indifference to a place of purpose and mission. And move us from a place of discouragement and defeat to a place of joy and triumph. Father, there is much to be done for You in this world. Please help us be a part of Your plan. Move us toward PROMISE. Move us toward HOPE! Move us toward VICTORY! Amen."
September 5 - 11
Moving Toward Evangelism
This week our minds are focused on all the God-given opportunities Turning Point is preparing for this fall! We have an unprecedented season to reach the world with the Gospel, and we are poised and ready to extend our reach through broadcasting! We can't think of a more crucial time in history to share the Good News through radio, television, Internet streaming, and print! God has given us a variety of effective platforms to share His Word almost anywhere in almost every region of the world—instantly! So we ask you to pray God will have His hand on our team as we complete the final touches on Dr. Jeremiah's teaching that we know will reach millions of lives this fall—and in 12 languages! Together, we are moving forward with the Gospel!
September 12 - 18
Moving Toward Hope!
Our hope is built on nothing less than Jesus' blood and righteousness! Christ is our Solid Rock! However, much of the world has nothing in which to anchor their life—adrift in a world filled with global turmoil, tossed to and fro in the sea of cultural chaos. Would you please pray for the message God has laid upon Dr. Jeremiah's heart this year to move the world toward hope through Bible prophecy? Through the lens of Scripture, the events of our day can be seen more optimistically. Dr. Jeremiah's teaching series Where Do We Go From Here? begins on television this week and will be available soon on radio, streaming, social media, live events, Bible study resources, and even a book. Pray we move the world toward hope this fall!
September 19 - 25
Moving Toward Promise!
The promises of God are many! We are so blessed to know how God loves us and how He will bless us! But do we live fully in His promises? How disappointing it would be to know we accessed only a portion of His great blessings for us! Let's claim the promises of God this week and then move towards them with courage, confidence, and clarity! Please pray that Turning Point faithfully steps into the doors God has opened for us. Pray that Dr. Jeremiah and the Turning Point staff claim God's promise to lead, guide, and direct us as we move forward in reaching the world for Christ! Let's move toward promise!
September 26 - October 2
Prayer to Reach the World
"Father, you have given us a Great Commission. May we be found faithful in fulfilling it. We pray that through our faithfulness, all people, and in their language, would hear the message of Jesus Christ—His love for us, His forgiveness, and His grace. This is our appointed time on earth to carry out the mission of the Gospel. Convict us with Your heart. Motivate us with the need. Fulfill us with Your purpose. Empower us with Your presence. Move us toward action, prayer, and stewardship. Use us so this world can be transformed by the Word of God, and may we all commit each day to share the Gospel of Jesus Christ! Amen."
October 3 - 9
Moving Toward Bible Strong Teaching
The world is listening on radio, and Turning Point is there to reach them with the Word of God. Please join us in prayer this week as Dr. Jeremiah begins his new prophecy series, Where Do We Go from Here? For 22 days, each new program will air 7,000 times a day in the USA alone during the month of October. Historically, prophecy teaching on Turning Point has been one of the most effective topics to bring people to Jesus. We are asking God to use these programs to bring hope to the hearts of millions who will tune in this October.
October 10 - 16
Moving Toward Mission
The world is changing every day. Its people. The way we communicate. What we can communicate. But our mission stays the same: delivering the unchanging Word of God to an ever-changing world! We start with the Bible. Dr. Jeremiah helps us understand what it says, what it means, and what it means for us. Then we deliver that message in as many ways possible, everywhere possible, to as many people as possible! Would you pray this week that we stay focused and committed to God's calling and mission before us? Please ask God to bless His message sent by all methods of ministry around the world to reach women and men, and girls and boys with Bible Strong teaching.
October 17 - 23
Moving Toward Boldness
Please pray that God will give us continued boldness in ministry! While others water down the Gospel, we want to infuse it and illuminate it in the power of the Holy Spirit through our programs and literature. We want to move toward boldness: to preach the Word of God. To proclaim the Truth. To reach all nations with the Gospel. To keep Christ in Christmas. To be unapologetic about our faith and values. As we approach an extremely busy time in ministry, please ask God to empower Dr. Jeremiah, our leadership and staff, and the thousands of ministry partners who stand boldly behind the proclamation of our faith.
October 24 - 30
Moving Toward Encouragement
Together again! This week Turning Point experiences the second week of LIVE arena events where thousands will come together for fellowship, worship, and Bible teaching from Dr. Jeremiah! Praise God we can gather once again and feel the presence and power of the Holy Spirit move as God's people come together. This week we are in Houston and Fort Worth, Texas! Would you please pray Turning Point's An Evening With David Jeremiah might be a source of strength and encouragement to these communities, and that many will bring unsaved friends and loved ones to be under the sound of the Gospel?
October 31 - November 6
Moving Toward Unity
As we come to the close of Dr. Jeremiah's teaching series, Where Do We Go From Here? we are reminded that only Jesus can bring peace to this troubled world. What strength we have in His Name. What joy we have in His promises. And what comfort we have in His Word. The Rock we cling to. The Shepherd we follow. The King we serve. Please pray that the ministry of Turning Point moves people to unity through faith in Jesus Christ. Pray that we will focus on souls and not solely issues. It is only when all know the Prince of Peace will we experience peace on earth, goodwill to all people. May Turning Point be found bringing the world together through the message of Jesus Christ our Lord.
November 7 - 13
Moving Toward Faithfulness
Thank you for your prayers for the men and women who bring Turning Point to the world each day. There are more than 137 full-time staff members taking the Bible Strong teaching of Dr. Jeremiah and creating video or print media with it to reach the world. As our staff continues to grow, so do our plans. As we approach Turning Point's 40th anniversary year, would you pray that God leads us to further define and refine our programming and production for 2022? Pray as we continue moving toward faithfulness and effectiveness in ministry. We ask for God's wisdom and power as we move forward into the coming year and as we plan media for generations to come.
November 14 - 20
Moving Toward Victory
Where He leads, we follow! And what a joyous adventure for all of us—to accomplish that which the Lord has directed. The journey is not free of uncertainty, but God provides a way to overcome any obstacles. Yes, where He leads, He provides and overcomes! Through Him, we can experience victory in our lives. But we must not only claim the victory but learn to live victoriously! Please pray Turning Point will thrive in carrying out the will of the Father and provide spiritual answers to a hurt and dying world. And let's pray for one another that through what we do together, we will present to the world a faith in Jesus they can rely on, a Bible to learn from, and a Christian community to lean on!
November 21 - 27
Prayer of Gratitude
"Father, all I have comes from You. I know joy because of Your love. I know grace because of Your forgiveness. I know peace because of Your promises. I know hope because of Your imminent return. All I have, all I am, and all I've accomplished is because of You. Thank You for what You have done for me—what You continue to do in my life—what You are about to do for me! I stand in awe of Your blessings, firmly grounded in gratitude for the ways You care for me. I love You. Thank You!"
Thanks to your gift today...
someone will find Christ
through our daytime television broadcast...
or a young person
will fall in love with God's Word
through our new PASSAGES generational outreach.
Promises. Power. Peace. Imagine how different someone's life can become, when they see God clearly! This is the potential of our fall season of ministry together, for you, and others. Please take part. Give generously. Follow your gift with prayer. Let's see what God will do—in us and through us!
Thank you in advance for standing with me and with Turning Point in this ministry. I look forward to receiving your gift and prayer support. It will be exciting to see how God answers our prayers and multiplies your donation.
God bless you,
David Jeremiah
The Lord will give strength to His people.
The Lord will bless His people with peace.
Psalm 29: 11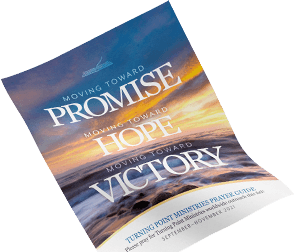 Download the Prayer Guide

And Pray with us each Week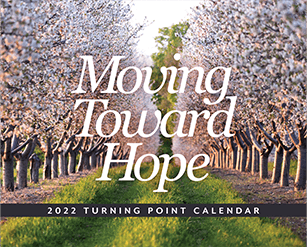 Support Turning Point

With a Generous Gift
Receive the 2022 calendar with a gift of support today.