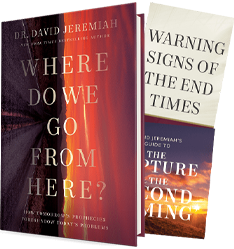 Are Current Events in Prophecy?
Never in our lifetime have world events aligned so closely with end-time prophecies. Dr. David Jeremiah believes ten phenomena are happening in our world today that were recorded centuries ago in biblical prophecy. Request your copy of Where Do We Go From Here? to discover what Scripture says about recent events.
Learn More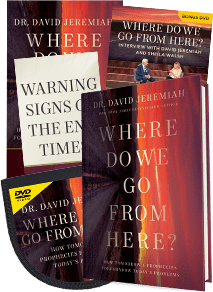 Could We Be Living in the Last Days?
People have been asking this question for centuries. Biblical prophecy reveals much about the chaos around us. This prophecy set by Dr. David Jeremiah includes his new book Where Do We Go From Here? a correlating study guide, his ten-message series on your choice of DVD or CD, and his exclusive Warning Signs of the End Times foldout chart.
Learn More