Learn how to be happy from trusted Bible teacher Dr. David Jeremiah
31 Days to Happiness
Ministry Set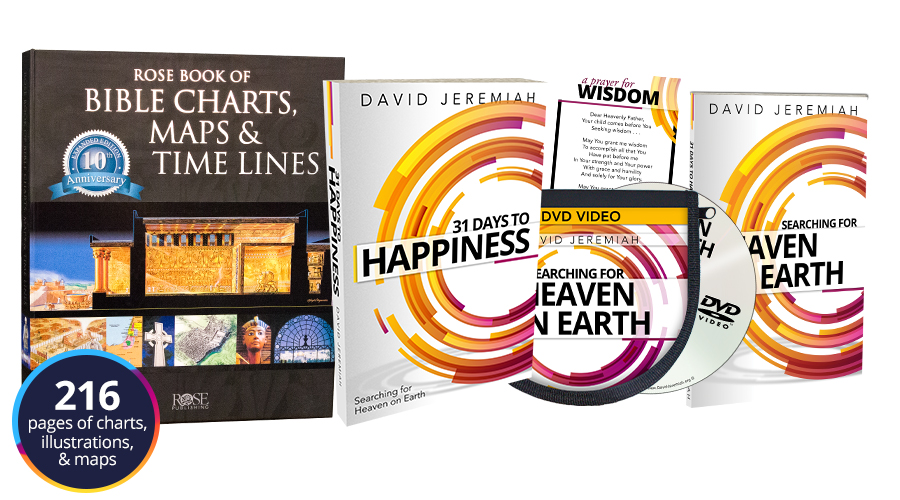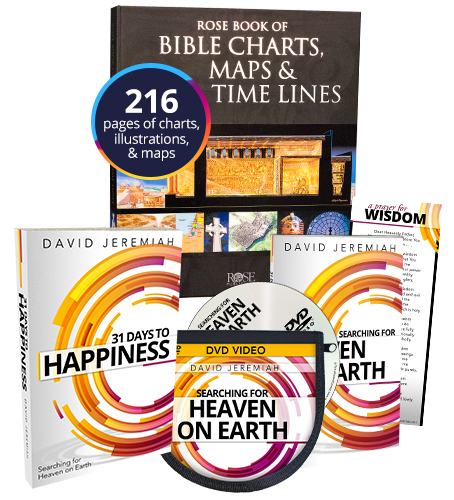 Grade yourself. How happy does God want you to be?
There are a lot of unhappy Christians.
Many are living in a world of "someday": "Someday we'll be in heaven." "Someday we'll have our reward." They live the Christian life like a waiting game: I just have to endure until Christ returns.
They are so focused on "someday," they miss today! Missing out on the life God wants them to have right here on earth. Is this what God had in mind for our earthly lives?
Not at all.
"Am I happy?" is life's most persistent question—and God's answer, for God's people, is "I want you to be happy." Christians should be the happiest people on earth! But are you? If not, why not?
Where can you really find happiness?
Is it really possible to find a little "heaven on earth," as the saying goes?
Discover the reasons you can answer "yes" today! Request Dr. Jeremiah's complete study of happiness today on audio CD or DVD video.
When you request the ministry set you'll also receive:
The Rose Book of Bible Charts, Maps, & Timelines
216
reproducible pages of illustrations, charts, and maps on a variety of Bible topics
A best-selling must-have resource for every pastor, teacher, and Bible study leader for the past ten years!
Updated and redesigned Anniversary Edition—expanded with new charts, upgraded maps highlighting modern day cities and countries, and up-to date facts and statistics that you can duplicate and use for your group Bible study, Sunday school class, or church.
Overviews on popular Old and New Testament topics
Two fold-out charts chronicling the genealogy of Jesus
Cutaway Tabernacle illustration
Bible Timeline
Bonus 24-inch fold-out of Jesus' family tree
And more!
31 Days to Happiness
Study Set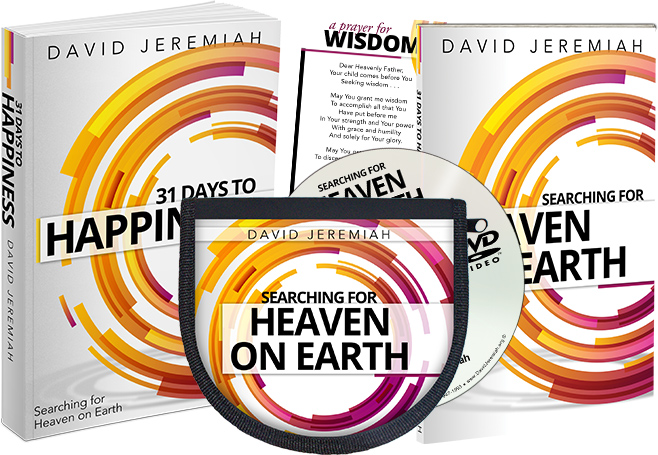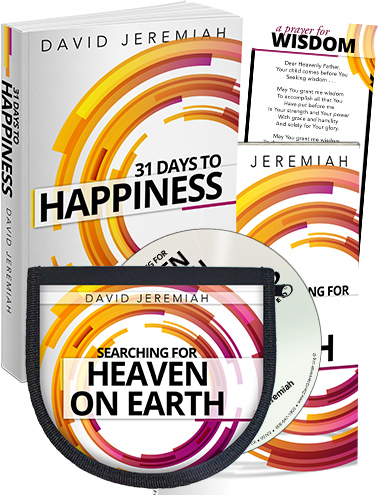 How to find what really matters in life
In 31 Days to Happiness, history's most successful man, Solomon, takes us on his questioning journey into the deeper questions of life in the book of Ecclesiastes.
Through the study and application of the treasures in this book, we can learn much about the school of life as we listen to the voice and wisdom of Solomon.
Prepare for age-old secrets to renew and recreate in your heart, mind, body, and spirit the joy you have lost. God longs to bless your life with wisdom and bring you to the crest of a hill where you can catch a glimpse of what seems impossible: heaven on earth.
Solomon explores the questions: What was it that pushed you and me into the wrong pursuits? The unwise relationships? The destructive habits? How can we climb out of it now, or is it too late?
Sermon Topics Include:
Bored to Death
Careening Careers
When Justice Isn't Just
Governments Never Change
Money Without Meaning
Employment with Enjoyment
Life Cheats!
If you thought happiness was only an empty hope, maybe you've simply been looking in all the wrong places.
31 Days to Happiness Book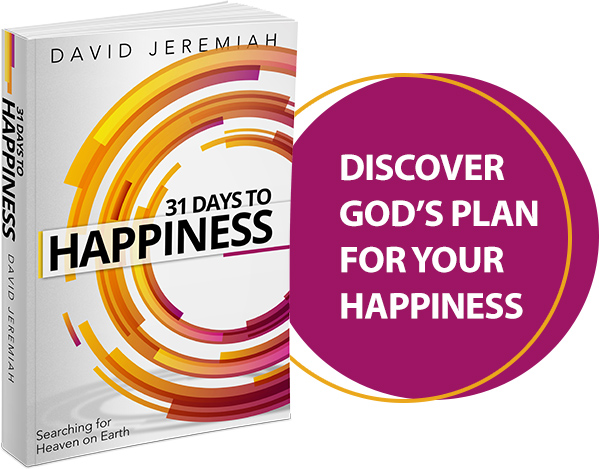 323 pages | paperback book
Ever wonder . . .
Why is life so frustrating?
Is happiness within my reach?
Is it too late for me?
Dr. David Jeremiah takes a look at history's wisest and most successful man, King Solomon, and challenges readers to find what really matters in life. Solomon tested life's haunting questions head-on. Tasted the fullness of life's riches. But found his answers in the last place he thought to look.
If you thought happiness was only an empty hope, maybe you've simply been looking in all the wrong places. In this book, Dr. Jeremiah reveals the way to the happiness you have longed for, the never-dimming light of your fondest dreams.
This book will help you:
Learn to express your faith thoughtfully
Handle God's provision — even the blessing of prosperity — wisely
Find greater joy in your family ... and bring joy into your family!
Live "purposefully"
Understand the "seasons of life"
Respond wisely to the "new and latest"
Respond with godly wisdom to any kind of pain or problem
Grasp the surprising reality of death
Embrace and enjoy life as God has ordained it