About Us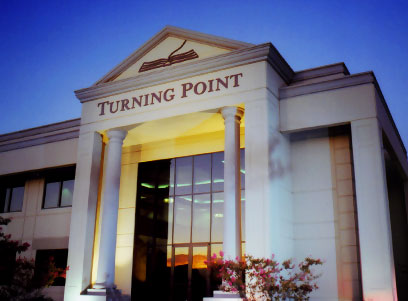 Mission and Vision
Turning Point Ministries was founded in 1982 as the broadcast ministry of Dr. David Jeremiah to deliver the unchanging Word of God to an ever-changing world. Three decades later, with a multimedia network featuring radio, television, and online programming, magazines, and books, Turning Point reaches tens of millions of people around the globe with the saving knowledge of Jesus Christ. With the potential reach of 480 million listeners, Dr. Jeremiah's radio messages air thousands of times each day, inspiring and equipping the body of Christ around the globe. And Momento Decisivo, the ministry's Spanish-language outreach, is aired more than 800 times a day on nearly 600 radio stations in every Spanish-speaking country in Central and South America. With its largest audience to date, Turning Point Television reaches a potential 2.7 billion households worldwide.
Turning Point is a 501(c)3 nonprofit organization wholly supported by its patrons and not underwritten by any church or organization.
Turning Point Radio
Turning Point releases 37,381 airings of Dr. Jeremiah's daily radio program each week domestically and internationally. This is a staggering 1,943,812 programs broadcast through the airwaves each year. Turning Point is broadcast on more than 2,200 radio stations in the United States and throughout the world, including: Africa, Canada, the Far East, India, Mexico, the Philippines, Spain, the United Kingdom, and every Spanish speaking country in Central and South America.
The David Jeremiah Difference is reflected in Dr. Jeremiah's radio program as it is unique in Christian broadcasting for a variety of reasons:
Dr. Jeremiah sits behind the microphone and opens and closes each broadcast with personal insights and ministry updates.
Study material for each radio series is available to the listener so they can "study along" with each broadcast.
A Bible study resource is created to correlate with Dr. Jeremiah's radio teaching and this resource is offered to the listener.
Turning Point is a Bible-strong teaching program focused on content—not causes, current events, or politics.
Turning Point airs solely as a result of the financial support of listeners.
Turning Point is celebrating more than 30 years of broadcast excellence.
Locate a station near you that carries Turning Point Radio, or learn more about the Turning Point Radio broadcast ministry here.
Turning Point Television
Turning Point Television features the Bible-strong messages of Dr. Jeremiah, recorded at the Shadow Mountain Community Church in San Diego, California. Presented in a one-half hour and full one-hour format, the television program includes mini-series productions by Turning Point Television Studios, such as Haven's Light, The Account, Portraits of God's Love, and most recently, The Hall of Prophecy. Special musical selections are also featured in the full one-hour program from the Shadow Mountain Choir and Orchestra.
Since the launch of a nationwide telecast in April of 2000, the ministry of Turning Point Television has rapidly expanded internationally. Today, partnering with several networks, Turning Point Television reaches nearly every home in the U.S. Internationally, Turning Point Television broadcasts into Canada, Europe, the United Kingdom, Australia, New Zealand, and the Middle East.
Locate a Turning Point program in your area, or learn more about Turning Point Television here.
Turning Points Magazine & Devotional
With a consistent monthly circulation to more than 359,000 homes, Turning Points Magazine & Devotional has become a trademark resource of the Turning Point ministry. With inspirational articles and instructive daily devotionals, Turning Points is unique and fresh each month and provides something for every reader. Based on the radio and television teachings of Dr. Jeremiah, Turning Points is ministering to hundreds of thousands all over the world.
To bring the ministry of Turning Point into your home on a daily basis, sign up to receive Turning Points Magazine & Devotional here.
You can also subscribe to Dr. Jeremiah's daily e-devotional—delivered to your home via email each day.
Bible Strong Partners
With an ever-expanding circle of nearly 17,000 members, the Bible Strong Partners program is growing internationally.
Launched in 1995, Turning Point's Bible Strong Partners program (then called Circle of Friends), provides financial stability through the ongoing prayer and monthly giving of its partners in ministry. What the charter Bible Strong Partners membership started has become the mainline of support for Turning Point, catapulting it into the global ministry it is today.
Membership benefits include receiving the monthly edition of Turning Points Magazine and Devotional and, upon request, monthly resources mailed to you absolutely free. In addition, members receive the exclusive Bible Strong Partners quarterly newsletter—featuring special Q&A with Dr. Jeremiah, insider looks at the ministry, and exciting international updates. See firsthand evidence of the ripple effect your gift causes at Turning Point!
Click here to join Bible Strong Partners and find out more about membership benefits.
Momento Decisivo
Turning Point's Spanish radio program, Momento Decisivo, is committed to supporting Bible believing Spanish churches both locally and internationally by providing Bible-strong teaching that encourages listeners to become students of God's Word.
Momento Decisivo is currently released more than 370 times a day on 304 radio stations across the globe, including 96 Spanish-speaking stations in the United States as well as more than 200 radio stations in 22 Spanish speaking countries around the world.
Visit MomentoDecisivo.org for a detailed program log, station listing, and description of all Turning Point resources available in Spanish.
Going Global
Through much prayer, counsel, and careful research, Turning Point's Going Global Plan was proposed in the fall of 2010 with the capacity to reach five billion hearts with the Gospel by 2017—that's more than 80 percent of the world's population. The plan prioritizes the translation of Dr. Jeremiah's messages into the world's top 25 language groups.
Based on a twenty-first century Great Commission strategy, the Going Global Plan will translate and transmit Turning Point programming in two crucial areas: Greatest Impact languages, which address the greatest population outreach; and Greatest Need languages, which represent the greatest population that is unreached. Turning Point seeks to have the furthest global outreach and the furthest global "inreach"!
Believing that God has called this ministry to "be witnesses . . . to the end of the earth" (Acts 1:8), Turning Point is now poised and ready to initiate this two-pronged approach to global evangelism.
Click here for more information about Turning Point's Going Global Plan.
Statement of Faith
The church faith is expressed in that form of doctrine generally held by those known as Baptists, the distinguishing features of which are stated below.
As Baptists, we stand for the supreme authority of the Word of God as the only rule of faith and practice, as opposed to all human traditions.

We stand for the ordinances of Baptism and the Lord's Supper as Christ enjoined them upon His followers; the same in number, in act, in order and in symbolic meaning, unchanged and unchangeable 'til He comes again.

As a New Testament Church, we affirm our belief in the individual priesthood of the believer, in the verbal inspiration and authority of the Scriptures; in the Virgin Birth and essential Deity of our Lord; in His atoning death and bodily resurrection; in His ascension into Heaven and promised endowment of the Holy Spirit; in His personal, visible premillennial return and ultimate and undisputed Kingdom and reign.

We stand for a regenerated and spiritual church, holding that only those who have confessed a personal faith in Jesus Christ as Savior and Lord shall be received into this church or welcomed to its ordinances.
In church policy we believe:
That a Christian Church is a local congregation, under Christ complete in itself, sovereign and independent.
That Christ committed to each church the sole guardianship and control of the ordinances; i.e., preaching the Gospel, baptizing and administering the Lord's Supper.
That all church rights and privileges are limited to the discipline of each local church.

That no semblance of ecclesiastical authority can be exercised except by a local church. The local church alone can elect, commission, and depose its officers, receive discipline and exclude its members.