You have questions. And you're not the only one!
Perhaps like no other time in recent history, Christians and non-Christians alike are asking many questions. These trying times have raised deep spiritual questions about the meaning of life, the existence of God, the person of Jesus, the possibility of life after death, and the way to get to heaven.
Everyone deserves an answer. And God is ready to answer these questions!
God wants you to know Him and to know how to be reconciled to Him. For that reason, He has revealed many vital answers in the pages of His Word. Spiritual questions are not so shrouded in mystery that you can only wonder about them. The answer to every one of these questions is written down in black and white and red letters in your Bible—just waiting to be studied and understood.
Helping you find answers to spiritual questions is at the heart of Turning Point's ministry. That is one reason we are showcasing Dr. David Jeremiah's Ten Questions Christians Are Asking teaching series on radio and weekday television this month. This series walks you through ten core questions of the Christian faith that have the power to give you confidence in your faith and help you share with others.
Have You Ever Wondered...
1. How Can I Be Sure of My Salvation?
2. How Can I Overcome Temptation?
3. How Can I Get Victory Over Worry?
4. How Can I Find Forgiveness?
5. Is There Only One Way to God?
6. Why Do Christians Have So Many Problems?
7. Why Don't My Prayers Get Answered?
8. Is There a Sin God Cannot Forgive?
9. What Is Faith?
10. What Is the Greatest Commandment?
These aren't unanswerable questions. When you know the answers, they will empower you to move forward in your faith with confidence and assurance—victorious in the knowledge that God is in control and you are walking with Him. And they will equip you to share with the people around you who need these answers too.
Everyone Deserves an Answer
Turning Point's broadcast programs are much more than TV and radio shows. Each one offers the answer to an important spiritual question someone is facing —maybe for you or someone you love. And you can imagine, if providing solutions is this important for people in English, then it is just as vital for the speakers of other languages. Spanish. Russian. Arabic. Igbo (a language spoken in Nigeria).
Thanks to the generous support of friends like you, Turning Point's Spanish ministry is celebrating its 20th anniversary. Through Momento Decisivo, God has opened the door to reach the 41 million Spanish speakers here in the U.S. (13 percent of the population according to census data!), plus another nearly 12 million bilingual Spanish speakers in the U.S., and hundreds of millions more across the globe!
Celebrating 20 Years of Momento Decisivo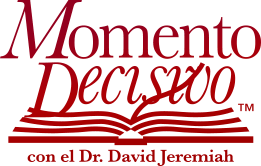 As we commemorate the 20th anniversary of Momento Decisivo, we celebrate what God has done through your prayers and generosity to answer the spiritual needs of Spanish-speaking people here at home and around the world.
Just take a look at the far-reaching impact of Momento Decisivo in 2020 alone:
327 radio stations across the globe—including 90 Spanish-speaking stations in the U.S.
One million+ streaming sessions
61,000+ downloads of the Momento Decisivo mobile app
28,000+ followers on the Momento Decisivo Facebook Page
35,000+ visits to the Momento Decisivo website (LOOK FOR a new, upgraded website near the end of spring!)
Why Momento Decisivo Is So Important
• There are more than 450 million native Spanish speakers, making it second only to Chinese in terms of the most spoken languages in the world.
• In the United States, more than 43 million people speak Spanish as a first language. Additionally, the United States is home to nearly 12 million bilingual Spanish speakers.
• If the Latino population's growth projections stay as they are, the U.S. could become the largest Spanish-speaking country in the world by 2050.
Many people are in desperate need of the hope you and I have in Jesus Christ and the life-changing power of His Word. Whatever their language and situation may be, we must not leave their questions unanswered.
Your generous support makes this outreach possible. Because of friends like you, Dr. Jeremiah's teaching is circling the globe to answer spiritual questions with clarity and assurance in eleven languages and counting. Thank you for giving to the mission of Turning Point!
When you send a gift of any amount today, we would be delighted to send you a copy of David Jeremiah's book Ten Questions Christians Are Asking to answer your spiritual questions or those of a friend or loved one.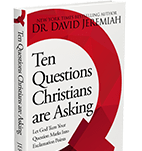 Give a Gift of Support AND RECEIVE THE TEN QUESTIONS BOOK
Give a Gift of Support

WITHOUT RECEIVING A RESOURCE